Guess I need to start packing for HLS, no? Feeling pretty lazy today. lol
Stayed up till midnight working on emails and a new bloggie project (the one I've been procrastinating on for like a year now).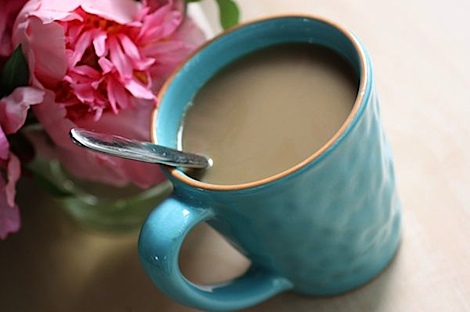 Coffee was a necessity today.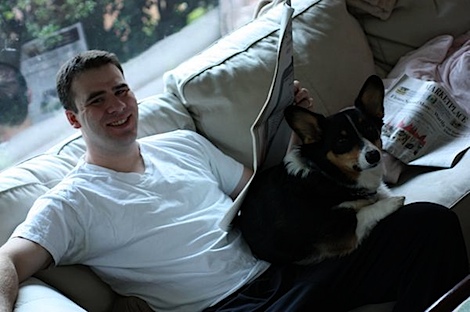 Check out Mr. Cuddle-pants (that's Bailey, not hubby). Bailey thinks he's a lap dog, but he's really not. lol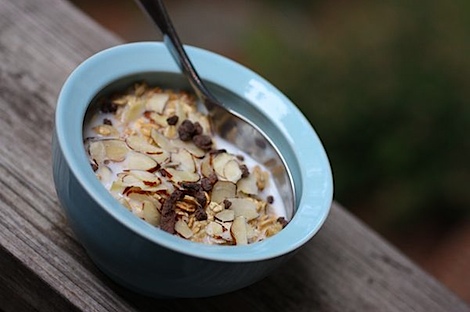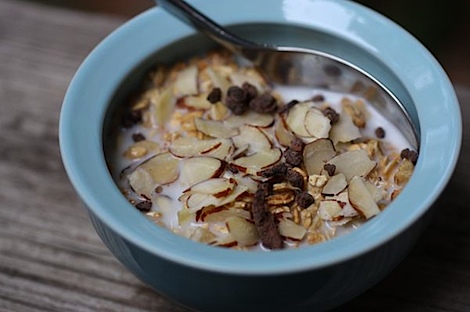 Since I was feeling so lazy, a no-cook breakfast was in order. I just put some Galaxy Granola in Not Sweet Vanilla in a bowl with some organic milk, sliced almonds and cacao nibs.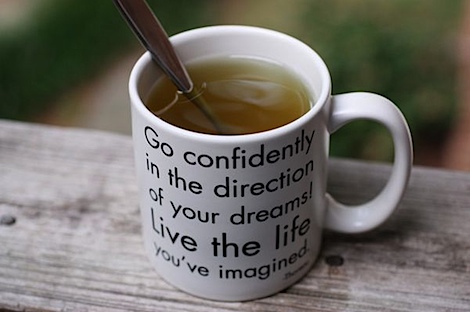 Mate Vana is helping me wake up today, too.
***
Coffee Giveaway
Anywho, you're probably wondering about the title of this post. It's true, Cafe Don Pablo has offered to give away a 2lb bag of coffee to one lucky reader!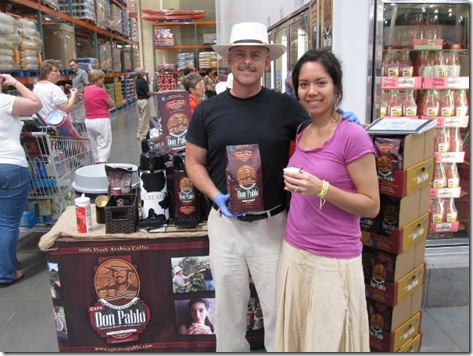 You may remember I met the people behind Cafe Don Pablo when they were sampling their coffee at Costco this past weekend. Hubby and I picked up a bag of the coffee (we bought it FTC) and have been enjoying it with breakfast this week. Anywho, while I was at Costco, Darron, founder of Burke Brands LLC offered to do a giveaway for The Chic Life readers. Score!
Here's some info on the coffee:
Sweetly intense, balanced aroma, with milk chocolate, cedar and ripe tomato notes. In the cup the acidity is sweet and well-integrated, the body full and mouthfeel supple, and the flavor quite sweet, with chastened but still rich complication: semi-sweet chocolate, ripe tomato, and a round, low-acid fruit that suggested banana. The finish is cocoa-toned and slightly though warmly astringent.
And here's some more info from the coffee bag that I thought you'd like to know:
We have relationships at the oint of origin that give us a dedicated source of supply of the finest Arabica beans available. We grow, pick, and process our own coffee beans in Colombia. We never blend our coffees with Robusta, past crop, or defective beans.
We roast to order in regional small batch roasting facilities in the U.S. We never roast overseas, on a production schedule, or allow distributors to warehouse our coffee. We also do not require large minimum orders from our customers, guaranteeing that you get the freshest coffee possible. You can smell the difference!
I also like that they are Sharing Certified (click to learn more).
Ready to win some yummy coffee?
There are 5 ways to enter (1 mandatory and 4 optional if you want extra chances to win):
*mandatory* Leave a comment on this post and say which of the 4 Sharing Certified areas resonates with you most (hint: here's where they are located online: http://www.cafedonpablo.com/sharing_certified.html ).
Tweet @thechiclife how you take your coffee (with cream, black, etc) with a link to this post (

http://bit.ly/cBFQzR

), for example: "@thechiclife I love my coffee with milk and sugar

http://bit.ly/cBFQzR

" (remember to include the URL!) Leave a separate comment on this post to let me know that you tweeted an entry.
Subscribe to The Chic Life blog feed (https://thechiclife.com/wp-rss2.php). Leave a separate comment telling me you did.
Add The Chic Life to your blogroll. Leave a separate comment telling me you did.
Link to this contest from your blog. Leave a separate comment telling me you did.
Easy Rules:
Each entry must be left as a separate comment on this post to count individually.
All entries must be received by 8pm ET next Wednesday, August 18th, 2010 (you have one week to enter!).
Winner will be randomly selected.
Shipping is for US only.
Winner will be notified via email and so must have a valid email address.
If winner doesn't reply within 48 hours of email notification, a new winner will be selected.
Let the giveaway begin!
And special thanks to Cafe Don Pablo for having this giveaway!
And PS If you don't win, you can find Cafe Don Pablo's signature blend at Costco!