After lunch, I snacked on more of those yummy brown rice chips.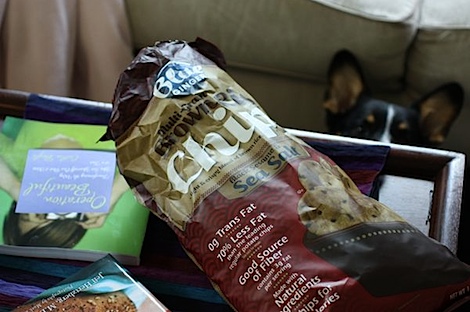 Love Bailey's little face popping up.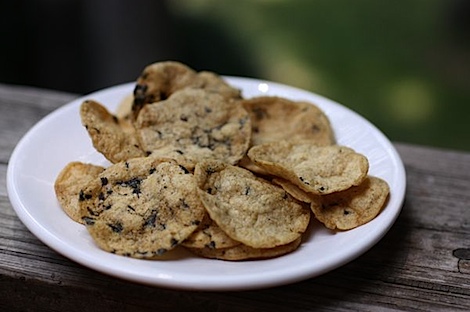 Yum!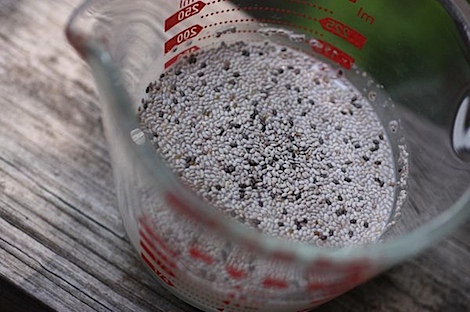 I decided to make a last minute smoothie entry for the Stonyfield smoothie contest.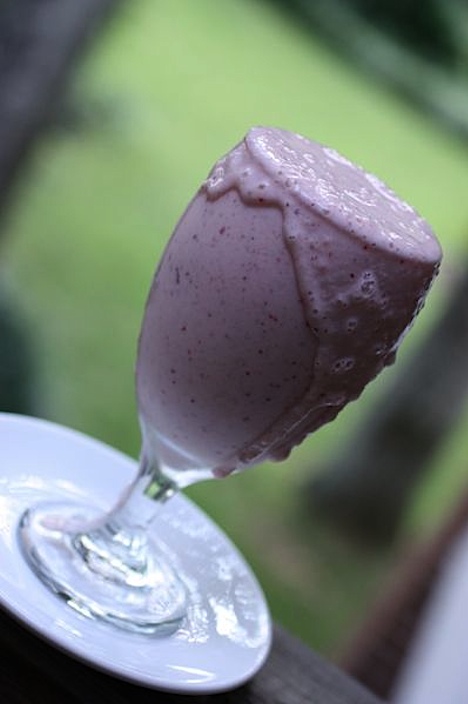 I don't think my smoothie is particularly intriguing or special, but I do think it may be a good way to get the less adventurous to try something new – chia seeds! Plus strawberry-banana is my fave smoothie combo.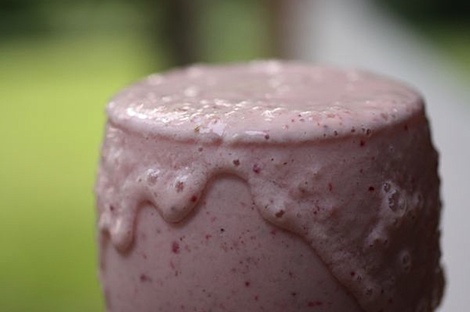 Strawberry Banana Chia Smoothie
Serves 2
Ingredients:
2 frozen bananas (you can use non frozen but your smoothie will be more liquidy)
1 cup frozen strawberries
1 cup vanilla oikos (or use plain if you want it less sweet)
1/2 cup milk (I 1% used)
1 tsp chia seeds
Directions:
Mix milk and chia seeds and set in refrigerator for 10 minutes (this allows the chia seeds to absorb the milk and plump up).
Combine all ingredients in a blender and blend until smoothie reaches the consistency you like. (add ice cubes if you want it more icy).
Serve in 2 cups.
Enjoy!
***
Zumba!
I waited as long as possible for the UPS man so I could wear my new shoes to teach Zumba tonight but alas…he didn't come before I had to leave.
Class was kickin' tonight, though! I debuted 2 new songs that no one has done before: Ain't No Other Man and a new cool down – The Feeling Begins. I may or may not like the latter because Michelle Kwan skated to it. Did you see the program?
In case you missed it, here it is…wow! Just wow!
MK forever!!!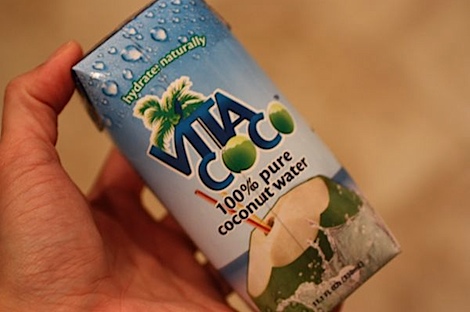 Anywho, I immediately downed a coconut water as soon as class ended and felt 100 times better! This stuff is wonderful!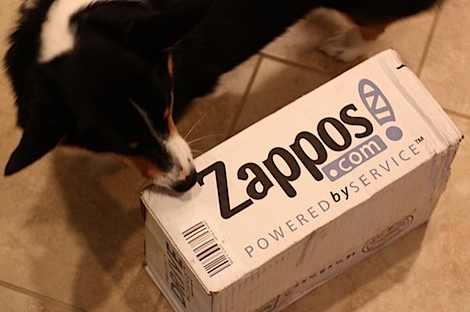 By the time I got home from class, my package had finally arrived. After a quick inspection by Bailey, I opened up the box to check out my new zumba kicks.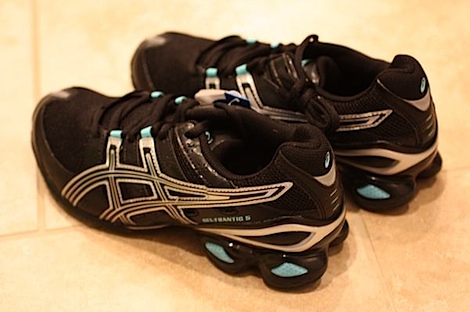 I got the Asic Gel-Frantic 5 shoes to try out. I really liked the ones that I was wearing before, but several of my zumba instructor friends swear by these shoes, so I figured I should give them a go.
Hubby was a sweet heart for this late-working girl and cooked dinner tonight.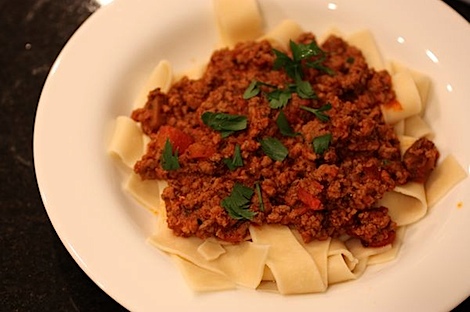 Papparedelle with meat sauce (because we were out of spaghetti).
Much better mixed up.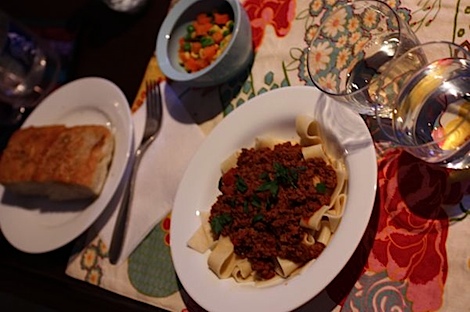 We enjoyed dinner whilst catching up on Gordon Ramsey TV – Hell's Kitchen and the next Master Chef.
(While we're talking TV, are there any SYTYCD fans out there?? Who do you think will win?!)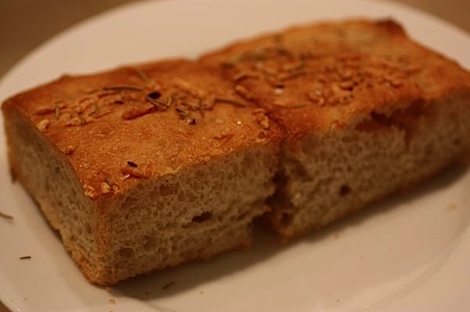 And dinner was completed with foccacia from the farmers market.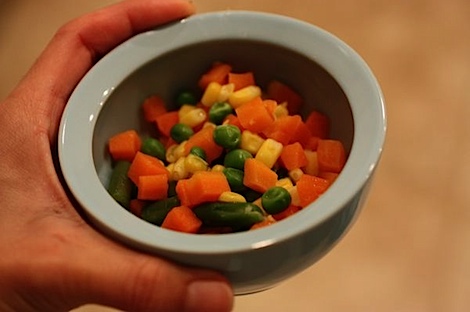 Plus some frozen organic veggies.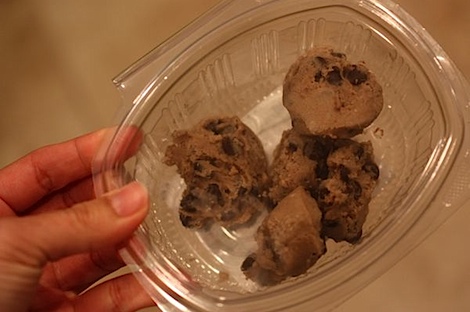 And I picked up these take and bake cookies on my way home after zumba tonight. It was the same price for a container of several as it was for 2 baked cookies. (plus they didn't have the flavor I really like already baked, so I figured these, baked fresh, would be better than others).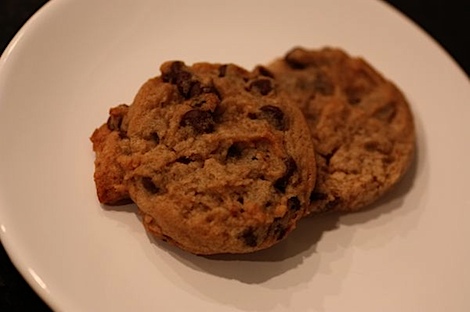 Is there anything better than fresh-baked cookies!
These vegan chocolate chip cookies were small, but super yummy.
I need to get started writing my tips for your quitting your "bad" eating habits, but I think it may have to wait till after HLS. But out of curiosity…
Do you overeat your snack foods? Which snack foods are your downfall? Chips, crackers, nut mixes…?