Did you guys figure out what yesterday's mystery breakfast was? I saw at least 1 correct guess and a couple others that were close! Nice job friends!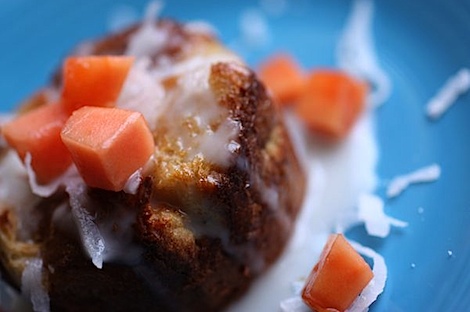 I concocted a fabulous new TCL recipe – Coco-Loco French Toast Cups with Coconut Cream Sauce.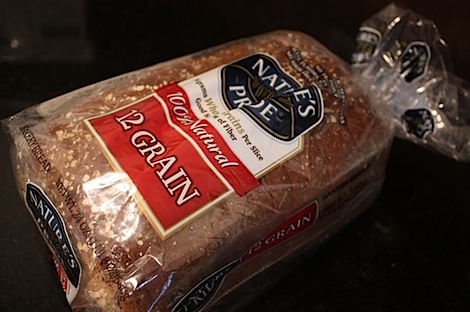 I used some 12-grain Nature's Pride bread using a coupon I received as part of the Foodbuzz Tastemaker program to create this recipe in hopes of winning a golden ticket to the Foodbuzz Festival later this year.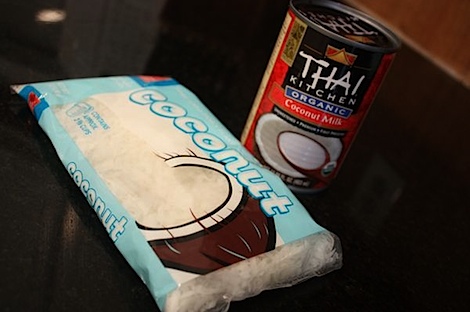 My inspiration was my recent trip to the Bahamas where I fell even more in love with all things coconut. I wanted to create a recipe that is something I'd like to eat on a tropical vacation but that would also be fabulous year-round.
Here are some photos from the prep and cooking: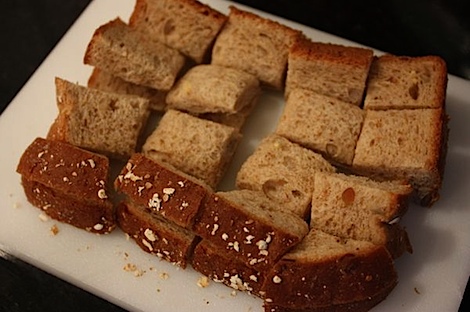 Cubed bread.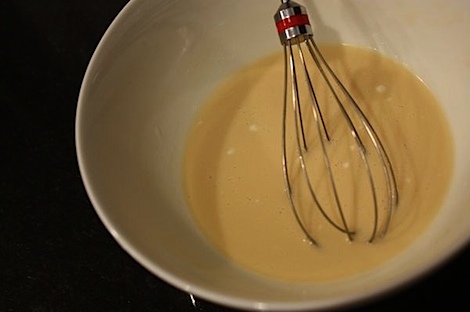 Custard
Sopping up the custard.
Ready to bake.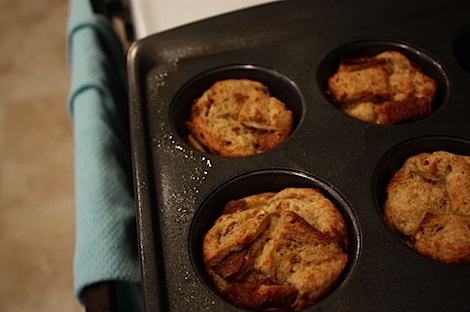 Baked up and golden brown. Now we just need sauce.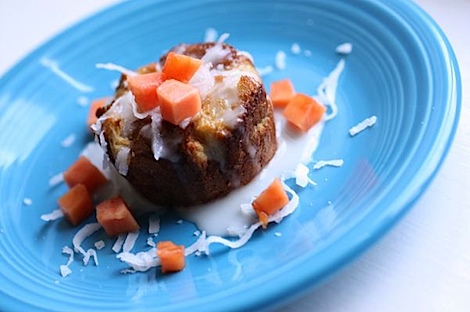 Add a splash of exotically sweet coconut cream sauce…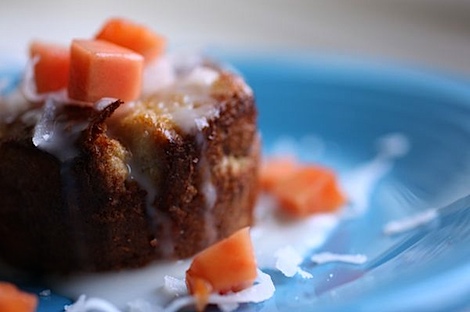 …and a garnish of tropical fruit (I used papaya, but pineapple, mango and/or kiwi would be fabulous, too!)…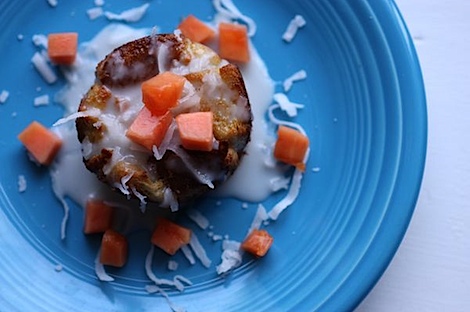 …and you're ready to…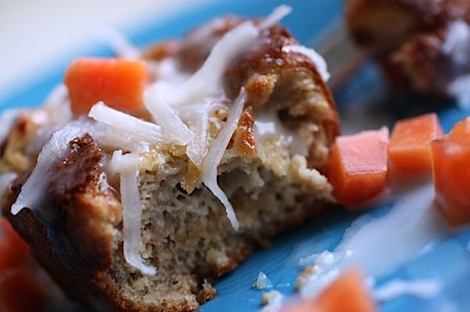 …dig in!!!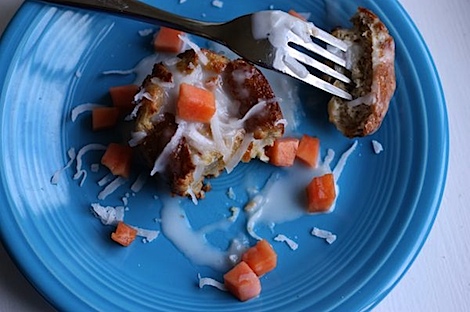 Nommmmm! This recipe was sooo easy and tasty!
These french toast cups would be fabulous:
as an easy and affordable meal
to entertain a large group – it's easy to multiply
to host a brunch or breakfast
to bring to a pot luck
to use up old (but not spoiled) bread
to serve 2 (just divide everything by 3, use 1/2 cup coconut milk in sauce) – that makes 2 cups per person
for your dairy-free friends
for when you want a breakfast that makes you feel like you're on vacation
Coco-Loco French Toast Cups Recipe
Ingredients:
6 slices bread, cubed
3 eggs
6 tbsp coconut milk
1 1/2 tsp vanilla extract
1 1/2 tsp sugar
1/4 tsp salt
Directions:
Pre-heat oven to 350 degrees F and coat a 12-cup muffin pan with non-stick spray.
In a medium bowl, whisk together all ingredients, except the bread.
Add bread and gently fold bread into custard mixture so the bread even soaks up the custard. Let sit for 5 minutes.
Spoon the bread mixture evenly into the muffin cups, pressing gently into the cups.
Bake 18-22 minutes until the tops are golden brown and the egg is cooked through.
Let rest 5 minutes before serving (careful, it's hot!).
During the last 5-10 minutes of cooking, start on the Sweet Coconut Cream Sauce (see recipe below).
Serve french toast cups with the sweet coconut cream sauce and garnish with fresh tropical fruit and shredded coconut.
Sweet Coconut Cream Sauce Recipe
Ingredients:
1 can coconut milk (minus the amount needed for the french toast cups)
1 1/2 tsp tapioca starch (or corn starch)
3 tbsp water
3 – 5 tbsp sugar (depending on how sweet you want the sauce)
Directions:
Combine coconut milk and sugar in a small pot over medium low heat. (note – once the sugar is dissolved, you can taste-test to see if you want to add more sugar to the sauce)
Heat till mixture is warmed through, about 5 minutes (careful to not boil).
In a small bowl, whisk together the tapioca starch and water. Add tapioca mixture to the pot and whisk to combine.
Continue heating till mixture has thickened up (shouldn't take long, just a minute or 2).
Serve with french toast cups and enjoy!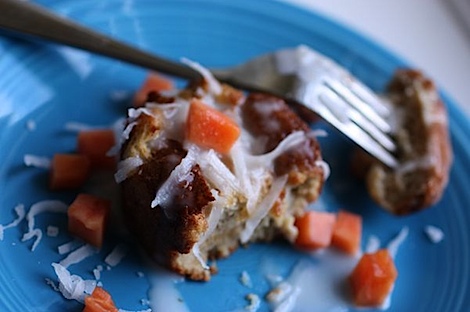 Enjoy!