I was feeling pretty ready for the week this week.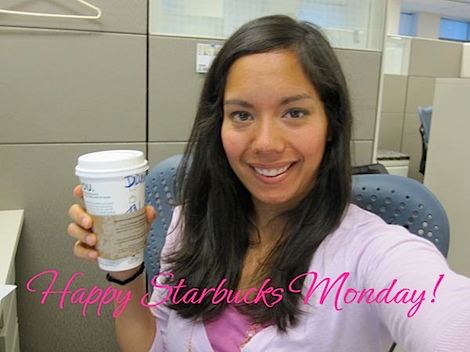 Starbucks Monday is always good incentive.
Today I had a grande soy toffee nut latte. I'm already over Pumpkin Spice, but I'm really looking forward to the other Starbucks holiday flavors…they should be here soon. Hooray!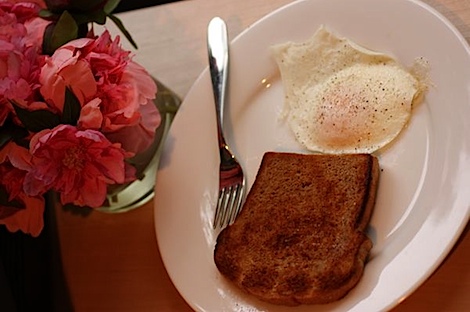 Before heading out for work, though, I had a fried egg and Honey Whole Wheat toast with real butter. Hubby cooked it for me!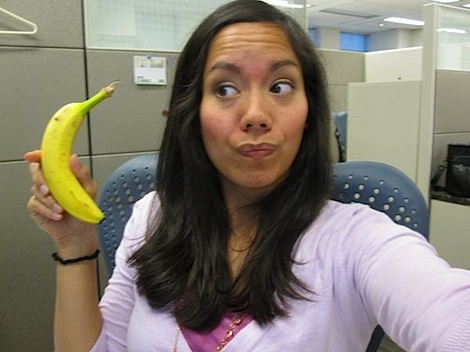 At work I got my fruit on with an organic banana.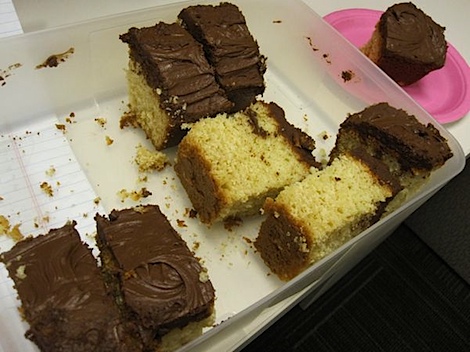 And I brought leftovers of the Smitten Kitchen Best Ever Birthday Cake (click to view and for a link to the recipe) to the office to help get rid of it. I mean…so others could enjoy it.
It was a big hit. Everyone was really excited about the cake (you know how offices can be, right?).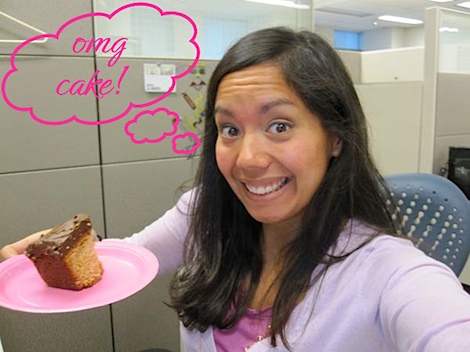 Especially me!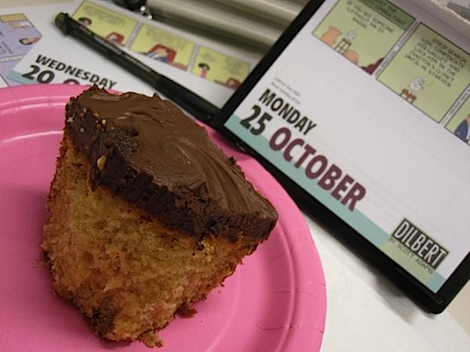 The cake was still pretty moist one day after baking. The recipe is definitely a keeper.
I ended up working till 6:30pm today, so I didn't get to run as many errands as I wanted tonight. Hubby and I only had time to pick up a missing supply for one of our Halloween projects and come home to make dinner. He wanted to use one of our Groupons for dinner, but I just wanted to raid the freezer and pantry.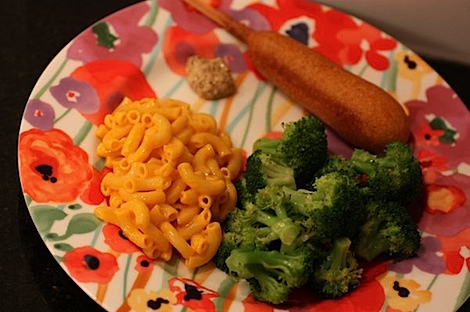 I won and we had TJ's soy corn dogs, Annie's mac and cheese and steamed broccoli with a drizzle of melted real butter.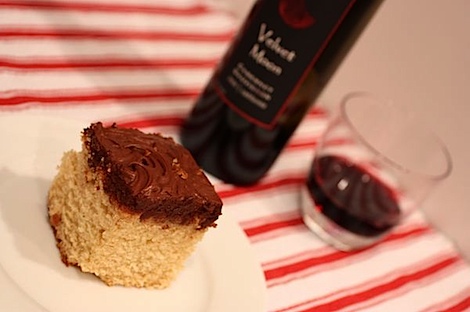 Plus we had wine (yes wine and corndogs…I know).
And this cake is calling my name right now, so I'm off to enjoy it.
***
Before I leave you, though, does anyone remember this video? I'm going to get a little deep on you guys for a minute…I almost didn't publish this part of the post because I wasn't sure what kind of reaction it would get, but…here's hoping it helps someone…
It's the music video for the song Jeremy by Pearl Jam – one of my favorite songs when I was a teen. I've been reminiscing on old songs a lot lately, including this one. Maybe it's a mid-life crisis? lol…jk…at least let's hope not! Anyways, I was googling about the song today, and I found an interesting interview snippet where Eddie Vedder discusses the story behind the song:
It came from a small paragraph in a paper which means you kill yourself and you make a big old sacrifice and try to get your revenge. That all you're gonna end up with is a paragraph in a newspaper. Sixty-three degrees and cloudy in a suburban neighborhood. That's the beginning of the video and that's the same thing is that in the end, it does nothing … nothing changes. The world goes on and you're gone. The best revenge is to live on and prove yourself. Be stronger then those people. And then you can come back. That's kinda what I did. Now all those people who were my enemies want to be my friends. They don't understand why, uh, I don't respond to them.
Wow! All this time, for years and years, I thought the music video glorified Jeremy's suicide. But after reading Eddie's interview, I see now that he had a totally different message. That suicide doesn't make you stronger, it just removes you from the picture. That if you feel bullied or otherwise depressed, to "live on and prove yourself" makes you the winner in the long run. I didn't know Eddie himself felt so close to the story, and I think it's great that he's like living-proof of how things can get better. I wish Eddie's true message would be more widespread because I think it could help some people. If you know someone who is going through a tough time, maybe you could share this story with them? I know Pearl Jam isn't as relevant now as it was in the 90's, but the message is still a good one.
Eddie's point in his interview reminds me of one of my favorite quotes, which I'll leave you with:
Success is the best revenge ~Eleanor Roosevelt
Have you ever enjoyed revenge by success? What's your story?