By 3pm today, I had completed several kitchen projects:
eggs + biscuits for breakfast
chai tea infused caramels
pot roast (prepped and in the slow cooker)
butterscotch oatmeal dough balls
chai tea infused granola
Phew! It was a busy Sunday! As a 9-to-5 working woman, most of my kitchen projects get squeezed into the weekend, so I have to make the most of my free time.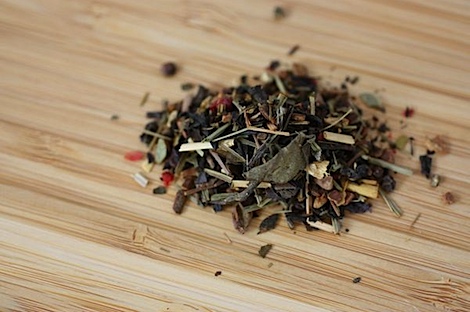 Most of my goodies were centered around this – chai tea, but there was a lot going on in the kitchen in general today.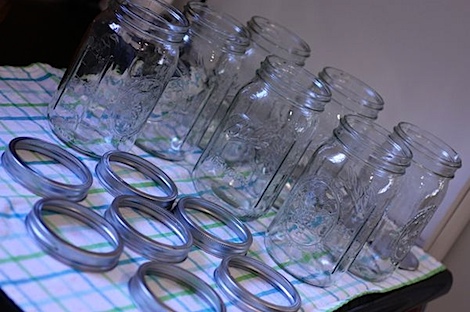 I had Ball Jars cleaned and drying out.
Mom's pot roast (click for recipe) prepped and in the slow cooker.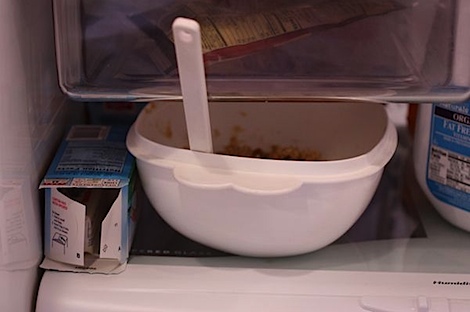 A new dough ball flavor chilling and waiting to be baked.
Baking sheets waiting for those dough balls to be ready to bake.
Chai tea infused caramels cooking stove top. (I found out later the caramel was hard! Boo…guess I'll have to try the recipe again and cook for less time?) Does any one know what causes hard caramel?
Chai tea infused granola slowly turning golden in the oven. (The recipe needs tweaking before I share it here on the blog)
As I've mentioned many times before here on The Chic Life, I am trying to move away from using plastics.
I've been trying to move towards using glass.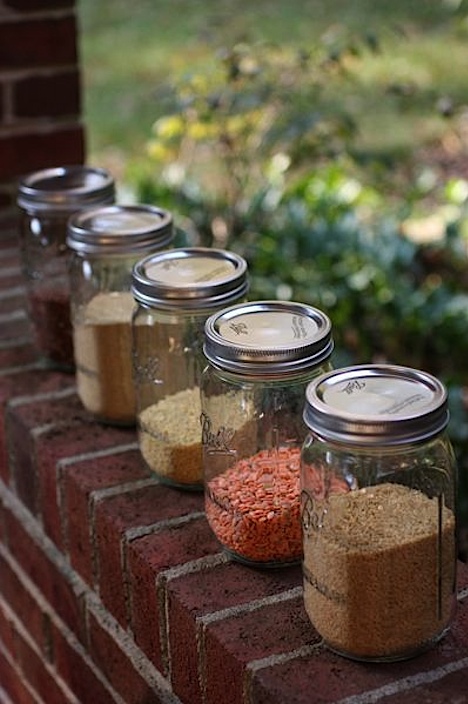 I wanted to get some of those glass containers with the flip-open top and silver lever that you press down to seal. However, those aren't nearly as cost-effective.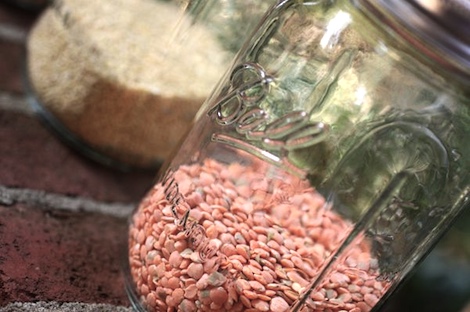 So, I got some quart-sized Ball jars a la Emily and will be moving some of my grains and dried beans around. So far, so good!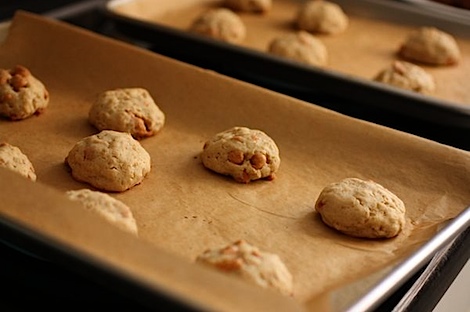 But here's what I'm guessing you really wanted…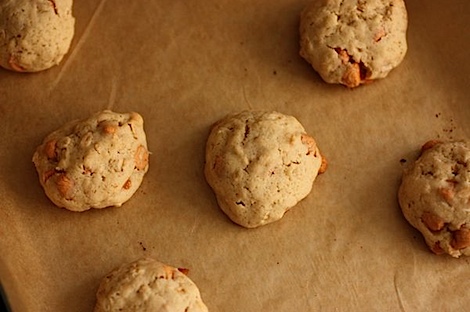 oh yes…a new dough ball flavor! I actually have two to share with you, but first…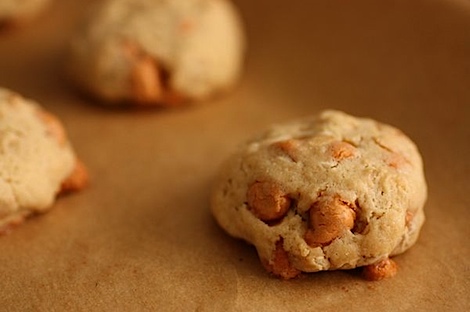 Butterscotch Oatmeal Dough Balls! I actually had one failed batch before I found success with this flavor. Substituting oats for flour is not an easy thing when you're going for a particular texture. My first attempt turned out like regular (delicious, but flatter) cookies. But, today I found success! Hooray!
Butterscotch Oatmeal Dough Balls
Inspired by Annie the Baker
Makes 14-18 (depending on how you size them)
Be sure to check out my chocolate chip dough balls (click for recipe)!
Ingredients:
1 cups unbleached all-purpose flour
1/2 cup rolled oats
1/2 tsp salt
1/3 cup brown sugar
3/4 stick butter, softened/room-temp
1 tbsp sugar
1 egg (or flaxseed-egg)
1/2 tsp vanilla
1/2 cup butterscotch chips
Directions:
Pre-heat oven to 350 degrees F. Prepare baking sheets with parchment paper.
In a large bowl, whisk together flour, oats, and salt.
In a medium bowl, mix sugars and butter till creamy. (I used a handheld mixer, but you could probably just use a whisk). Add egg and vanilla and mix till combined.
Mix wet into the dry. Note: it will appear there is not enough liquid for the amount of dry ingredients, but continue mixing. It will form into a dough, it will just be a firm dough. Careful to not overmix.
Gently fold butterscotch chips into the dough, without overmixing.
Refrigerate dough for at least 30 minutes (yes, more than the chocolate chip dough balls) before using a small sorbet scoop to scoop out dough into small mounds. Roll each mound into a ball and spread evenly on a baking sheet, leaving roughly 2-3 inches between each ball.
Bake balls for 10-14 minutes, depending on how set you want your centers. If you use egg, and you're paranoid like me, you can use a meat thermometer to ensure the centers of the balls are at least 160 degrees F, which many web sites say is the safe temp to eat eggs.
Let your dough balls rest on the baking sheet to cool at least 5-10 minutes.
Enjoy!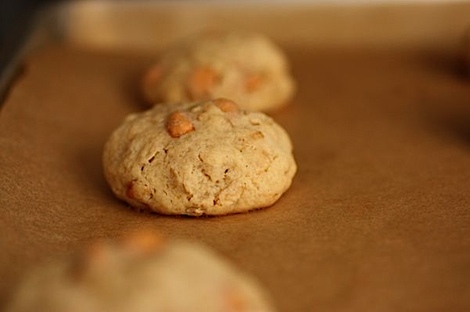 These may be more irresistible than the chocolate chip version. I can't tell. Can you?
***
Anywho, after my kitchen fun, I headed out for an afternoon session of Zumba! I was late for class (I was just attending…not teaching) but still had an awesome time. I left with such a great Zumba-high. You may have seen the following Facebook update on my TCL FB Page or on Twitter:

🙂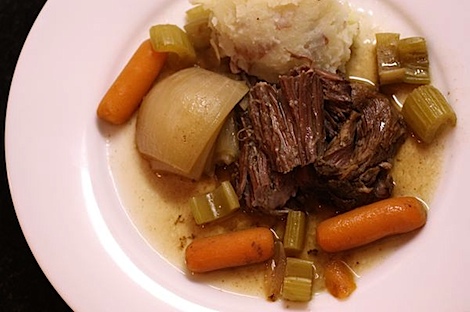 I came home, twittered with some friends, took a shower, and made mashed potatoes to go with the delish pot roast.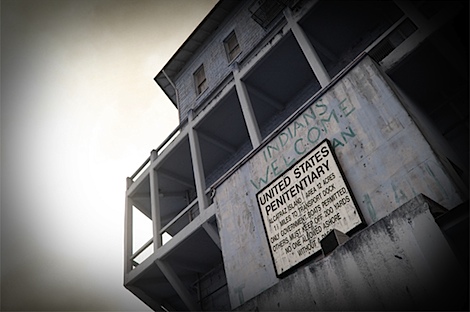 By the way,I've been working on an "Artistic Alcatraz" set of photos to share with you guys, which I've created using photos I took when I visited Alcatraz a couple weeks ago. The photos are looking really cool, and I can't wait to share them. Here's a sneak peek. 😉
I'm off to watch some football with hubby and cuddle with Bailey before bed. I have a short work week ahead, so I'm excited! Hopefully a lot of people will be out of the office, too, so things will be nice and quiet. I am ready for some easier work days…and holidays!