Thank you everyone for your sweet comments on my 5k post – you guys are too kind! 🙂
After successfully running my first ever 5k, I went home, showered, blogged and then headed out for a yarn-y day with my friend Megan.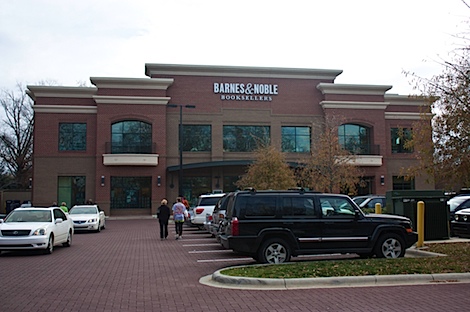 We hit up Barnes & Noble and grabbed a table in the cafe. I love coming to bookstores to hang out. I like discovering new books and magazines and the generally relaxing environment. Sipping on hot lattes is pretty awesome, too.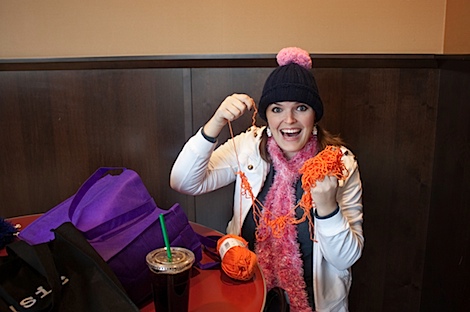 Megan is a wonderful knitter but new to crochet, so I promised to teach her. We ran into a bit of an issue trying to find the inside tail on this orange ball of yarn, but we eventually got it sorted out.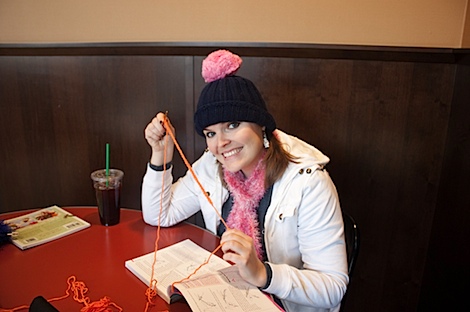 Check out Megan's first chain. She's on her way!
She already has a fabulous amigurumi project lined up…I hope she can finish it by Christmas!! 🙂
***
After the yarn fun, I headed home to get ready for my company's Christmas party. I used to be a bit of a shopaholic, but since purchasing the house, I've cut back. WAY back. I basically never shop. So while I used to purchase a new dress for this type of event, I shopped my closet instead and pulled out a LBD (little black dress).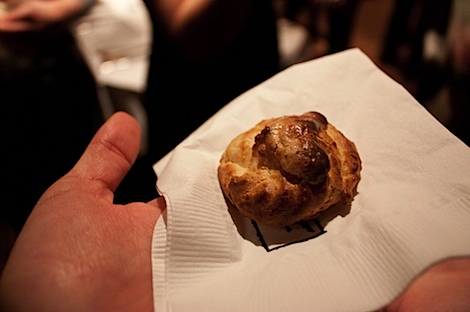 They were passing out appetizers at the beginning of the night. I fell in love with these little cheese puffs and am really hoping I can figure out the recipe later.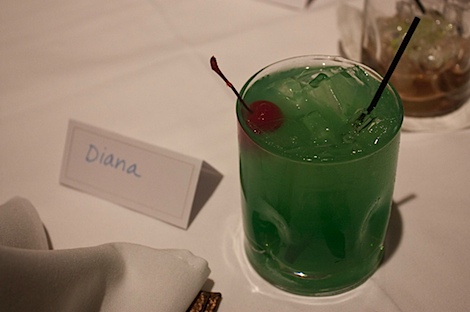 As for cocktails, I asked for something fruity and got this strange-looking concoction. We brainstormed names for it and came up with: Great White Shark, Blue Lagoon, and 20,000 Leagues Under the Sea.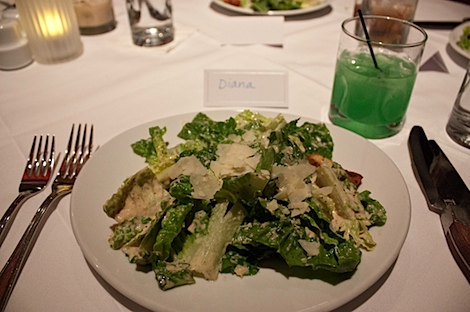 As for eats, I started with a dressing-soaked Caesar salad. Remind me to start ordering the dressing on the side! Phew!
For the main event, I had the filet along with some asparagus, mushrooms, and scalloped potatoes.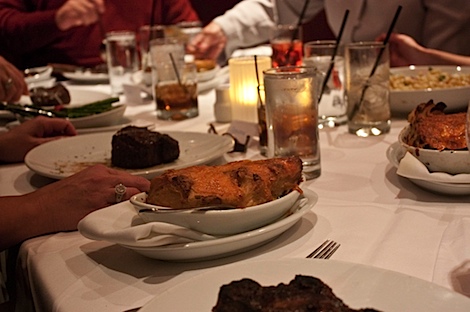 Everything was super delicious!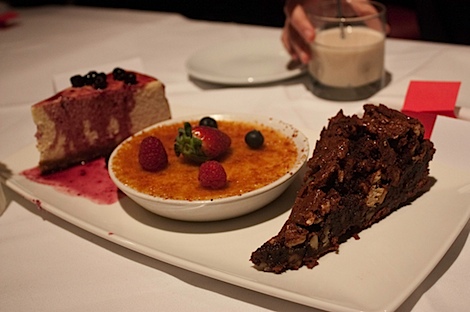 Especially the sweet ending – dessert! There was cheesecake, creme brulee, and chocolate pecan pie. Mmm…nommy noms!
Did anyone else have a company holiday party this weekend? Did you do anything fun?