Another weekend, another baking adventure.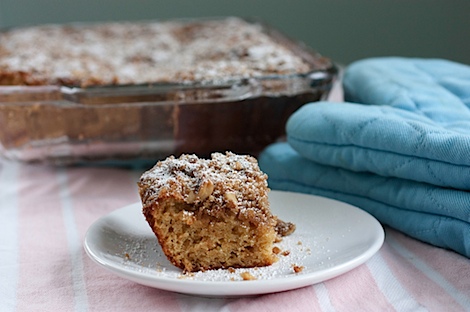 I'm a little cookied-out, so I decided to try something new and different – a quick 10-minute-prep coffeecake from the Holiday Baking issue of Cook's Illustrated. I found the recipe online here (click), but you either have to sign up for a 14 day free trial or be a member to view it.
It took me a bit longer than 10 minutes to measure out all the ingredients and get them mixed up, but the recipe was definitely quick and easy.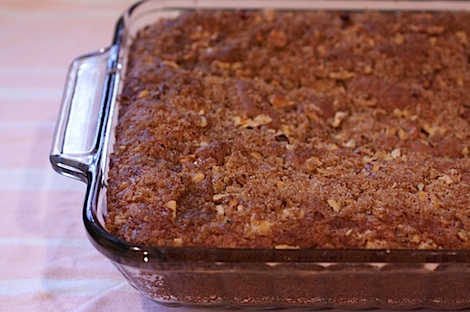 The longest part was the baking time – 45 minutes.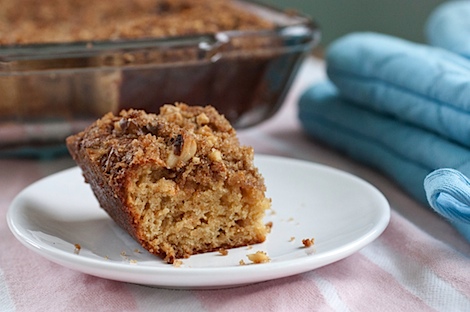 It was worth it.
I decided to sprinkle powdered sugar on top of my coffeecake so it looked more like the traditional coffeecake I'm used to seeing.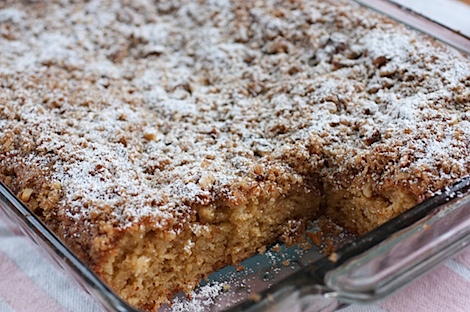 Not bad for "10 minutes" of work, eh?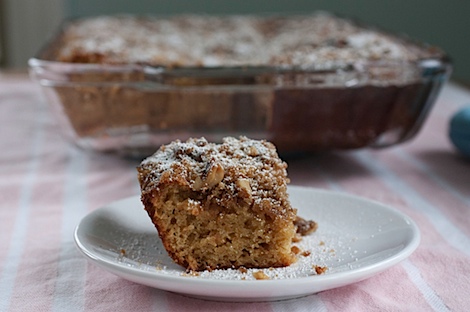 Nommmmm!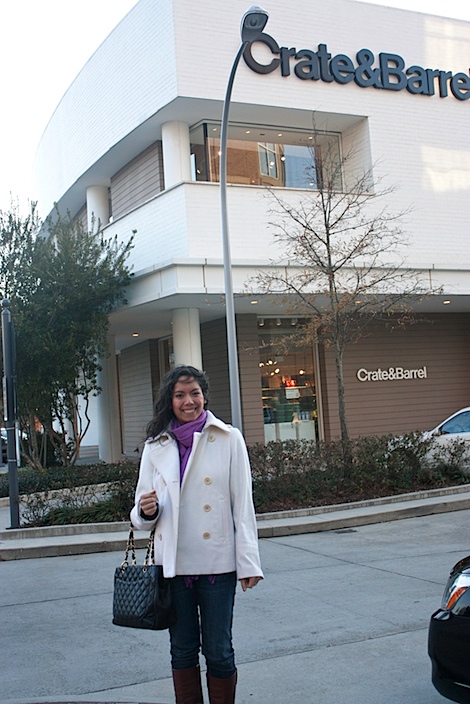 After brunch, I had a bloggie shopping date with Teri, who was in town for a blogger dinner we were doing later. We met up at Crate and Barrel to shop for blog goodies and Dirty Santa gifts. I mean…what blogger wouldn't want something from C&B??!!
I think we could have spent all day there – they have so much fun stuff to look at there.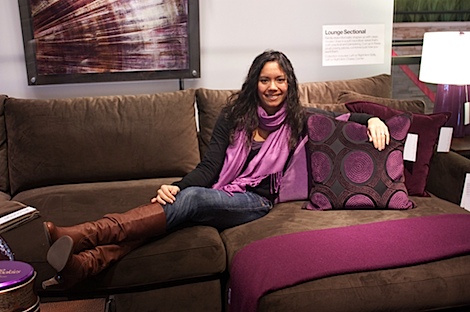 Can you believe my scarf matched this living room set? lol I normally don't like dark furniture, but I love this set.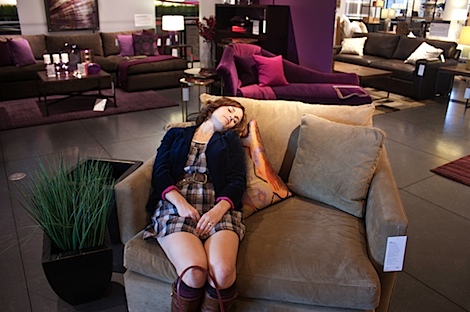 Check out this cozy armchair for 2. Teri totally needs this in her house!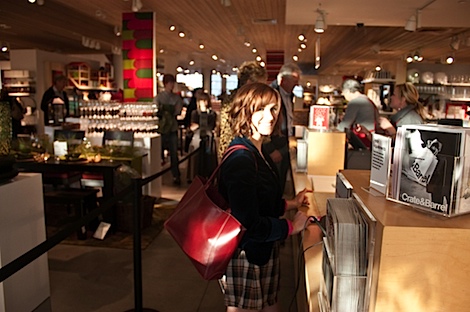 Teri and I shopped our hearts out. I had so much FUN! We found some cute stuff for our gifts and some great stuff to take home, including a couple matching things. 😉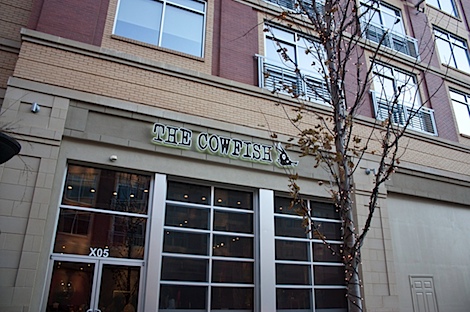 Next, headed over to our restaurant for the night, The Cowfish, early. The Cowfish is a newly opened restaurant in town that features a unique mix of burgers and sushi. They even have "Burgushi" – a combo of the two.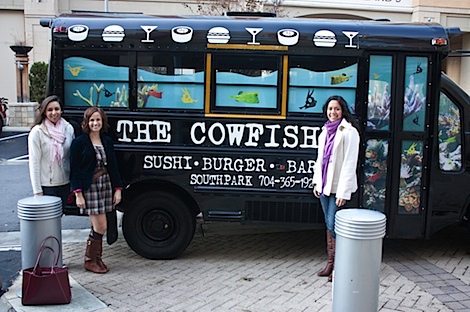 Too bad they couldn't pick us all up in this!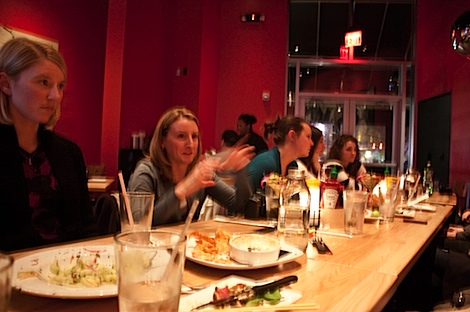 There were tons of food bloggers at our bloggie dinner outing. Teri did a fabulous job organizing everything. We had blog friends visiting from Greensboro, Winston Salem, and of course we had local Charlotte bloggers, too. We also got a friendly welcome from the restaurant's owner and some appetizer samplers on the house. Woohoo!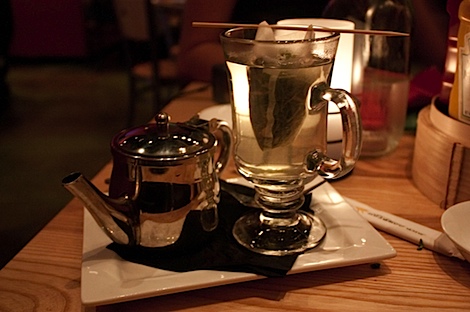 It was so cold outside, I opted for some hot tea. I got a brown rice flavored tea.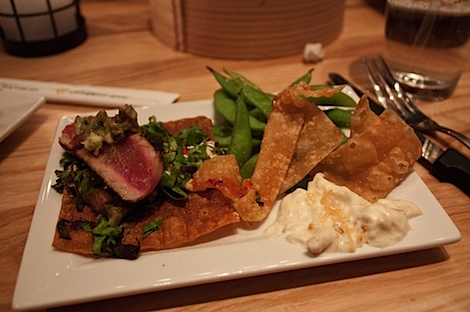 I didn't snap photos of the individual appetizers, but here's some of my sampler – ahi tuna nachos, edamame, deconstructed crab ragoons in the form of crab dip. They were all quite tasty…even the ahi tuna, which I'm normally too scared to order. I'm not a big raw food/undercooked food kind of person. There's something about the texture that drives me crazy normally, but I liked the ahi nacho.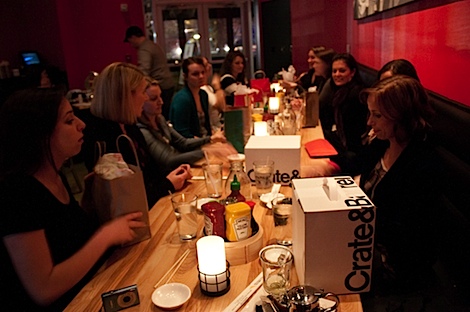 Between appetizers and entrees, we did a Dirty Santa Christmas gift exchange. I got some cute cocktail napkins from Tanya.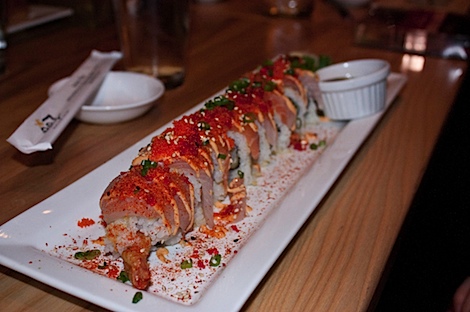 I wanted to order the bento box (with sushi, a mini burger, and sides) at the restaurant, but after they gave us appetizers that covered a few of the items included in the bento boxes, I decided to try something different. Teri and I both wanted sushi AND burgers, so we split an appetizer of sliders and a sushi roll.
We got the Firecracker roll, which was super hot thanks to (what we think was) a sprinkling of cayenne pepper on top. Phew! Spicy! It had that burning-lip/tongue thing going on…In a good way. Yum! This roll was way more adventurous than I usually try, but I was glad I did – it was wonderful!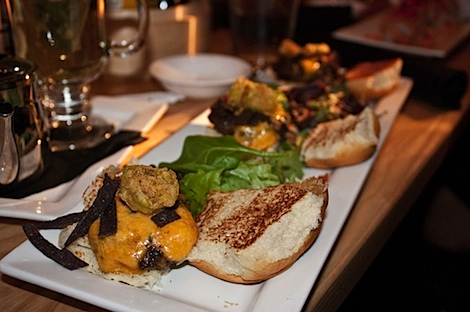 And we also split the mini burgers of the week – Mimi and Pops – burgers with homemade pimento cheese and blue corn tortilla strips. The burger was totally amazing, and the pimento cheese really added a lot of flavor. This burger is definitely worth trying if you ever stop in.
I really wanted to get the apple pie wontons but I was way too full after all the apps and yummy eats.
Big thanks to Teri for organizing and to The Cowfish for being so hospitable. 🙂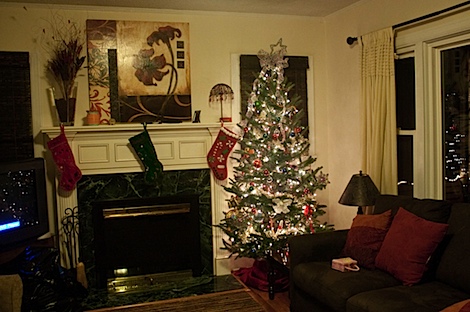 I had to take off a wee bit early from the food blogger dinner to make my Zumba company's holiday party. I came in just in time to do the last gift exchange for their game of Dirty Santa and ended up with a bottle of wine. Score!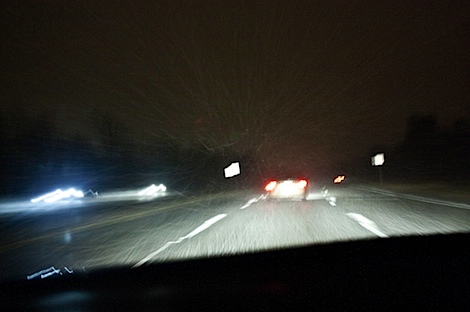 And then I braved the SNOW (snow? ALREADY??) for a 40 minute drive home. Phew! I'm safely home now and hoping we don't lose power from this winter storm passing through.
PS My legs are SOO tight from yesterday's 5k! Guess I need to practice, eh? 😉
Any tips for how to prevent stiff legs or what to do to help recoop?