I did it!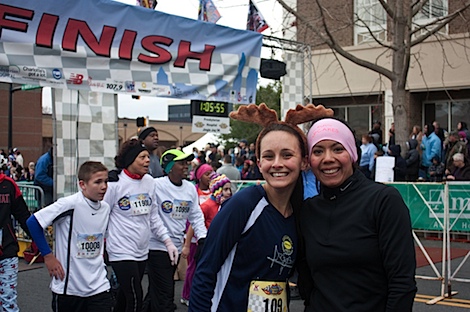 With the support of the super kind and ever wonderful Caitlin who ran the ENTIRE 5k with me, I completed my first 5k – the Jingle Jog at Thunder Road!
But let's back up a little…or a lot…
One time, when I was in middle school, I had a major figure skating competition coming up. For whatever reason, I thought my classmates would be interested to know I was doing said competition and I told ALL of them. It was fun conversation. What are you up to this weekend? Oh me? Well, I'm competing in a skating competition! It sounded cool and I thought it was interesting to talk about people seemed interested in learning about it. It wasn't until the night before the competition that I suddenly realized…if I blew the competition, then EVERYONE would know! Everyone would ask me the next week, and I'd have to tell them what a failure I was. Well, I ended up getting third place out of about 12 other skaters, so thankfully, I had something to be proud to talk about the next week.
I thought about this story of middle-schooler me last night as I was thinking about the 5k I would be doing in the morning. Just like before, I had proclaimed my decision to sign up for a 5k, except this time I told way more people – blog readers, twitter followers, and real life friends, too. Oh boy. My anxiety started catching up with me. What if I did terrible? Or worse…what if I got hurt or something and DNFed (didn't finish)? I would be the laughing stock of the blog world, right?
Luckily (I guess?), I was too nervous this morning about the race in general to worry about embarrassing myself in the blogosphere.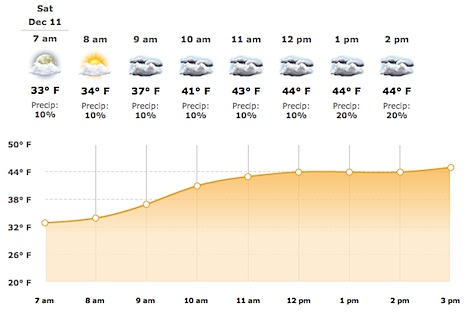 I checked the weather. Ooh, it was going to be a cold one!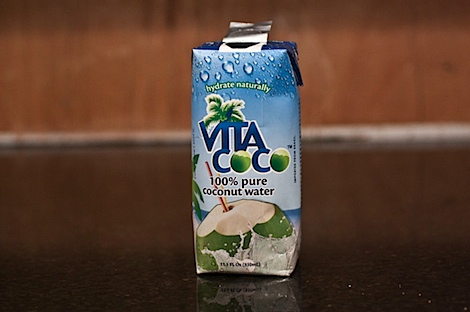 Kaitlin suggested coconut water for pre-run fuel, saying they were good for cramps. I typically drink coconut water while I'm teaching or doing Zumba, but I hadn't really tried having coconut water BEFORE working out. I tend to get side-stitches easily, so this seemed like a good idea.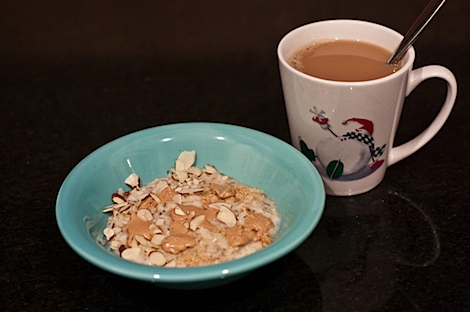 A lot of you suggested nut butter toast for pre-run eats, but we were out of bread! Doh! So, I had oatmeal with PB instead…plus coffee.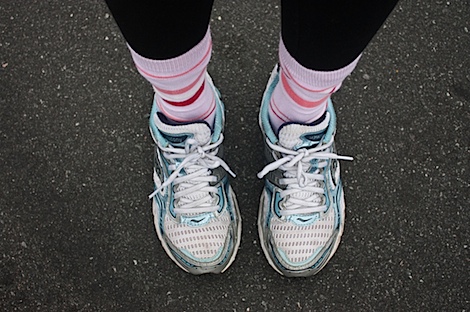 I planned my race day outfit completely around trying to stay warm. Like my socks? "Sexy," right? lol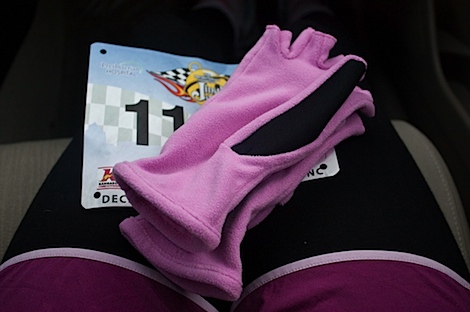 I found these neat gloves with flip-up finger cover mitt at Target last night.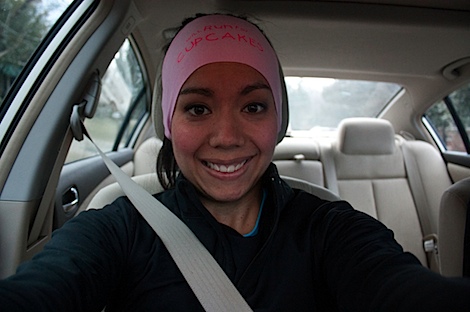 And I got this bondi band at the expo last night.
Here's me on the way to the race…I look nervous, right? lol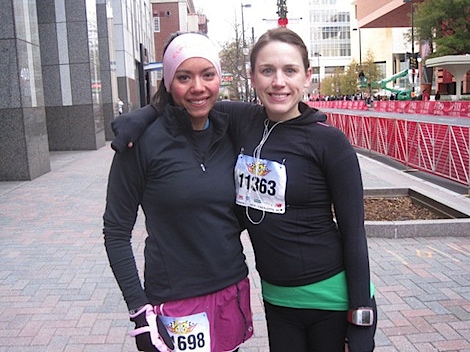 Me + Nicole just before the race. You may be able to tell from the photo I kind of wanted to run away screaming (from the race, not Nicole). Races are scary!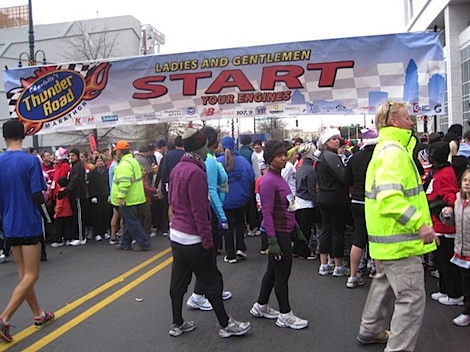 We headed over to the start area about 5 till the start time.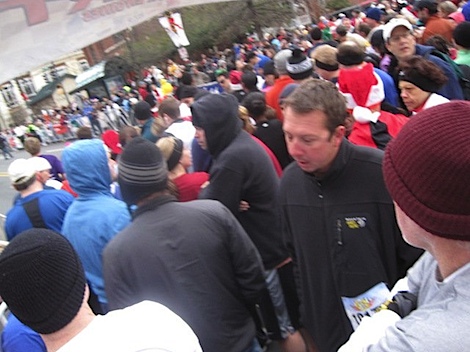 We were pretty close to the front!
I took a minute or so to think about my goals:
Finish the race
Run the whole thing (if possible…if I feel the slightest bit like I may hurt myself, I'm walking…I can't afford to not teach zumba! Plus I'd miss it too much!)
Be safe/don't get hurt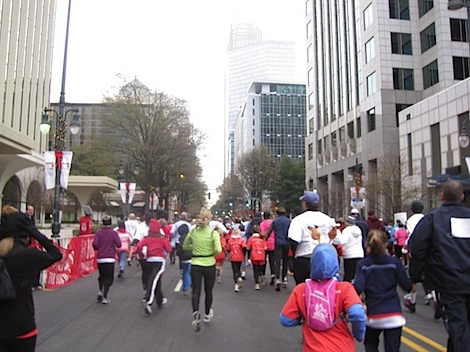 After waiting in the cold for a bit, we were off!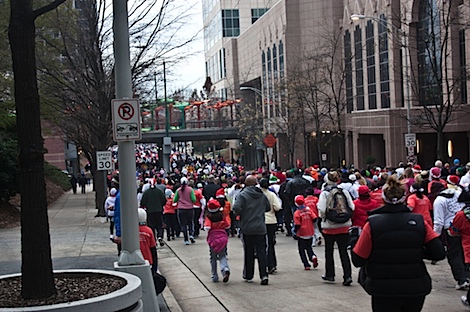 There were so many people running!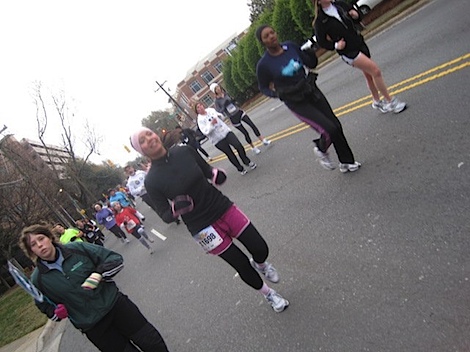 The course was super hilly!
By the way, I have Caitlin to thank for these awesome action shots, as well as some of the other photos!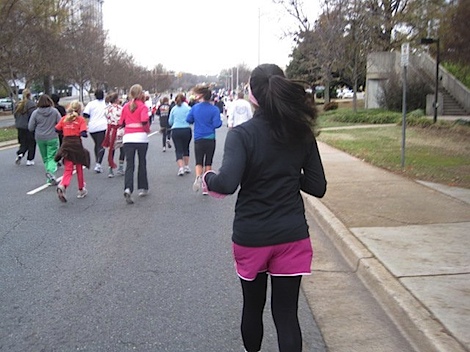 I'd be lying if I said the 5k was easy. I think I've mentioned a couple times before here, but the reason I've never gotten into running is because I can't get over the mental battle. Typically as soon as I start running, I hear a voice in my head saying, "Stop! What are you doing? You're not a runner. Why don't you just walk?"
Today the voice was saying, "You can walk if you want…c'mon, you feel tired, right?" And there were a few times when I did feel like walking…but I wanted to make my goal more – running the whole thing. I told myself, "You can doooo itttttt….keeeeeepppp ruuuunnnnniiiinnngggg!!!" I willed my way through the race, though Caitlin and I only ended up walking by the water tables so we didn't pour water all over ourselves.
I did think it was funny that there was one volunteer passing out water at the water table saying, "My water is better." I didn't try it so I can't verify.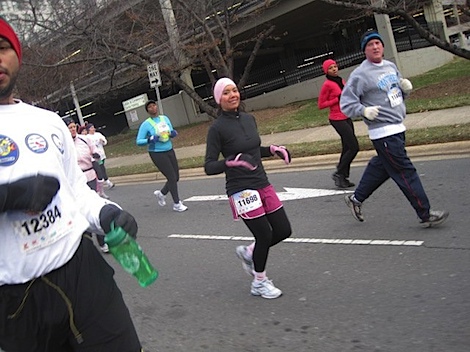 I think my hands look like a Hyperbole and a Half drawing here, no? lol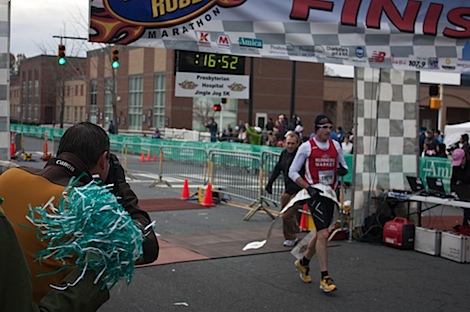 When we were way back in the middle of the course, check out the winner's time – 16:52 – omg! He's FAST!
Anywho, we reached the 2.5 mile point and I felt so close, but so far away! I just wanted to see the finish line so badly!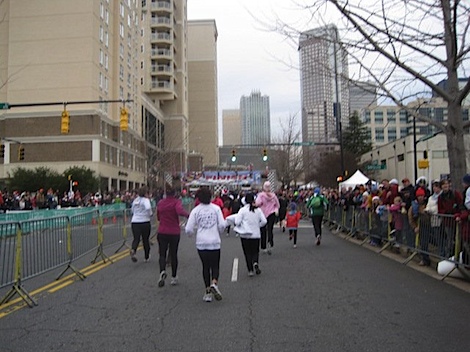 Soon enough..there it was! It was uphill the whole way. Gradual…but uphill.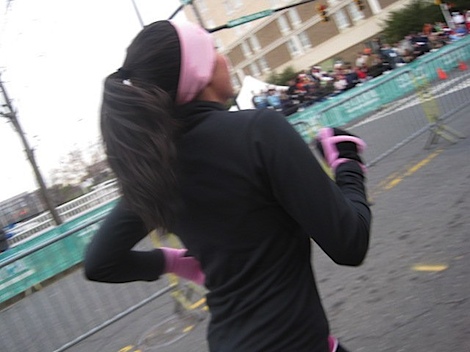 Caitlin and I started sprinting for the finish! I couldn't feel my legs, but I just kept running!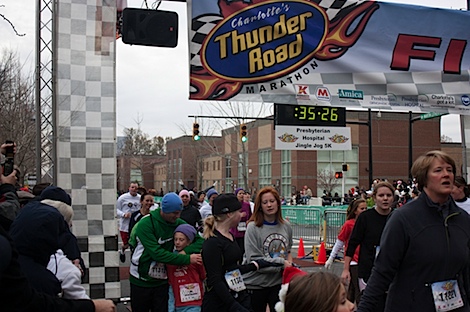 Before I knew it….we did it!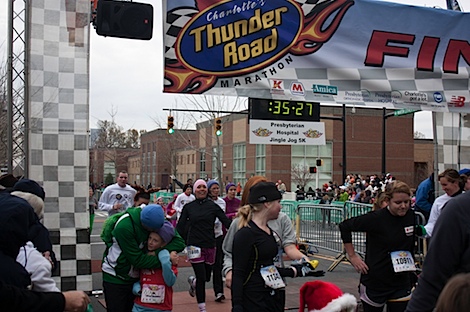 I successfully completed my first 5k and met all my goals!
I finished
I ran the whole thing (except for walking by the water tables)
And I didn't get hurt (at least not that I can tell yet…I feel fine)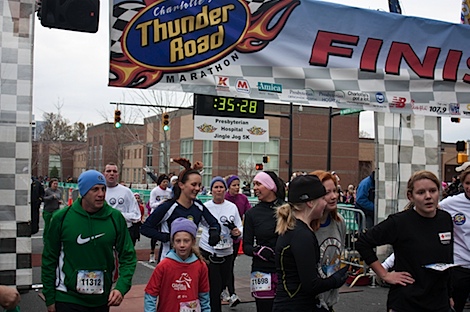 Hubby was there to take photos and see me finish! Woohoo!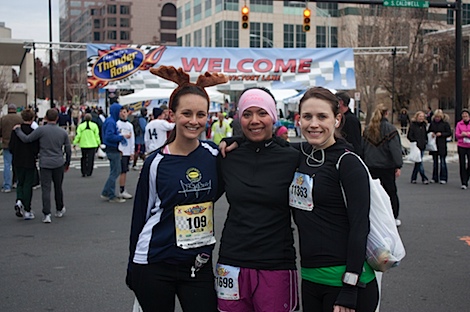 We also met up with Nicole who also ran the 5k but was way faster than us.
I almost can't believe that I ran a 5k today. I've never thought of myself as a "runner", but I did it! And can I say again how thankful Caitlin was there to run with me! Thank you Caitlin – you are amazing!!!!!!!!!!!!
Not only did Caitlin run the 5k with me, she also wore her Garmin and gave me stats! Here are my results:
Total time: 35:19
Total distance: 3.16 miles
average: 11:10
mile 1: 11:08
mile 2: 11:41 (water station)
mile 3: 10:58
mile 3.16: 1:31, a 9:19 pace with a 7:08 min/mile at the finish
Thank goodness Caitlin had her Garmin…This newbie runner never would have figured out these stats. lol
Ooh and another big thanks to Jen who let me borrow some running gear. I would have been so cold with it out. Thank you Jen!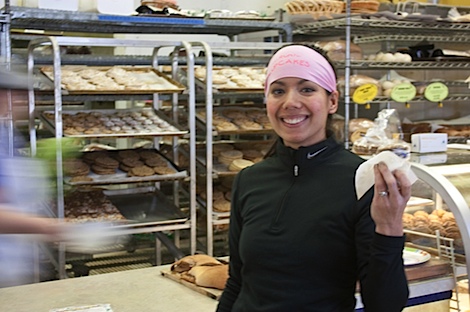 Hubby and I ran some errands after the 5k. We picked up some bread and I got a sample of cinnamon swirl.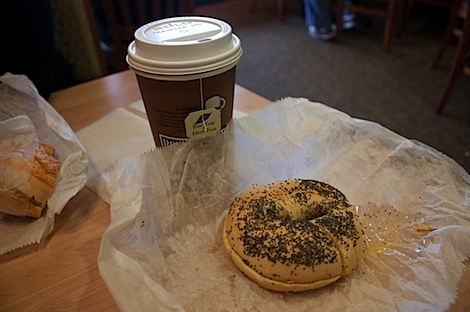 And we noshed on bagels and tea.
Anywho, I guess I'm a "runner" now guys! This is the first time I've ever felt like a real runner and it feels pretty sweet!
Reader question: When was the first time you felt like a "runner"? Tell me your story! 🙂