I had a small breakthrough the other day. I put together a real outfit.
I know…it's amazing, right? I put on clothes that somewhat went together just like hundreds of thousands of other people do every single day. But, the reason this outfit is special is because, I tried. It's been a long time since I've actually tried to put together an outfit. Have you ever been stuck in a rut before? Not like an eating rut, workout rut, or a general fashion rut. I'm talking an I'm-so-stressed-I-no-longer-care-what-I-look-like kind of rut that can last for weeks or months. Yup, that was me.
But, I'm on the mend, and things are looking up. Starting with this ensemble…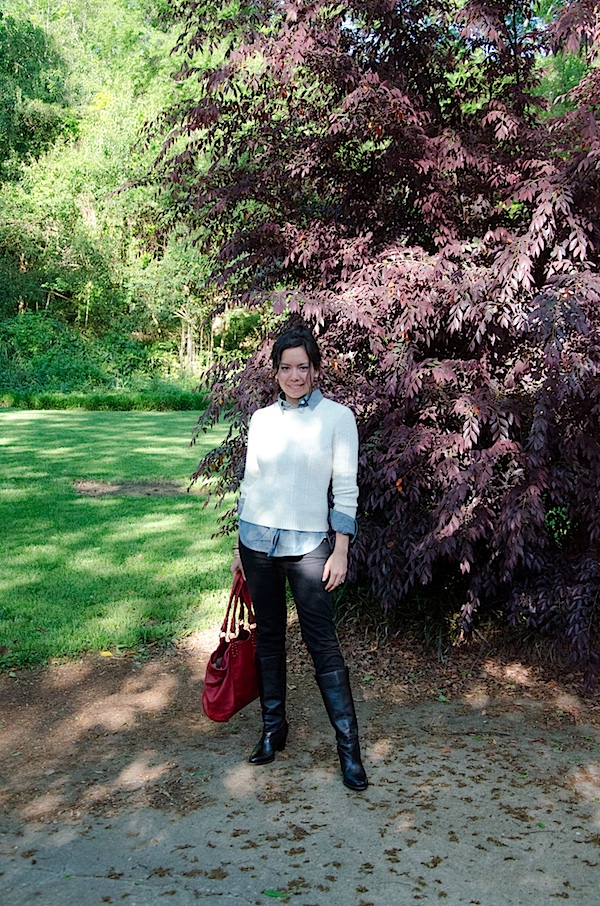 I'm on the fence as far as if I like it or not. But, it was awesome to wake up and have that glimmer of excitement return – just to be excited about looking through my closet and pulling a look together. I got this chambray shirt at J Crew awhile back and am just getting around to wearing it. Since the weather was extra chilly, I opted to layer it with a fuzzy sweater. I felt a little silly wearing the sweater in April, but the temperature has been so up and down in the Carolinas recently. Last week, the week day highs ranged from under 60 to 80 degrees F (and I just checked and this week looks to be the same). Thank goodness for layers!
Anywho, I posted this look on my TCL Facebook page to get your opinions (and make sure it was decent) before posting here on the blog (and suffering the wrath of those more fashionable than me). Thanks to those who weighed in.
Chambray shirt: J Crew
Sweater: Ann Taylor Loft
Black jeans: Urban Outfitters
Boots: Banana Republic
Purse: Sigrid Olsen
Thanks for reading!
***
Reader question #1: What would you change on this outfit?
Reader question #2: Have you been in a rut before? What helped you get out?