I haven't blogged about products in awhile. At first, they were fun to share. Then, I got offers to try free samples of products that I wasn't really interested in. Ooh, free stuff! Okay, so I really liked some, but overall, it became a chore, and I realized I was making a pretty big mistake by accepting any products that didn't meet my interests and standards. I turned my focus to other blog topics. But, you know, sometimes, I want to talk about products. And though I still get offers to review products, I'm now extremely selective about what I'll okay. The new rule – only blog about things that fit my quality standards and style of eating/living, as well as, things I have something to say about.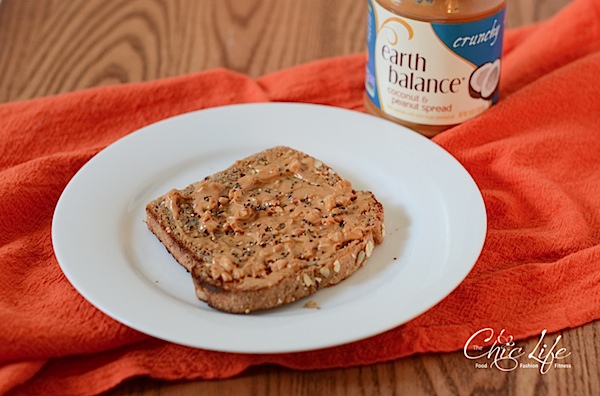 I was recently out of nut butters and hadn't had any in the house for awhile, so I purchased this Earth Balance crunchy coconut & peanut spread at the grocery store to try out. I was looking for a new nut butter, and this one first caught my eye because it was on sale. Though it isn't organic, I remembered seeing this brand at Earthfare, which told me that the brand generally met the pretty high quality standards of a grocery store I trust. I did notice that the bottle at least had a label saying it's Non-GMO Project verified.
I also checked out the ingredient list, which contains: peanuts, organic extra virgin coconut oil, agave syrup, palm fruit oil, natural flavor, and salt. It's not as good as made-from-scratch, but it's not too shabby. I don't love that there is "natural flavor" in the product, but in my opinion, this is still a much more superior peanut butter to other brands I've seen, and it's better than getting fast food or not eating breakfast at all.
So, how does it taste? Flippin delicious! I knew I'd love this stuff as soon as I cracked open the jar. The texture reminds me of crunchy Barney Butter – smooth, creamy nut butter with crunchy bits of nuts throughout. The flavor – a nice, rich peanut base with the added touch of bright coconut. If you're a fan of putting peanut butter and coconut oil or pieces of coconut in your oatmeal, etc., you'll love this.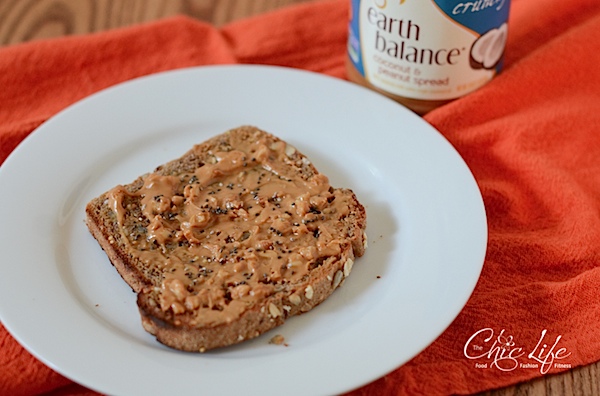 I revisited my old fave whilst sampling this – power toast! I toasted up some whole grain goodness Great Harvest bread, spread on some of this coconut & peanut spread and added some chia seeds on top.
It's good to have my go-to 5 minute (I'm running late for work) breakfast of whole grain toast and a tasty nut butter back. Yum!
By the way, I'm looking for more delicious nut butter options. I'm a big fan of Barney Butter and the Justin's maple syrup is out of this world. Any other ideas?