We've made this for the last several annual family beach/lake trips, and it's always a winner for vegetarians and omnivores alike. This is our favorite Easy Vacation Meal to Feed a Crowd: Slow Cooker Chili Recipe (click to view). Scroll to the end to watch a quick video.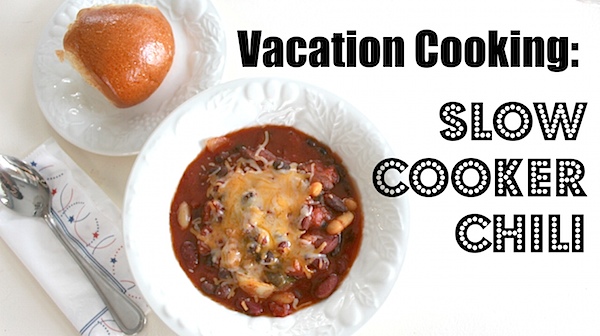 I've blogged this recipe before, but I wanted to share more about why this is a great recipe for traveling, especially for cooking meals back at the vacation rental.
This is a winner for vacation cooking for many reasons:
It's easy (it only takes about 10-15 minutes of effort)
It's affordable (it costs about $1-2 per person – at least for our family of eleven-ish)
The ingredients are shelf stable (so we can easily take them on our road trip to the vacation rental without having to grocery shop at the destination or worry about packing a big cooler)
And a surprisingly big one – you don't have to rely on the equipment at the vacation rental (which is great when the quality or availability can vary so much)
There's no denying the ease or cost. As far as the ingredients, if you do decide to add meat (as the original recipe instructs, though we leave the meat out since half the family is vegetarian), you will need to get that at your destination or pack it in a food safe way. Same with toppings. Cheddar cheese is our favorite, but sour cream is also popular.
We've stayed in several different vacation rentals over the years. The options (and quality) for pots, pans, and cooking utensils varies greatly. By bringing our own crock pot, we can just use that one tool. And it's also nice that the slow cooker is the only thing we really need. We haven't had any trouble finding a strainer for the beans at the rental, but I guess you could bring that too if you're really worried. And sure the crock pot isn't the smallest thing, but for the overall simplicity of the meal, it's worth it to us.
Now, we just need to do more recipes like this to get extra use out of the slow cooker. We usually only do one of the meals of the trip, but who knows? Maybe we'll take on more over the years. If we find any other recipes that work particularly well, I'll be sure to share the recipe and tips for those, too.
***
Here's a quick video I made about our easy vacation meal to feed a crowd – our slow cooker chili recipe:
Thanks for watching and reading!
What's your go-to meal when you're cooking on vacation?