Have you ever wondered how the monthly mystery sticker subscriptions work for Etsy planner stickers? I have too. While each shop may do them differently, I thought I'd film a quick video of the one I decided to try to give a general idea. This is something I would have liked to have seen, so I thought you may enjoy it, too. Scroll down to see my video of me unboxing the Alex Studio July 2015 Monthly Sticker Subscription Kit.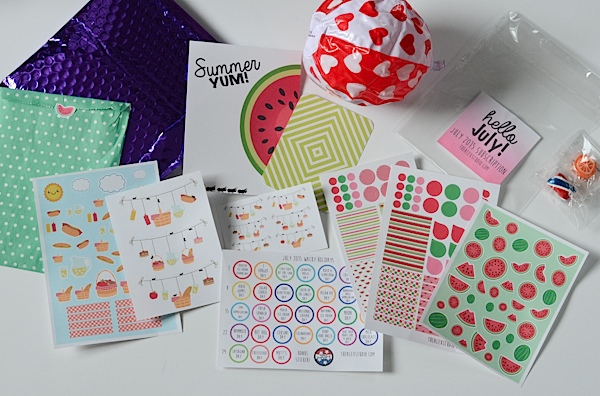 All of the stickers are beautiful. They're obviously so well made. I could tell just by looking at them. The colors are so vibrant, and I love the patterns and designs. The Wacky Holiday stickers are my favorite of the bunch.
This was $18 plus $2 for shipping and handling, and the package came really quickly. I received two journal cards, seven sheets of stickers, candy, and a blow-up balloon.
I absolutely loved my stickers. So much so that I've already ordered the August kit, too. The August kit will be available for just one more day (through the 15th), so if you want one, too, check out the Alex Studio Etsy shop to get yours. After the 15th, they'll be available again in September.
Hope you liked the video and post!