It was holiday party time. I normally looked forward to shopping for a new dress for my company's annual holiday party. But this year was a little different. In the bigger picture, I was fed up with my closet and actively working to purge my closet. Did I really need another formal dress?
I decided I did and I didn't.
Wear Once Closet Clutter
The dresses of years past were still hanging in my closet. Had I even worn them since the party I'd purchased them for? Not really. They were just there. Taking up space. Cluttering my closet.
Goal: Ultimate Party Dress
I decided to try something new. Something in line with my Parisian Wardrobe dream closet. I'd look for the ultimate party dress. The dress to rule all party dresses!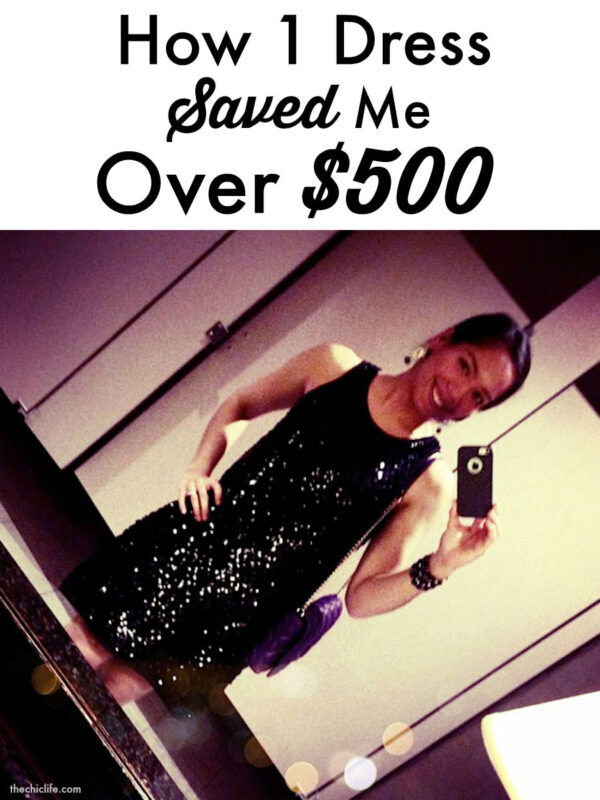 Finding the Ultimate Dress
I got lucky and found a beautiful black sequined dress at a local consignment shop, Summerbird. It had a classic A-line cut and was as comfortable as it was cute. And guess what else? The dress only cost me $60.
I'd normally look for semi-formal dresses between $100 – $200.
But, I didn't just save money. The best part by far was how confident I felt in the dress. I absolutely loved wearing it. Simple as it was, it made me feel like a million bucks.
Ignoring the Fashion Faux Pas
I loved this dress so much, I decided to wear it the next year. I guess there's a faux pas about wearing the same dress twice. But you know what? I didn't care. And on top of that, I hadn't had the opportunity to wear it since the first holiday party. This was my chance to put on the dress I loved wearing!
Not to mention the cost savings. I asked myself, "Do you want to spend $100-200 on a dress you'll only wear once when you have a beautiful dress waiting for you in the closet?" Nope.
I asked myself the same question the next year. And the next.
Saving Over $500
The dress has now made it to four holiday parties.
At about $100-200 normally spent on a dress, the estimated savings are over $500! I easily found better uses for that money, like treating myself to other clothes that I was able to wear much more than once a year.
Bonus – Saving Closet Space
And this strategy was totally in line with the Parisian Wardrobe. Instead of having four holiday dresses taking up precious closet space, I had one. And you know what? I can't wait to wear it this year too!
Find Your Wear Once Closet Clutter
What are the items in your closet that served a single purpose? That you've only worn once. Maybe something you expect to buy and only use once (that isn't a bridesmaid dress, etc.). Are there multiples of something you can replace with one fabulous item?
Find them and you can save money and space too. Just think what you can do with all that cash and room in your closet!
Keep Reading
Click here to read my other Parisian Wardrobe related posts.
Thanks for reading!