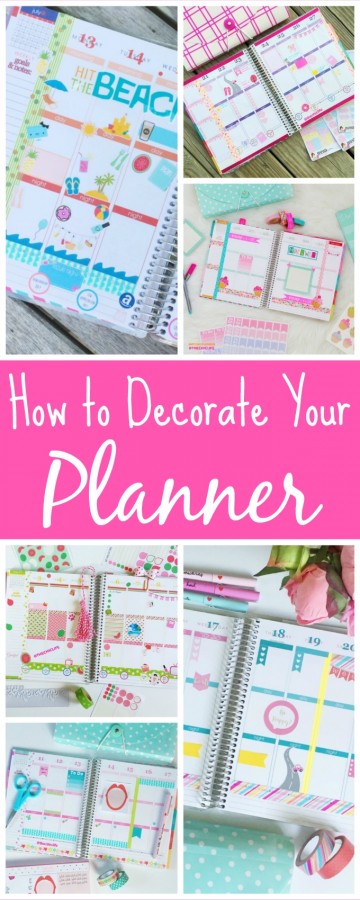 There's no right or wrong way for how to decorate your planner. I don't know about you, but I have a tendency to be a bit of a perfectionist. However, I prefer my planner decorating to be a stress-relieving (not stress-inducing) activity. So, I like to focus on having fun. After all, if you mess up a spread, you only have to look at it for another week (or month) or less. Play, make mistakes, and remember to enjoy the process. Here are my tips and ideas on How to Decorate Your Planner.
Planner Decoration Tutorials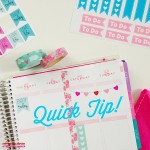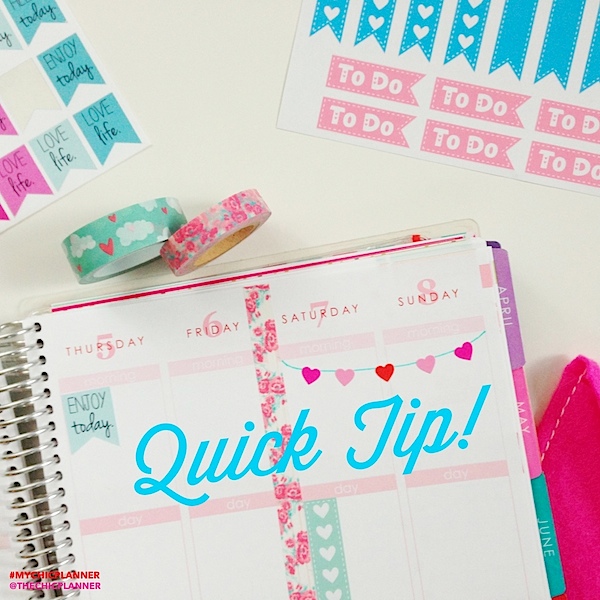 DIY Weekend Banner with Stickers (Quick Planner Tip)
How to Decorate Your Planner with Just Washi Tape *with video*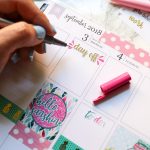 How to Make Text Stand Out in Your Planner – Quick and Easy Tip (you can use this in bullet journals too!)
General Planner Tips
Planner Layout Photos/Ideas and More
Want to see how I decorate my planner?
Click here to view a list of my Plan with Me videos on YouTube

Click here to see pictures of my planner's weekly and monthly layouts
Click here to go back to my main Planner page
How to Decorate Your First Planner Spread
When you're trying to figure out How to Decorate Your Planner, it can be difficult to know where to start. So, I made a video to help you! This is a chatty Plan-with-Me style of video where I show you how to decorate your first planner spread with just washi tape. It's a really easy and affordable way to get started!
Click here for the blog post (with photos!) of this video for Your First Planner Spread
Plan with Me Videos and Blog Posts
Plan with Me is a style of video where you follow along as someone decorates their planner. Some planners film their Plan with Me as is and some speed up their video. There are many styles of Plan with Me videos, and it's fun to watch a variety of them. You can search for "Plan with Me" on YouTube, and I also suggest adding the name of the planner you have to your search if you want videos tailored to your exact planner. Personally, I think most planner tips can be transferred from one type of planner to the other, watching any is helpful. Especially when you're just getting started!
Here Are My Plan with Me Videos
Check out my latest planner videos on my YouTube channel for other types of planner and lifestyle videos.
Click here to subscribe to The Chic Life on YouTube to get notified of my latest videos!
Plan with Me Blog Posts and Photos
And you can click here to see my blog posts and tons of photos of my planner layouts.
---
Thanks for stopping by! Hope you found this How to Decorate Your Planner page and/or my videos helpful!