Hi planner friends! Did you get a new planner? Do you feel a bit lost, overwhelmed, and unsure of what to do with the thing?! I totally get it and remember feeling the same way when I got my first Erin Condren LifePlanner in 2011. There wasn't much information about planners out back then. And I'm not sure Plan with Me videos were even being produced yet. But either way, I wanted to make the video that would have helped new-planner-Diana and will hopefully help other new planners. The video is a chatty Plan with Me about doing Your First Planner Spread Decorations, and I'm sharing photos and shopping links in this blog post.
Note: This post contains affiliate links. If you make a purchase from one of these links, I may make a small commission at no extra charge to you. Affiliate links help me make and share awesome free content like this post. As you can tell from the video, I actually use and love the products recommended here. But feel free to reach out if you have any questions.
*VIDEO* How to Decorate Your First Planner Spread
Click here to watch the video if the above player doesn't work.
Your First Planner Spread Decorations Photos and Tips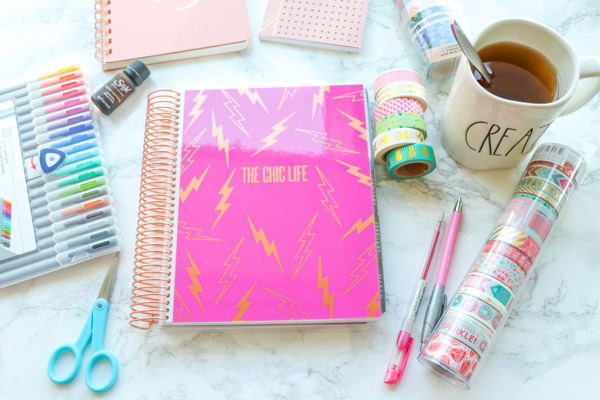 So you got your planner and then got a bunch of washi tape. But now what?
Or maybe you only have your planner because there are (omg) so. many. supplies. Which ones should you get?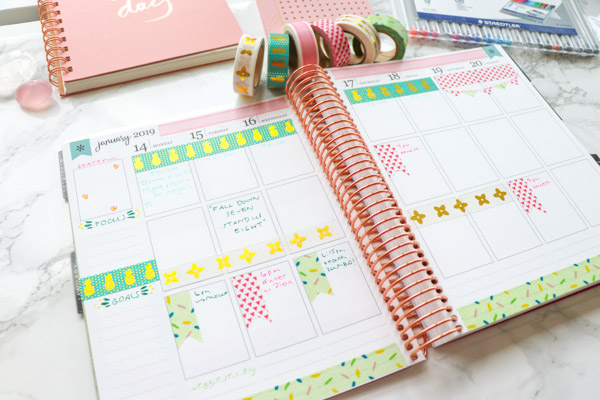 The Right Way to Decorate Your Planner
Well, there's no right or wrong way to decorate and use your planner. And of course, you don't have to decorate your planner at all.
The best thing you can do is just start. Decorate any which way you want. You'll most likely change your planning style over time. Be playful. Experiment. Have fun! Don't like a spread? You have plenty more. Even if you're on the last page of your current planner, there's always next year.
And sometimes it can be super fun to look at the evolution of your planner over the years.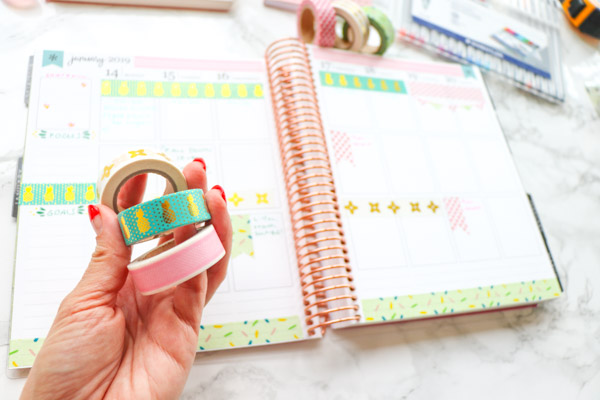 Why You Should Decorate Your Planner
For me, decorating makes using my planner more enjoyable, which keeps me engaged and using it on a regular basis.
I used to do a lot of artistic hobbies as a kid. And now that I'm working, teaching Zumba, and running this blog + YouTube channel, I don't have as much as I'd like for my creative outlets. So, in a way, planning allows me to have a bit of artistic fun throughout the week.
How to Get Planner Decoration Supplies Quickly
If you're anything like me, then you'll want to get your planner supplies ASAP. If you haven't already gotten them.
Back in 2011 when I got started decorating, there weren't as many options as there are now. Lucky you!
I recommend either getting washi tape from
A craft supplies store – my faves are Michaels and Paper Source – you can get washi as soon as you can make a trip to the store, and both have super cute planner supplies options
Amazon – if you're anything like me, your schedule is so tight, you don't actually have time until 2 weeks from now to go to the store, so Amazon Prime shipping will get washi into your hands even sooner than shopping in person
And you can get shopping links for the washi tape featured in this video and blog post below.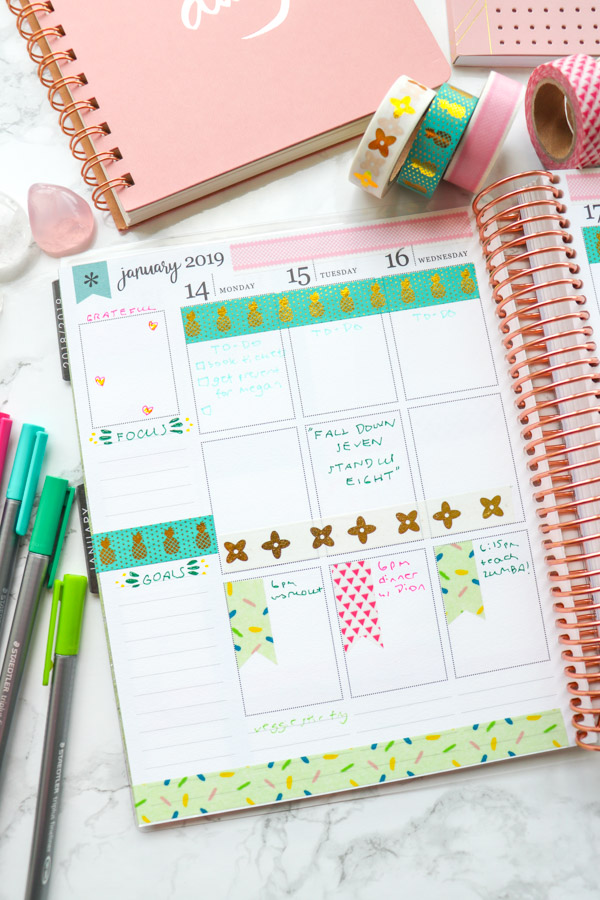 So, I basically used a lot of washi tape decoration ideas from my How to Use Washi Tape in Your Planner post and video.
Psst: I made a follow-up video for this! I'm still editing it, but I hope to have it up soon!
On the left side, I added:
Borders (washi along the top and bottom)
Column Dividers (left-hand column)
Banners (for events)
Section Marker (the pineapple washi for the to-do list / weekday section)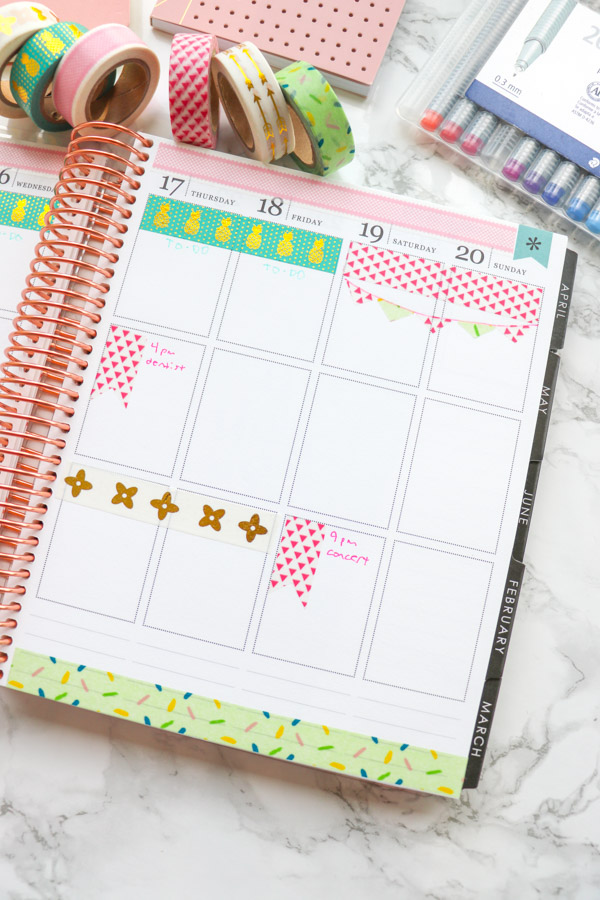 And on the right hand side, I added:
More Borders
More Banners
Also More Section divider washi
A Weekend Banner (using the leftover triangles from the banners)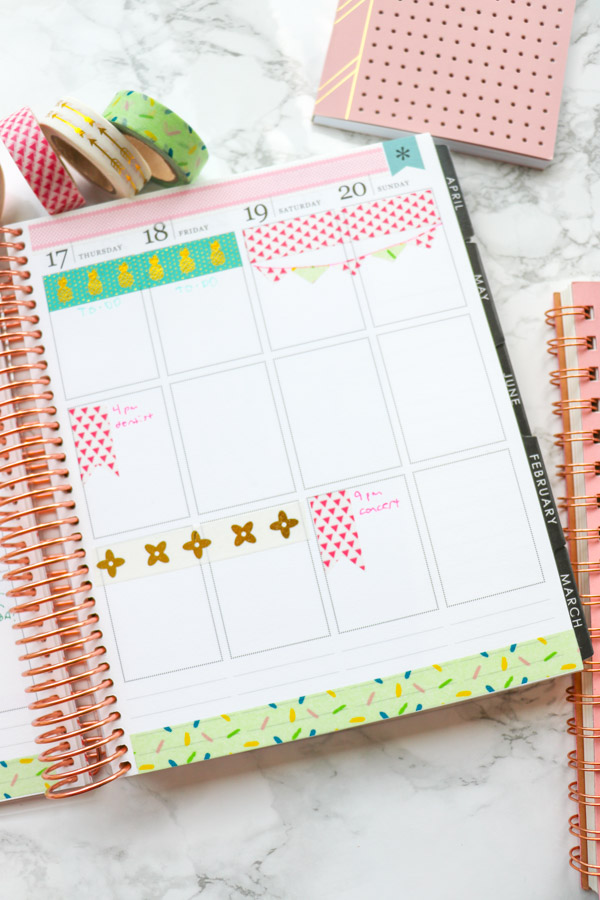 In case you miss the video, I usually decorate my planner on the Saturday or Sunday of the previous week. Then, I use my planner throughout the week.
When I set up the planner, I try to leave plenty of white space for writing, since I tend to use each column day by day. So, this is a before-the-pen Plan with Me. This will get filled in by the week's end.
And thanks to this spread looking cute, I look forward to using my planner! Hope this helps you get into enjoying your planner and getting organized too. Woop!
Shop This Planner Spread
Here are the supplies used in this video and blog post
♥ Planner used – Erin Condren LifePlanner
♥ Washi tape set used – Ally Drew Tropical
♥ Maggie Holmes Floral Washi tape via Paper Source
♥ My favorite black pen
♥ Color pen set
♥ My Scissors
♥ Post-It Bright Page Markers
More Planner Posts and Photos
Check out my recommended Top 5 Essential Planner Supplies (with video) here
Get more tips on How to Decorate Your Planner here
And you can watch more Plan with Me videos here or on my YouTube channel
Click here for my latest blog posts
Join the Free Best Year Yet Planner Challenge


***
Thanks for reading and watching! Hope you enjoyed this blog post and video about Your First Planner Spread Decorations Plan with Me.
I'd love for you to share this on Pinterest – it really helps out my blog and YouTube channel. Cheers!