Hi friends, I'm dropping in with a super quick and easy tip to help you planner lovers out there. Over the weekend, I was setting up my planners for this week when I ran into a minor problem. I'd added a cute sticker that says "Day Off" on Monday since it was a holiday for me. But I was worried I'd easily miss this when I was flipping through quickly. So I came up with a cute solution, and I'm sharing that in today's mini tutorial on How to Make Text Stand Out in Your Planner.
Note: This post contains affiliate links. If you make a purchase using one of these links, I may make a small commission at no extra charge to you. Please feel free to reach out any time if you have any questions.
Before – Cute Text (Before Making It Stand Out)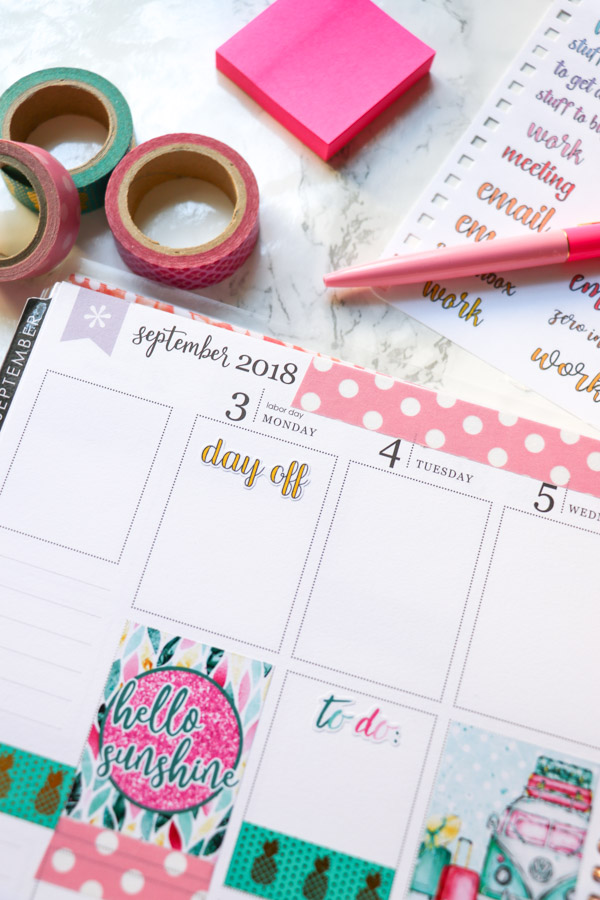 Here's what the text looked like before in my Erin Condren LifePlanner. Since I'm usually pretty short on time, and I don't think my scripting skills are that great, I picked up this sheet of pretty words from Planner Chick. They look great and come in many colors. I like how they're in color with black outlining so the words don't get lost on the page.
While I think the sticker looks fantastic on its own, I wanted to call a little more attention to the fact that Monday was a day off for me. For these types of call outs, I want to be able to quickly seeing them when I'm flipping through the pages.
Btw, the sticker kit I used for some of the more decorative stickers is by It's Planning Time on Etsy. Love her stickers too!
After – Cute Text with Embellishment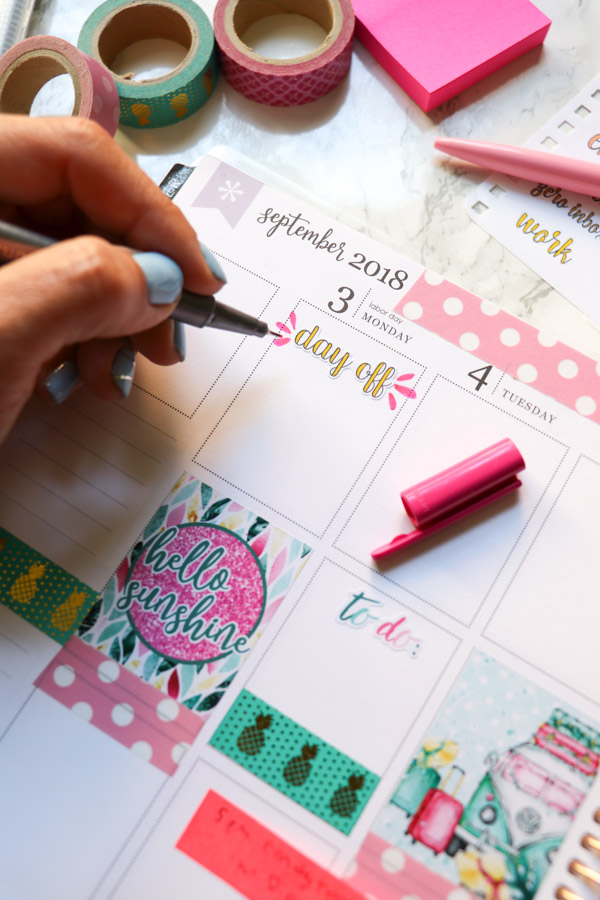 So here's my quick and easy way for how to make text stand out in your planner:
🌟 The Idea: Using a pink pen, I drew three little teardrop looking shapes on the edges of the stickers.
To me, they scream, "Hey, look over here! There's something important."
The pink goes with the theme while also contrasting the yellow of the text. The bright color helps catch my eye. And the fact that nothing else looks like this in the layout helps it stand out further.
This would also be great if you have:
an important appointment
school assignment due date
or anything else that you want to make sure you don't miss
It's such an EASY Planner Decoration Idea.
How To Make Text Stand Out in Your Planner
Overview: Draw three teardrops with the points towards the text you want to stand out more.
How To:
💖 I started with the teardrops on the sides first and then added one above and one below, at roughly a 45 degree angle, on both sides.
💖 And I used my favorite color pens (available in a kit of 20 or 36 different pen colors – a color to go with all of your stickers and washi tape!) in pink since it made the yellow pop.
💖 For each teardrop, I outlined the shape and then filled it in.
And that's it! Easy-peasy!
You should be able to use this in nearly any planner, whether you're using Erin Condren, ban.do, the Happy Planner, or any other paper planner.
Note: I didn't worry about the teardrops being the same size and I didn't care much if the teardrop crossed over the box lines…which they did on both sides. But do whatever you like. I believe you're more likely to use your planner if you enjoy it, so I keep my use low stress and relatively perfection-free.
More Planner Tips and Ideas
***
Thanks for reading this post on How to Make Text Stand Out in Your Planner. Hope you enjoyed this quick and easy tip.
Your turn! What are your ideas on how to make text stand out in your planner?
📌And here are some shareable graphics in case you want to pin this to your "Planner", "Planner Tips", or "Planner Ideas" Pinterest boards. Or share this tip with your friends.