Not me…not yet at least…I'll explain in a minute.
First off…how fabulous were everyone's comments yesterday on my post about using clothes for weight loss goals?! If you haven't seen them yet, take a looksie – lots of great opinions in there (and if you haven't weighed in yet I'd love to hear yours)! Click here to view them.
There were great POVs on why using clothes for weight loss goals can be good and bad and tips for how to do it the right way, if you think the idea meshes with your style in a positive way.
Let me fast-forward to breakfast quickly and we'll return to the fun clothes talk.
***
I wanted another one of these for breakfast, but instead, I went with oatmeal: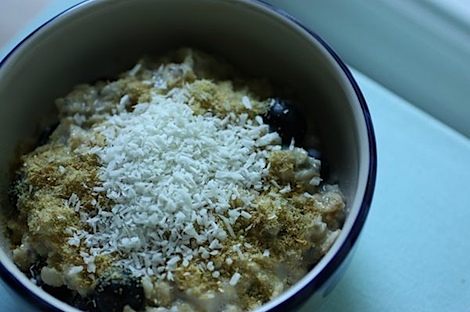 Blueberry oatmeal, that is!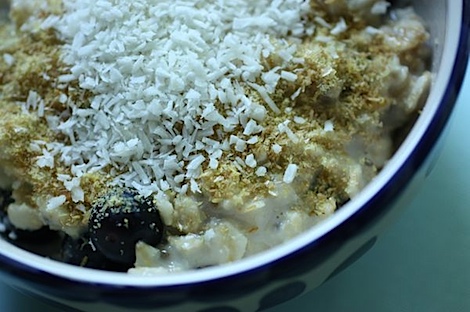 Oh yes, blueberry oatmeal with the fabulous, giant, plump, fresh blueberries picked up from the Farmers Market this past weekend. Yummers! I made mine this morning with almond milk and added flaxseed meal and coconut flakes on top.
I'd go into more eats, but it's midnight and I'm sleepy…
***
I often find myself using clothes for weight loss goals or measurements in general.
When it comes to clothes and weight loss, I've had:
Fat jeans
Skinny jeans
"Goal" pants
Short-shorts
and probably numerous other things I can't think of at this time…
As for those short shorts…Around January of last year, when I was in my exercise rut and 15 pounds heavier and trying to work my way back to my happy weight, I thought…how wonderful would it be if I could pull off wearing short-shorts to zumba class.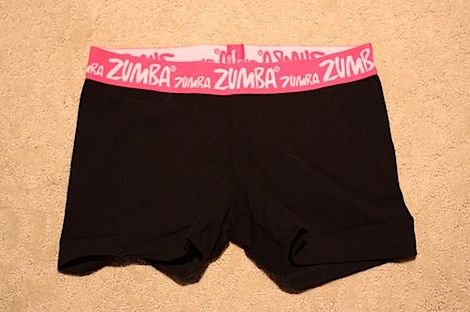 I don't mean like those soffe shorts…I mean, short, tight, bicycle-shorts-style short-shorts!
I mean…if I could comfortably and confidently wear short-shorts to class…that would be something, wouldn't it?!
Pictured above is the pair I purchased last week. I haven't worn them yet.
My goal to wear the short-shorts is amplified now by the fact that I'm an instructor-in-training and am announced as such in the beginning and end of each zumba class. Translation – I am often finding myself at the front of the classroom with half or more of the class staring at me (and potentially…my short-shorts).
EEEEEEEEEKKKKKKK!!!!
The truth is…though I am now 15 lbs lighter and at a great place with my weight, size, and health…these shorts still terrify the living daylights out of me! So, why buy them, right?! I actually got them to wear under that skirt in case I ever want to go punk-rock-style to my friend Megan's class again (or for future events). The white tennis shorts weren't cutting it. 😆 So, to wear these tiny shorts under a skirt is pretty safe, but to wear them all alone…that says something! That I'm crazy? Maybe. But, I'm hoping that whenever I find the courage to wear these short-shorts to class, it says, at least to myself, that I'm confident! 🙂
Have you ever had clothes you were afraid to wear? Tell me your story – what the clothes were, why you were afraid of them. Did you ever wear them!? Why or why not?
0