I'm still thinking about all the things I want to do on my mini vacay coming up this weekend. I forgot to mention yesterday, but I loved all your feedback on my post the other day.
Here are some of your favorite things to do on vacays (the non-sight-seeing-type):
Read magazines (surprisingly, I don't have much time to do this and don't always actually read the magazines I subscribe to)
Take crochet or knitting
Sudoku
Crosswords (I used to do these all the time…I should do them more often!)
Do you have things to add to this list? Leave em here (click) or just view the stuff I'm currently brainstorming – I'd love some more ideas, though!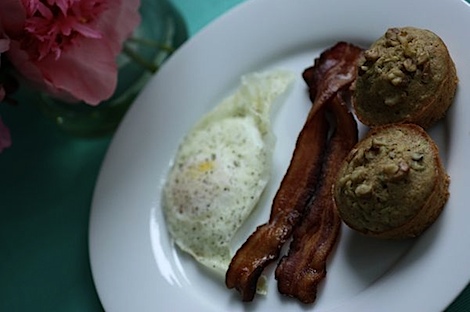 I was actually really swamped with work this morning, but lucky me – hubby cooked up a quick breakfast.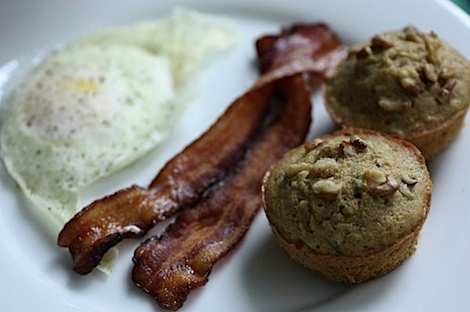 Fried, local, cage-free egg, bacon, my last 2 homemade zucchini muffins (*sniff* 🙁 )
Ya'll, I MUST make these muffins (or bread) again soon. It's sooo good!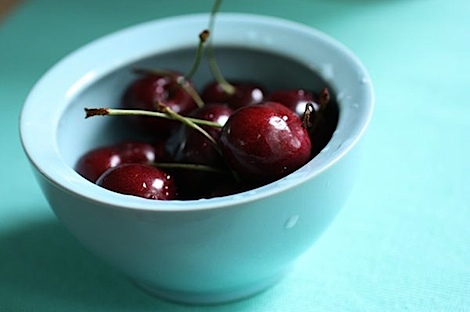 I also enjoyed some organic cherries – scored these on sale the other day.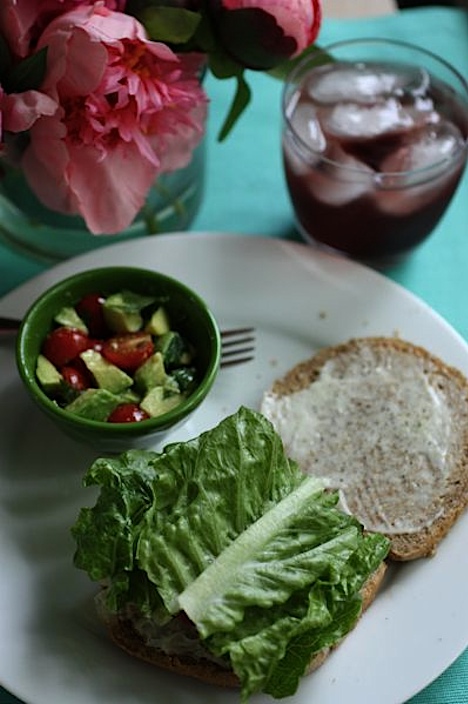 Lunch was freakin fabulous!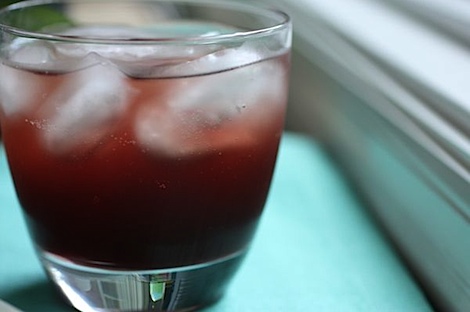 Pom Wonderful (*) + pellagrino (wish I had some lime!)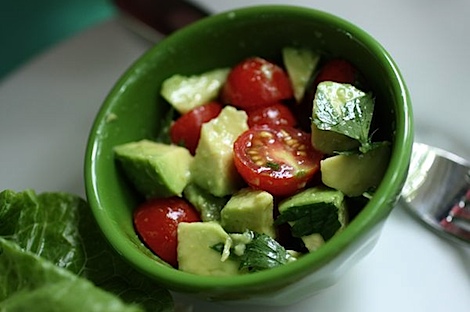 Avocado and corn salad with tomatoes and parsley from my garden.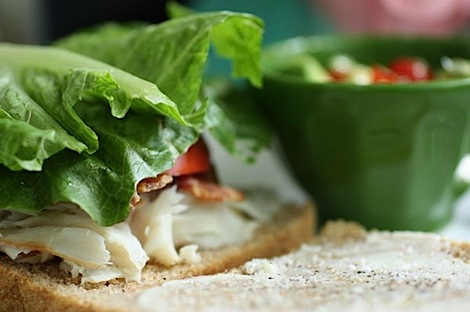 And a delicious club sandwich with a slice of tomato from my mom's garden – on 9 Grain bread from Great Harvest.
This meant bacon twice in one day…whoa! I think How Sweet It Is would be proud. 🙂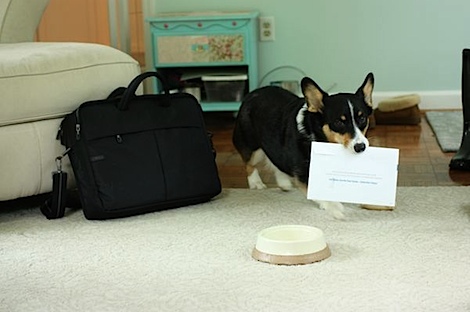 Special delivery!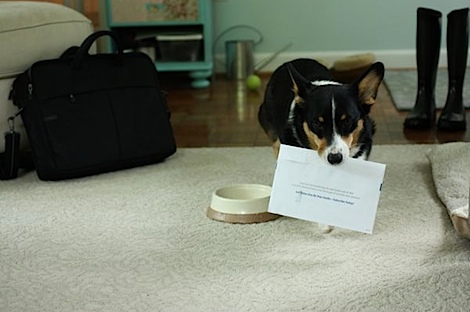 We taught Bailey to bring us the mail. Awww!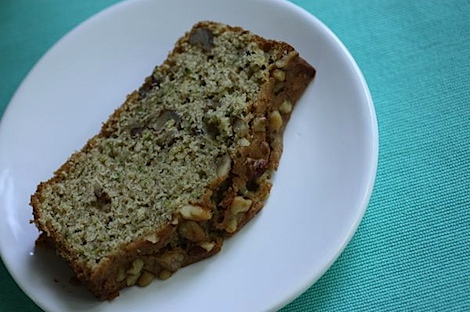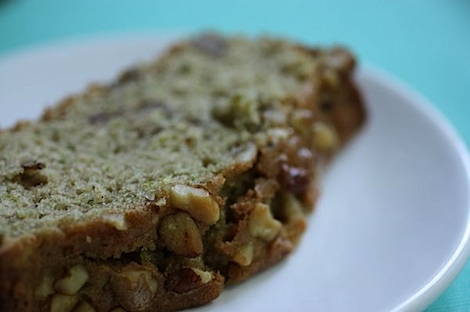 Cooking Light's Zucchini bread for a snack. I seriously can't stop eating this stuff. You probably thought I was kidding till I posted all the photos over the last couple days as proof. 😆
This meant zucchini bread x 2 today!
So that's….
bacon x 2
and zucchini bread x 2
That's like (zucchini + bacon) x 2…right, math people? Any math geeks out there? It's ok, I'm one, too. You're safe here! 🙂 lol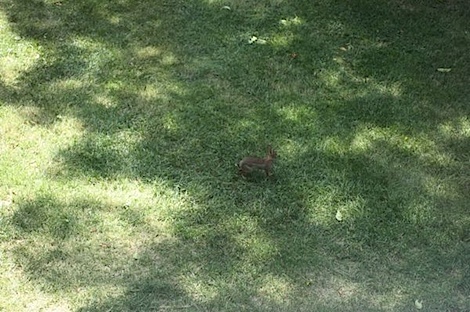 I spotted a bunny in our yard today.
Ok, I see them almost every day. I haven't figured out how many there are yet but one is definitely WAY bigger than the other (one…or two…or…however many there are).
***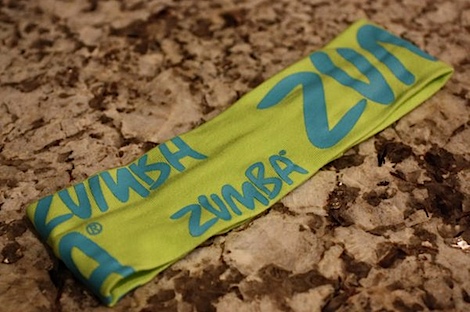 I had Zumba after work! Something really, REALLY cool happened tonight. Two ladies from my first-ever-solo-zumba class came to the class I went to tonight! They were seemed really happy to see me and I was definitely happy to see them. They did so wonderful tonight too! We did some of the same songs I did in my demo and you could tell them remembered a lot of the moves. Nice work ladies! 🙂
***
I'm not always the fastest to get ready, but tonight I really impressed myself. I left class at 7:30pm and made it to a local restaurant, Cantina 1511, for a friend's birthday dinner. That's 30 minutes to drive home, shower, wash my hair, put on a dress and jewelry and drive to the restaurant. Phew!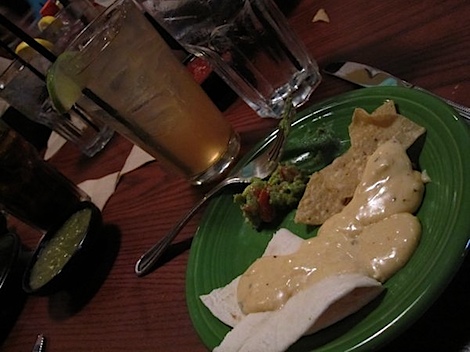 I snacked on tortilla chips, guacamole, and queso (over a piece of soft, flour tortilla) pre-dinner.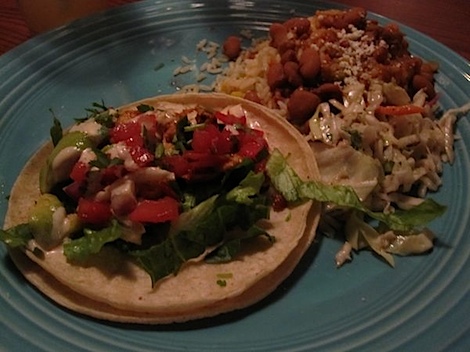 My main entree, I got a chicken taco on soft corn tortillas with a bit of tortilla slaw and rice and beans on the side. It was nearly the perfect size! I finished almost all of it except for some of the rice.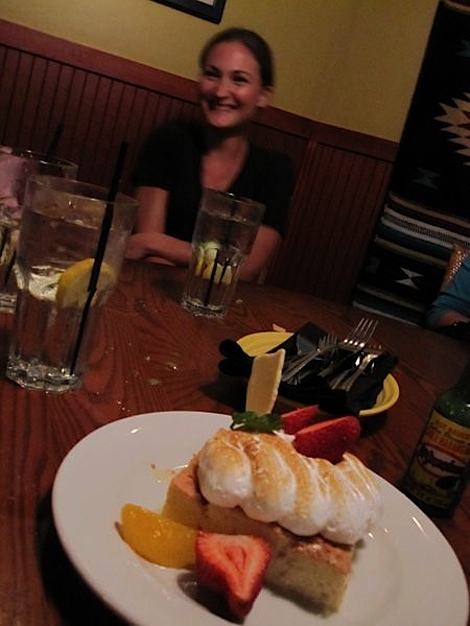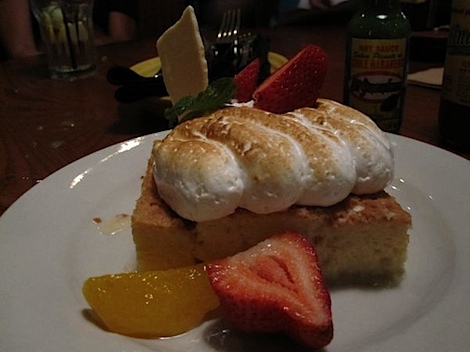 The birthday girl, Megan, got a tres leches cake for her dessert, which she kindly shared with us.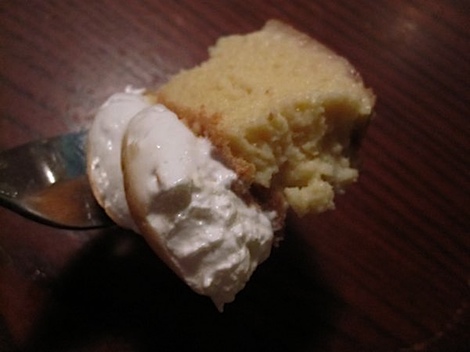 I had a large bite. Nommm! I adore this dessert here and it's available at a couple sister restaurants to this place.
Happy Birthday Megan!!!
***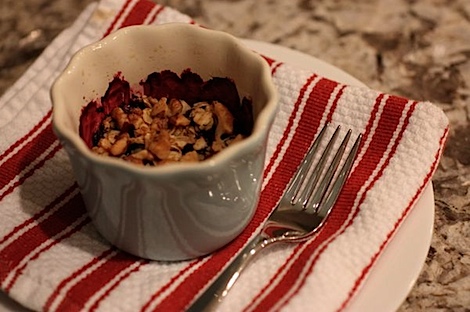 And I don't know why but I'm currently enjoying a mini, individual blueberry crisp. It's way too late to be eating this, but…well…I did it. Oh well.
It's actually way smaller than the portion I make for breakfast – maybe half?
100% delicious though. 😉
And besides my morning cup of water, here's one of my favorite ways to hydrate – a nice night-cap mug of tea. I'm currently enjoying a tea made specifically to be consumed before bedtime. It's called Get Some Zzzs!
Time for me to get some zzzssssss…G'night!
0