No, I'm not pregnant. You'll have to read on for the pickles + "ice cream" story. lol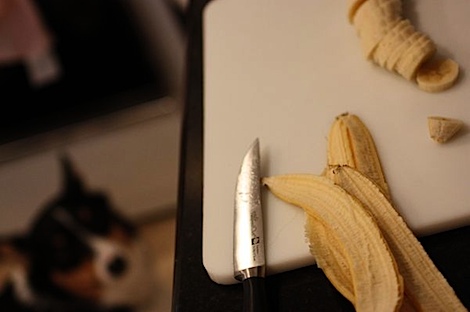 Guess who came running into the kitchen this morning at the first *plunk* of my knife hitting the cutting board? Bailey of course! He may or may not have scored himself a little bite of banana.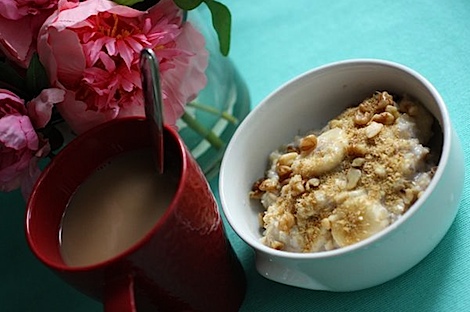 I had oatmeal again! It's been too long.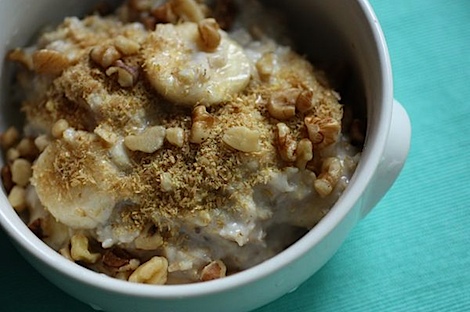 Banana oats with flaxseed, chia seeds, and walnuts. Plus beautifully cozy hot coffee. Mmm…
Hubby brought me some treats to work – a mini cinnamon roll and a piece of butterscotch scuffin. They made for a great lunch dessert.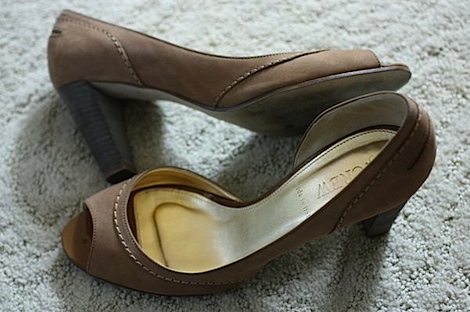 Sidenote: these shoes really pissed me off today. They looked so comfy but they were so not! I couldn't wait to change shoes by the time I got home. Blech! I've had such bad luck with shoe buying the last few times. They look comfy…they feel pretty comfortable when I try them on, but wear them long distance and…not so much.
These had what I think was a plastic interior lining that just started rubbing my feet the wrong way. 🙁
***
I had special plans for after work.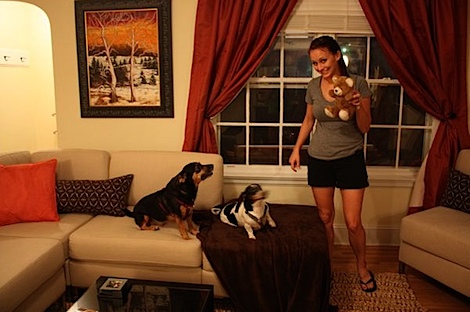 Recognize this place? It's Caitlin's new place!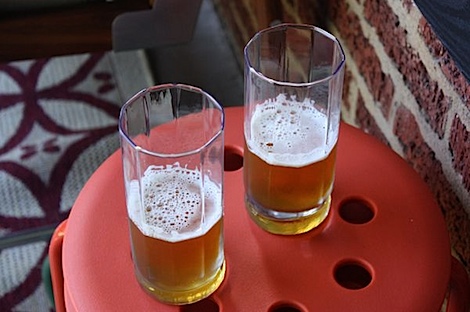 We enjoyed a lil brewskie before heading out for dinner at Big Daddy's to meet Cindi.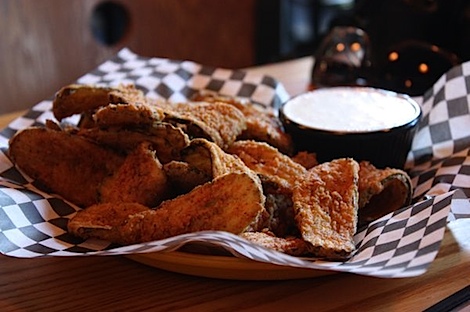 We shared a plate of fried pickles.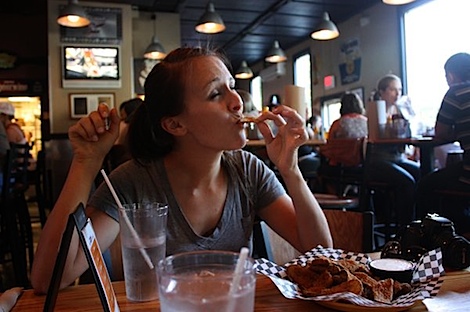 Caitlin had never tried them before! I thought they were a nice rendition of a Southern classic. Nice and crispy with a tasty ranch dipping sauce.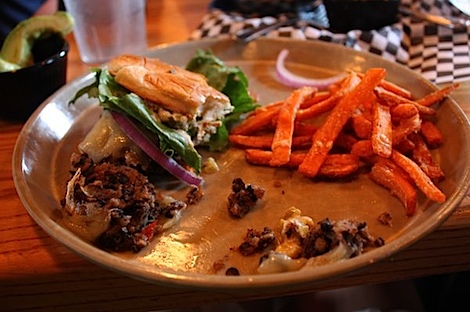 For the main event, Caitlin and I split a Cantina 1511 (I was just there last night!) black bean burger.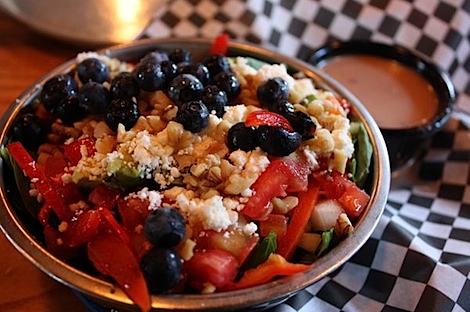 And we each got our own side salad.
Thank goodness we shared food because we had so much! I ended up taking a lot of my salad home. I downed the delicious black bean burger (great flavors there!) and ate up all those yummy sweet potato fries. Another wonderful Big Daddy's meal…hoorah!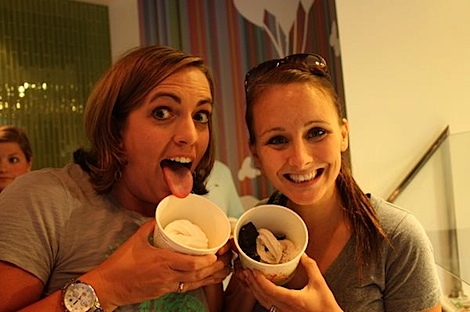 Neither Cindi nor Caitlin had been to Yoforia before, so when we started discussing sharing a spiked milkshake, I suggested froyo as another option.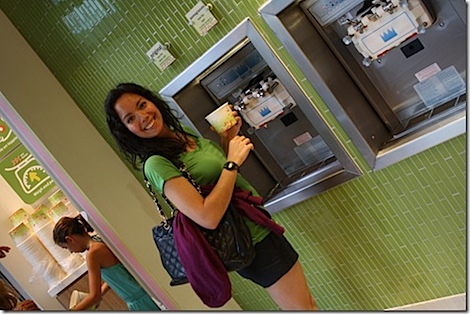 Froyo won out! (photo courtesy Caitlin)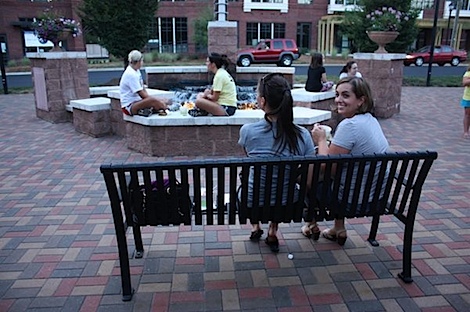 We grabbed a sweet spot outside near a fountain to soak up the warm weather.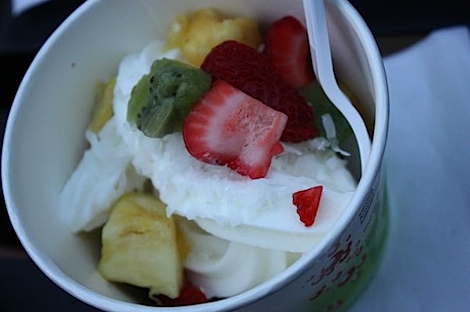 I ended up getting the plain original tart yogurt with blueberries, strawberries, kiwi, pineapple and my fave Yorforia topping – the coconut! So tasty!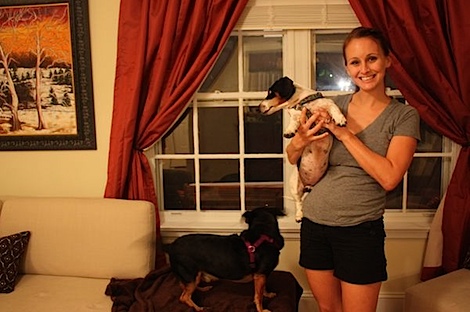 Did I mention I got to meet Maggie and James?! They are the cutest little doggies. I hope they can become good friends with Bailey!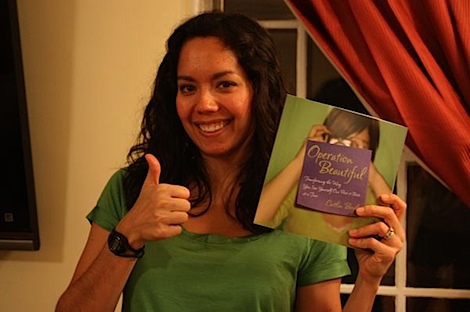 Guess what I got to preview?! Caitlin's new book – Operation Beautiful: Transforming the Way You See Yourself One Post-it Note at a Time!! Her book is fabulous and is available for pre-order on Amazon. Score!
SUCH a fun time hanging out with Caitlin and Cindi tonight! And, I love a good weeknight outing! Let's do it again soon girls!
Any suggestions on new shoes for me? I typically like Banana Republic and J Crew but lately they seem hit or miss comfort-wise. Ideas?