I had to leave work early for a dentist appointment.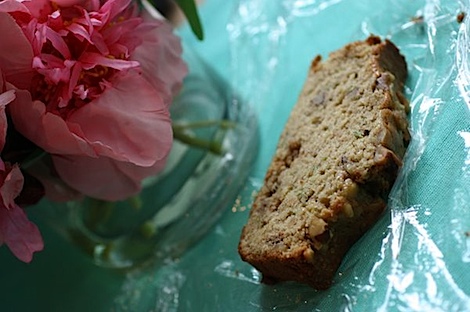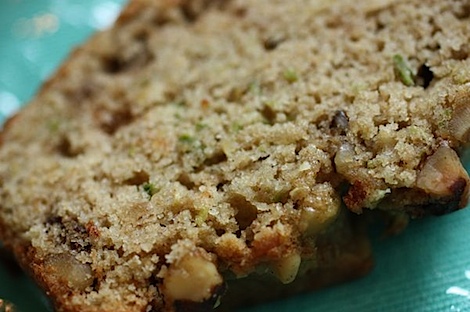 I stopped by home first…and snacked on another piece of homemade zucchini bread. I love the pretty little specks of green!
You know what else is green that is often made sweet? SPINACH! I think I need to develop a recipe for Spinach muffins! I need to get on that one. 🙂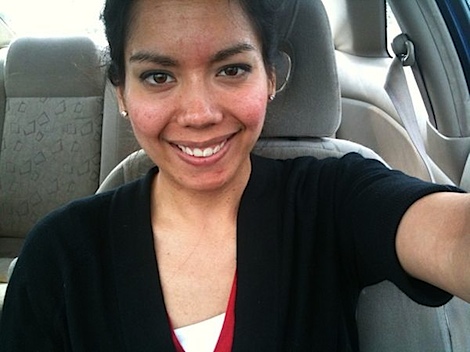 Luckily I had no cavities! Hazzah!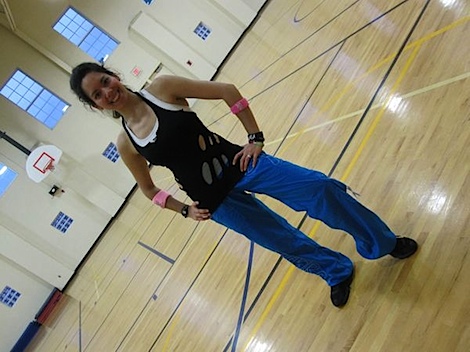 I had two, that's right TWO, fabulous hours of zumba tonight! It's been awhile since I've done 2 hours back to back of zumba, but I pushed my way through whenever I started to feel tired.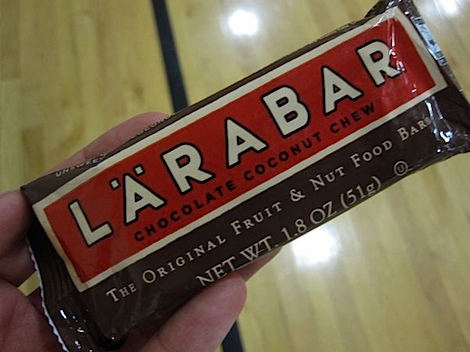 I had a Chocolate Coconut Chew Larabar for a post-workout snack. It only had 5g of protein, so wasn't really the best choice, but I figured it was better than nothing?
***
Post class, after 2 hours of exercise, I was RAVENOUS!
Someone said something about Chick Fil A in class and for the first time in a long time, that sounded really good. I considered picking up some fast food and getting french fries, but then I remembered that I had HOMEMADE zucchini muffins waiting to be eaten at home. The thought of homemade food won out over the idea of fast food. I'm finally starting to get to the point where I think that I can cook better food at home than most restaurants. Not so much that my cooking is better than a 5 star restaurant (let's be reasonable!) but that I can control what I eat, how healthy it is and how customized the eats are to me and hubby.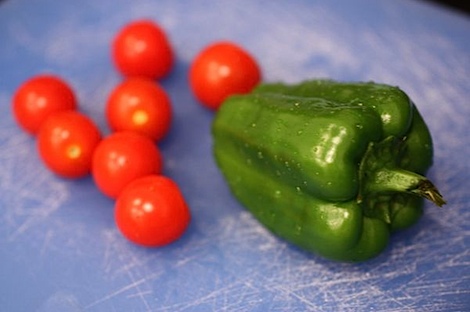 I decided to make use of what I had on hand – a mini bell pepper from the farmers market and cherry tomatoes from my own garden. Dinner's theme = breakfast for dinner.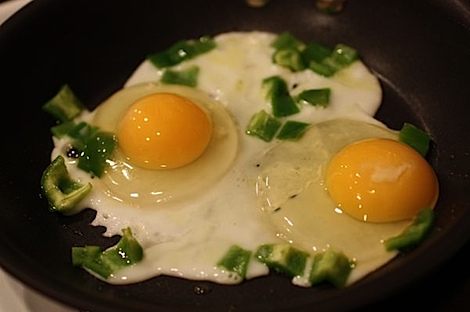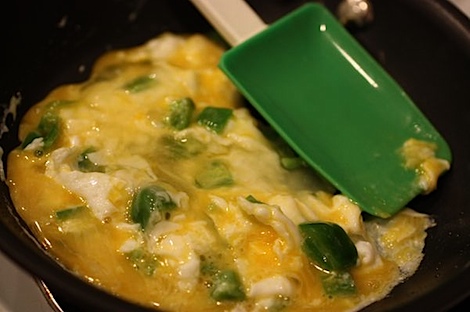 I did a sloppy scramble with the green peppers.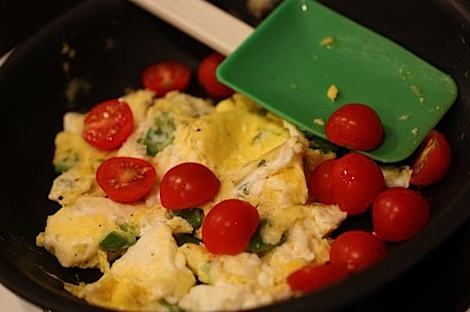 I added the tomatoes just long enough to heat them through.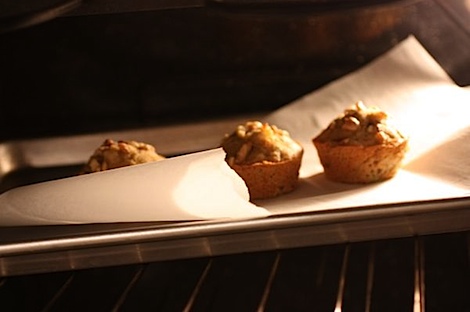 Fresh-Baked Taste Tidbit: To make the muffins taste fresh baked, I microwaved 3 for about 30 seconds to warm the inside. Then I baked them in the oven at 300 degrees F for about 3-5 minutes (don't overcook or your muffins will get hard and we don't want hard muffins).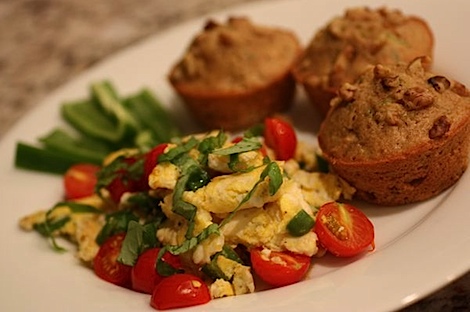 The meal actually looked really pretty: egg scramble, zucchini muffins, and fresh green pepper spears (I didn't want to have more pepper than eggs in my scramble so I reserved some to nosh on).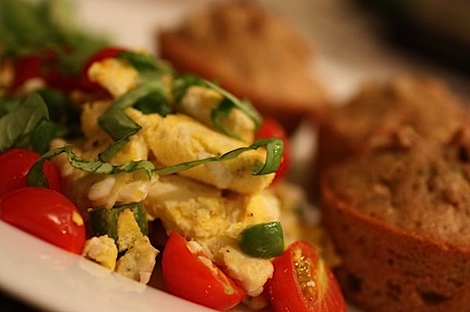 I topped the eggs with fresh basil from my garden. Not sure I loved the combo of the tomatoes with the eggs, but aren't eggs the easiest (and quickest) protein sometimes?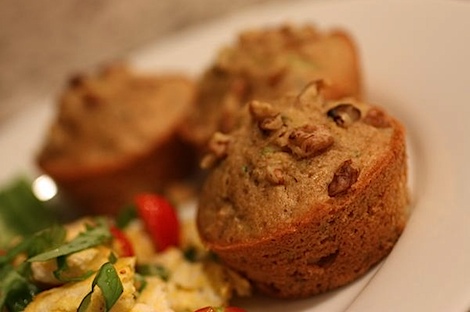 And the muffins were the star of the show for me – they are soo freakin good. If you're looking for a good zucchini bread recipe (and an easy one too! ooh and it's healthy!), then you must try this Cooking Light recipe. The muffins don't take nearly the same baking time as the bread, and they're wonderful little bites of zucchini deliciousness. I did one loaf and 10 muffins, but either one works. It's the FLAVOR that I really love! I think it may be the lemon zest that adds extra deliciousness.
PS I definitely had a fourth muffin. Whew!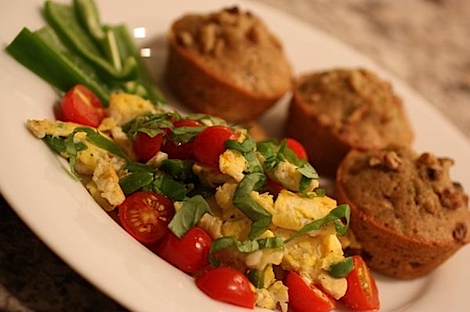 So glad I made this instead of getting fast food!
Do you prefer eating in or out? Why?