Since you guys know I like to veganize my baking, I couldn't help but throw together a vegan version of my very popular Green Monster muffins, which are inspired by Green Monster smoothies! Read on for my Vegan Green Monster Muffins Recipe.
Vegan Green Monster Muffins Recipe Tips
Be sure to check out the regular Green Monster muffin recipe by clicking here – there are tips on how to properly measure/prepare the spinach, etc.
The batter for this Vegan Green Monster Muffins Recipe is thicker than the regular version – it's ok – it will bake up just fine, though it may need slightly less time than the regular version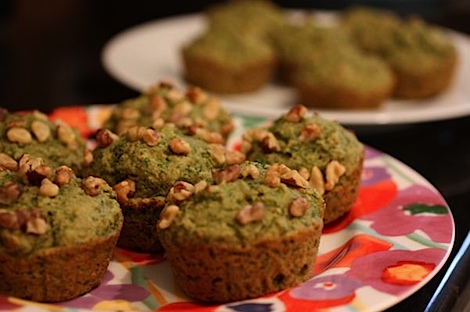 There are many ways to veganize baked goods, but I decided to use coconut milk based yogurt. Unfortunately, for 12 muffins, you only need a 1/4 cup. Why is this unfortunate? Well, I like to cook and bake efficiently, and since coconut milk based yogurt is typically sold in 6 ounce containers, it would be more efficient to use the whole container – not just 1/4 cup worth of it. I'll probably play with the recipe a bit to see if I can fix this. 🙂
On the bright side, I was pleased with how much the texture of the vegan version of my muffins resembled the regular kind. They puffed up so nicely and had a great muffin texture. Yay!
Vegan Green Monster Muffins
Author:
Diana of thechiclife.com
Ingredients
Dry Ingredients:
¾ cup + 2 tbsp spelt flour
(note: you can definitely sub flours, I just had spelt on hand)
¾ cup whole wheat pastry flour
1½ tsp baking powder
½ tsp cinnamon
¼ tsp salt
¼ tsp baking soda
Wet Ingredients:
¼ cup vanilla coconut milk-based yogurt (or use plain and add 1 tsp vanilla and a little extra sugar - maybe a tbsp or 2)
½ cup sugar
1 single serving applesauce (or ½ cup)
1 cup PACKED, triple washed baby spinach, chopped by food processor into small bits (see photos above)
3 tbsp canola oil
½ - 1 tsp lemon zest (depending on how lemon-y you want it)
Optional ingredient
¼ cup chopped walnuts, plus extra for topping
Instructions
Pre-heat oven to 350 degrees F and prepare a 12 cup muffin tin with non-stick spray.
Add dry ingredients into a medium bowl and whisk together.
Whisk to beat yogurt and sugar together till light (I did this by hand for just a couple minutes).
Whisk in the rest of the wet ingredients.
Pour dry ingredient mixture into the wet ingredient mixture, add ¼ cup walnuts if desired, and stir gently just to combine - do not over-mix.
Pour muffin batter into muffin tin cups - about ¾ full each. If using walnuts, sprinkle walnuts on top of each muffin.
Bake for 14-17 minutes until centers set or a toothpick inserted in the center of a muffin comes out clean.
Cool at least 10-15 minutes before serving.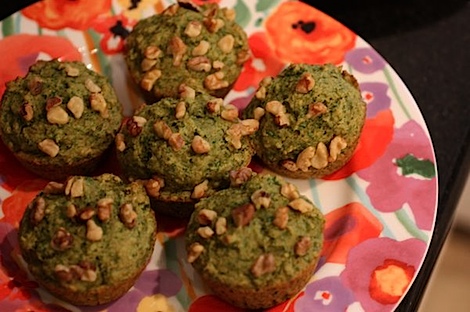 Next up I'm going to try new mixins! Chocolate Chip Green Monster muffins anyone? 😉
More Green Monster Recipes
Thanks for stopping by!
1