I woke up early-ish this morning for final preparations for a brunch party.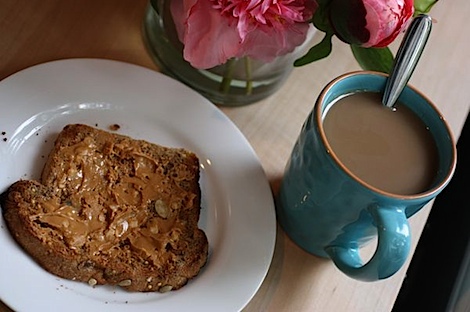 I thought briefly about saving my appetite for brunch eats, but then decided that was a terrible idea! It's so much better to not skip meals and just have something light. I opted for some Whole Grain Goodness toast with Barney Butter and hot coffee.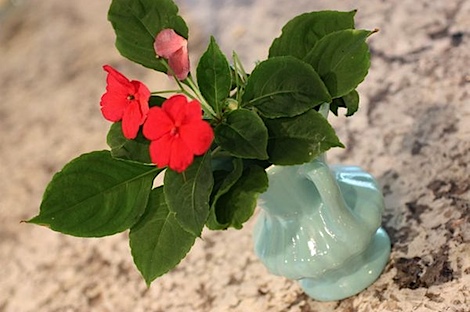 Then, it was time to prep for….Sweet Tater's EPIC Welcome to Town party!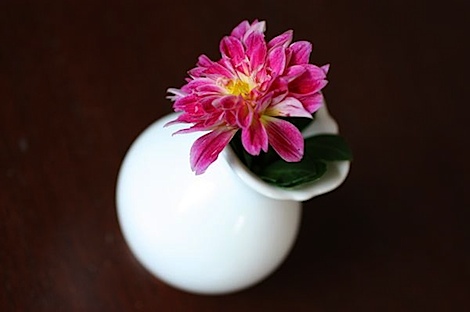 We don't have many flowers in our yard right now, but I managed to find some to put around the house I love having fresh flowers around – especially for house parties.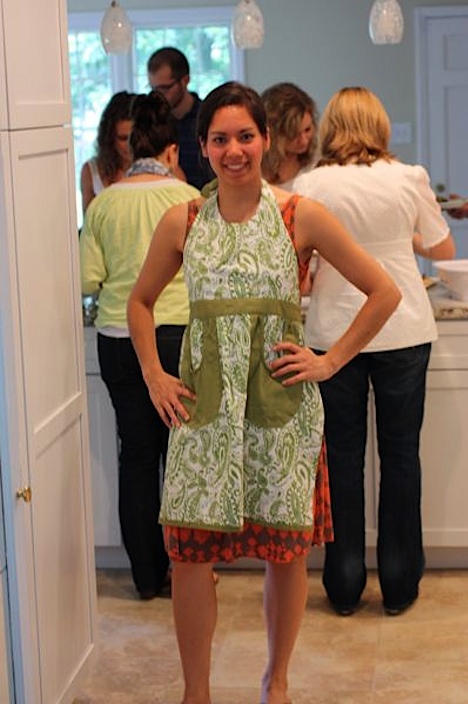 Hubby and I did some cleaning and then I got going baking away some delicious eats for out brunch.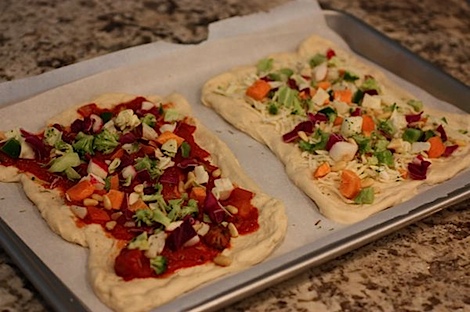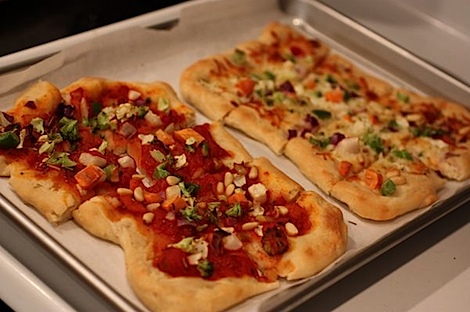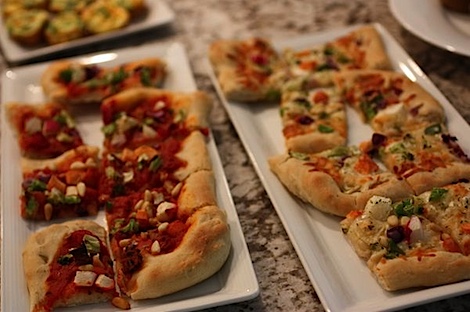 I made 2 flatbreads using TJ's pizza dough.
vegan flatbread with tomato sauce, and mixed veggies
mozzarella flatbread with mixed veggies
Each flatbread also got 1/2 topped with pine nuts and both topped with dried rosemary. The TJ's pizza dough doesn't always seem to puff up for me, but after chatting with an employee yesterday about the dough, I let it sit out at room temp longer than normal and it seemed to do the trick. Btw, I just shaped the dough with my hands. No rolling pin necessary!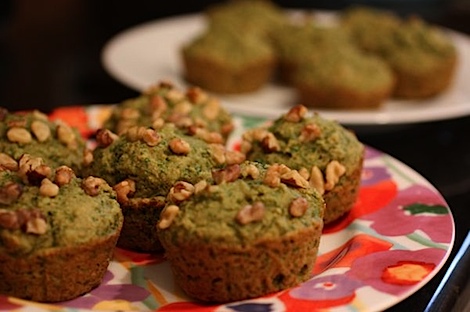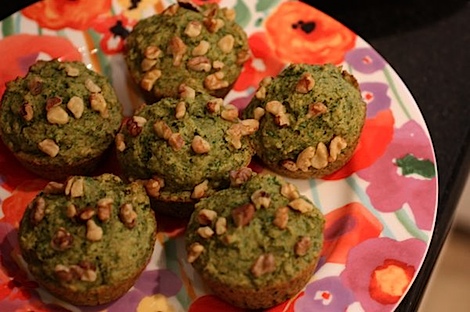 I also made Vegan Green Monster muffins – 1/2 topped with walnuts and half plain. (I'll be posting the vegan version of my GM muffins later today) The recipe is up! Click here to check out my vegan version of GM muffins!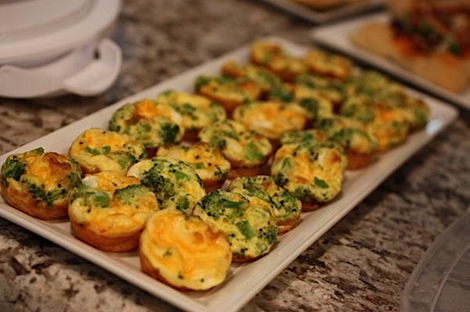 For a protein, I made some mini broccoli cheddar frittatas. (will be posting this recipe later, too)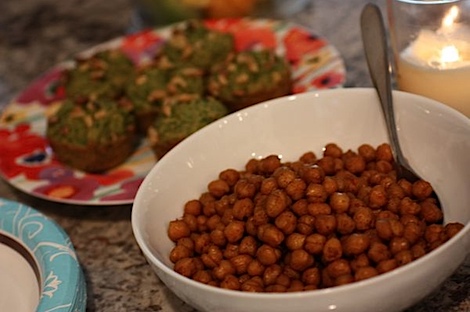 And I tried out Claire Robinson's Spicy Baked Chickpeas – total winner recipe. I'll definitely be making this one again.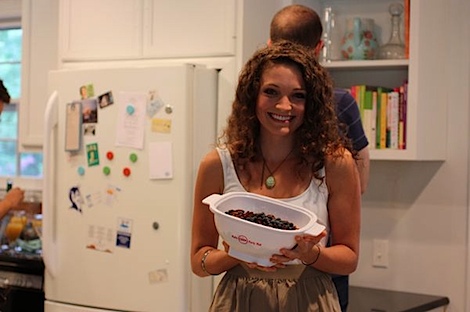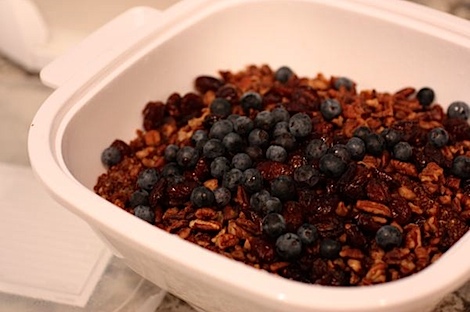 Katie made a yummy vegan quinoa breakfast cereal (she'll be posting the link for her recipe later). So freakin good!
We actually had a really vegan-friendly brunch menu, today, which I love! As I've mentioned before, I'm not vegan (or even vegetarian), but I really enjoy eating vegan fare and try to do so once in awhile.
Our vegan eats included:
Katie's fabulous breakfast quinoa
Vegan veggie flatbread
Vegan roast chick peas
Vegan Green Monster muffins
I know my family has asked me about what to do about prepping food for parties where you have a vegetarian and/or vegan guest, but if anyone else is interested, let me know and I'll throw together a blog post for ya. Click here to send me a note via my Contact form.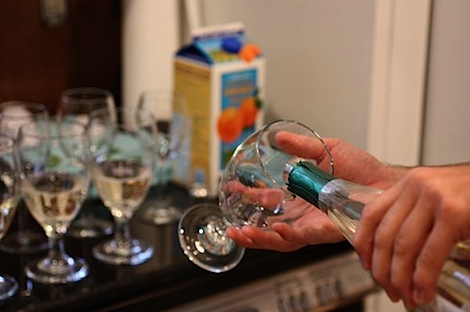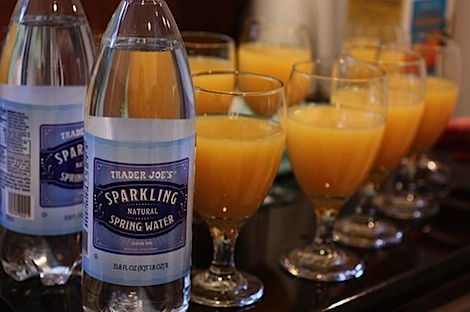 And Kelly and Brad brought mimosas to drink. Yum!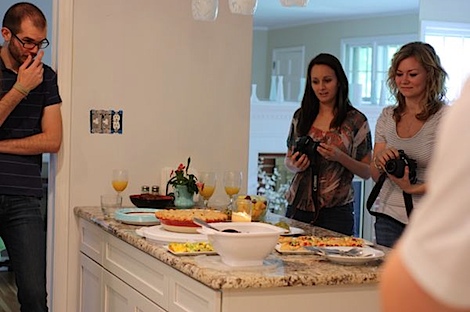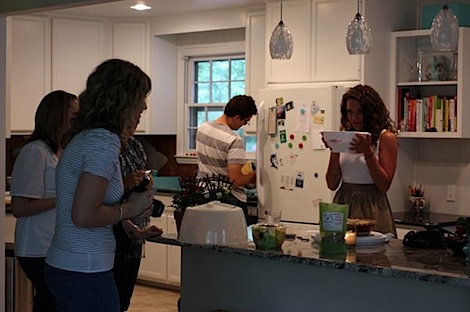 After a quick photo shoot, it was time to get our eat on!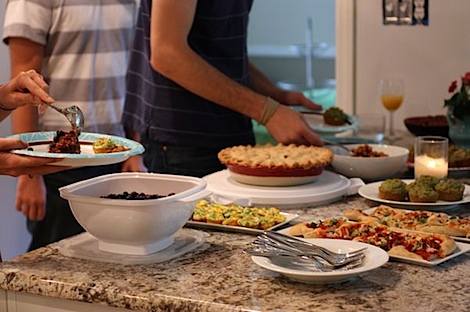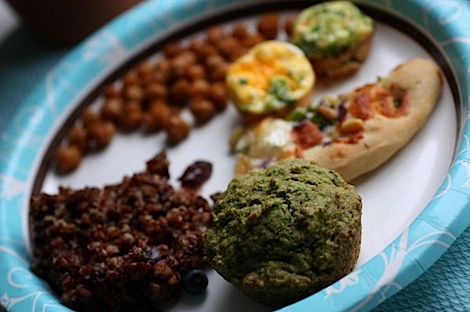 I had a little bit of everything…except for the fruit salad that Caitlin brought, which I forgot to save space on my plate for! Doh!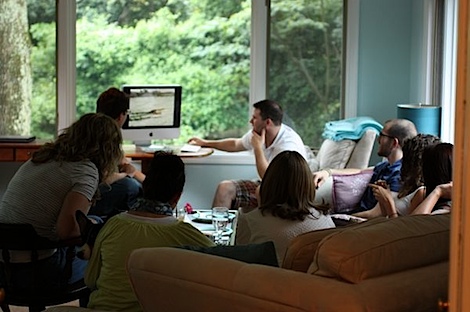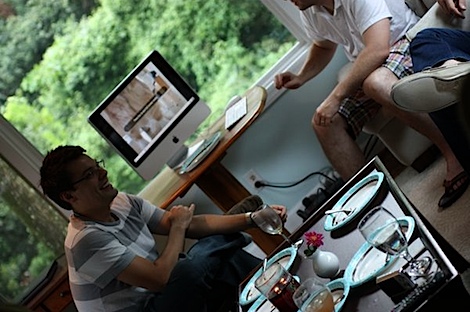 We gathered in the sunroom and hubby played funny youtube videos of pets, like this one. Hliar!
In the mix, we had: Brad, hubby…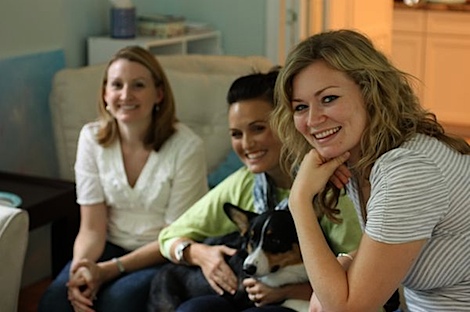 (L to R) Brittney, Kelly, Katy (visiting this weekend! Woohoo!)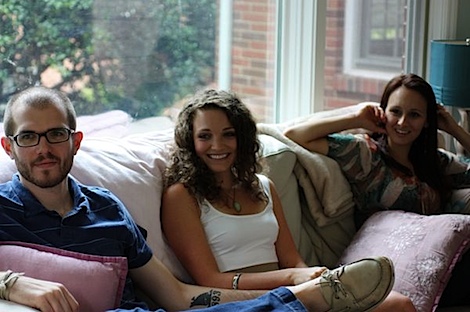 (L to R) Stew, Katie, and Caitlin.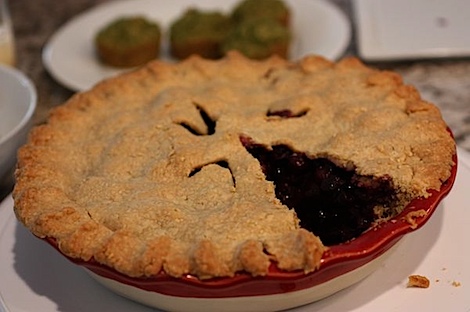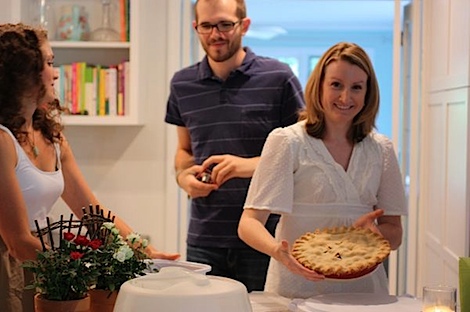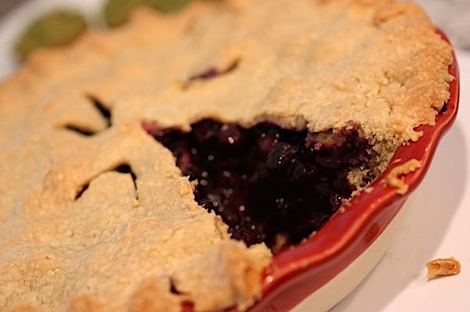 After the videos, we gathered in the kitchen to enjoy Brittney's most-awesome, made-from-scratch blueberry pie with a whole wheat and almond crust. Nom! Click here for Brittney's Blueberry Pie recipe.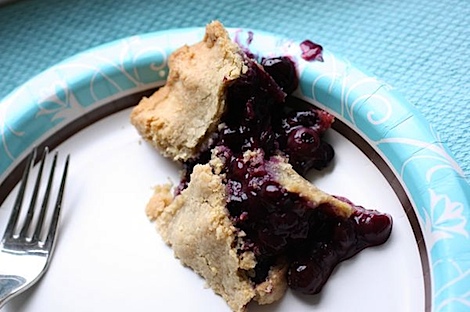 It was so yummy!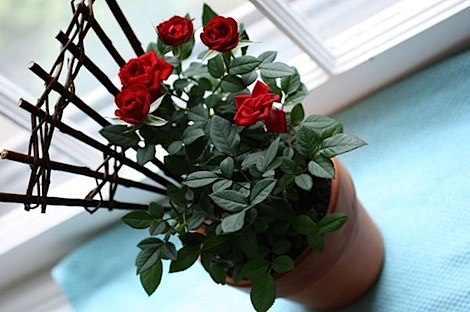 And Brittney also brought me and Katie mini rose bushes!! Too cute! I've actually been wanting to plant some more rose bushes around the house, so this is perfect! Now I just need to find a good spot. Thank you Brittney!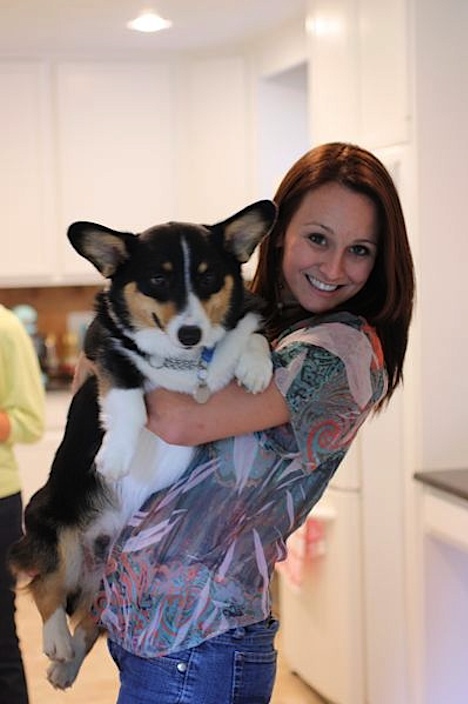 Bailey was such a ham today. Look at him trying to become BFF's with Caitlin! 🙂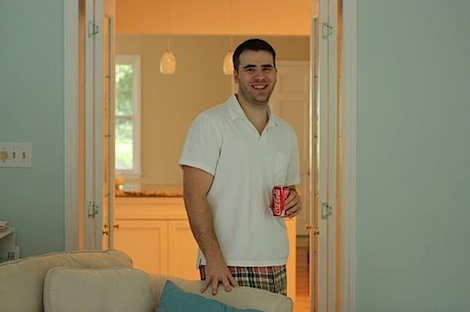 After the party, I gave hubby a big hug for our teamwork today successfully throwing a brunch party. It was so fun! I can't wait to have my friends over again!
Welcome to town Katie!!!