It's heeeeeeeeeeeerrrrrreeeeeeee!!!!!!! The original Green Monster Muffins Recipe!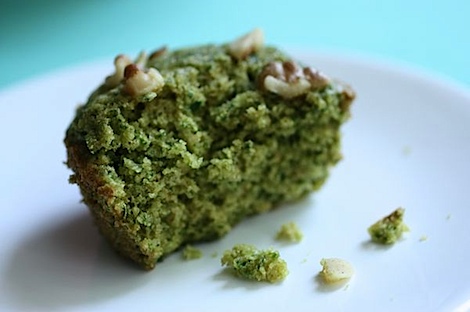 Green Monster Muffins batch #1 came out dry, but this time I think I've got it!
As a reminder, I loved the idea of using a vegetable in sweet muffins/breads when I made zucchini bread recently. What other veggie is often used in sweet recipes? Spinach – the main ingredient in the very popular Green Monster smoothies! Inspired by the Cooking Light zucchini bread, I worked hard to develop a recipe that would work with spinach.
Here are a couple things to note with the recipe.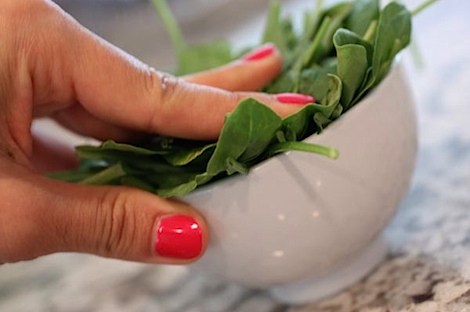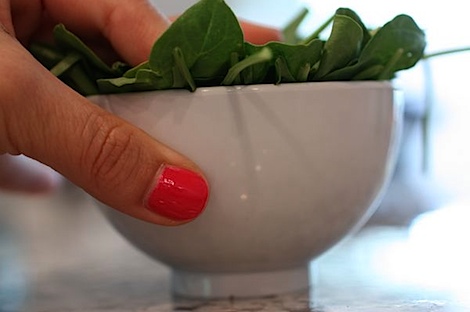 Green Monster Muffins Recipe Tips
#1 – when you measure the cup of packed spinach, make sure you pack the spinach is real good. I mean press down on it really hard in your measuring cup. You want it to be about 1 cup after you process it, not before.
In fact, my spinach was bursting out of the top just a bit.
#2 – when you process your spinach it will start out looking like quite a bit of spinach.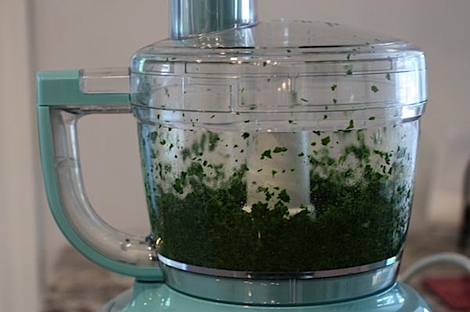 See – after you process it, it reduces in size quite a bit. And pretty much you process it till the food processor stops chopping the spinach. At some point, the blade really doesn't chop the spinach any more size the volume is so reduced.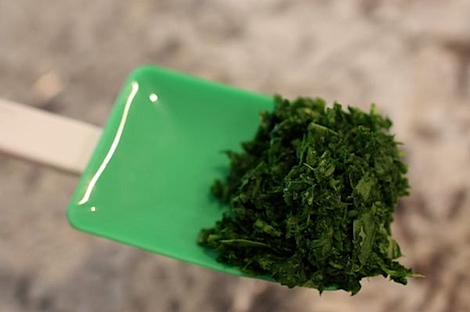 And in case you're curious, here's about what the texture of the spinach looks like when it's done processing.
#3 – Don't skip the lemon zest (unless you just don't like the flavor of lemon)! I feel like I often skip zest on recipes because I don't think you'll be able to taste it, but you totally do and the zest adds great flavor!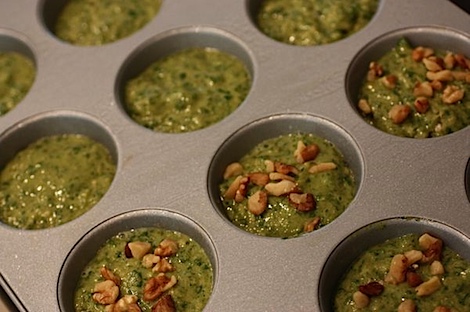 In my recipe, I suggest stirring walnuts into the batter, but since I had someone with a walnut allergy taste-testing later I only added some to the top of half my muffins.
Pre-baking
Post-baking
Green Monster Muffins Recipe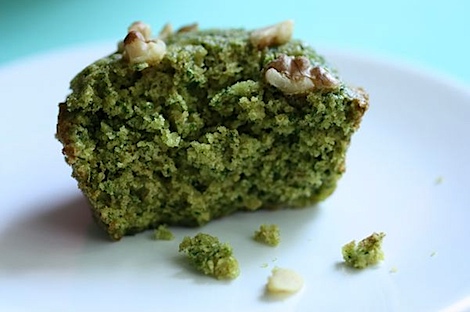 Last time, the muffin was dry, but this time it was quite moist! I may tinker with adding a wee bit more flour to see what happens, but I'm happy enough with it to share the recipe this time.
PS Next up I'm going to work on vegan (this one is done – click here to get it!) and gluten-free versions so everyone can try them! 🙂
Print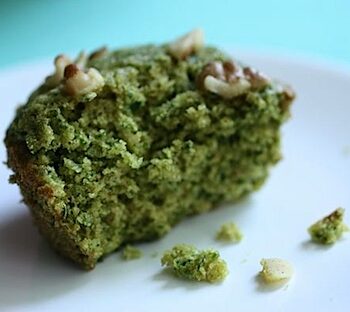 Green Monster Muffins Recipe
Author:

Prep Time:

15 mins

Cook Time:

15 mins

Total Time:

30 mins

Yield:

1

2

1

x
---
Description
This is the original green monster muffin recipe! Most spinach muffins are savory but these are sweet! Forget artificial colors, these muffins are naturally a beautiful, vibrant green color thanks to the surprise ingredient – spinach! Sneak vegetables into your loved ones eats with this easy muffin recipe. The green color makes these great for Halloween or St. Patrick's Day!
---
Dry Ingredients:
3/4 cup

oat flour (note: you could probably sub flours of do

1 1/2 cups

total of a single flour, instead of 2, if you'd like)

3/4 cup

whole wheat pastry flour

1 tsp

baking powder

1/2 tsp

cinnamon

1/4 tsp

salt

1/4 tsp

baking soda
Wet Ingredients:
1

egg

3/4 cup

sugar

1

single serving applesauce (or

1/2 cup

)

1 cup

PACKED, triple washed baby spinach, chopped by food processor into small bits (see photos above)

3 tbsp

canola oil

1 tsp

vanilla extract

1/2

–

1

tsp lemon zest (depending on how lemon-y you want it)

1/4 cup

chopped walnuts, plus extra for topping, optional ingredient
---
Instructions
Pre-heat oven to 350 degrees F and prepare a 12 cup muffin tin with non-stick spray.
Add dry ingredients into a medium bowl and whisk together.
Whisk to beat egg and sugar together till light (I did this by hand for just a couple minutes).
Whisk in the rest of the wet ingredients.
Pour dry ingredient mixture into the wet ingredient mixture, add 1/4 cup walnuts if desired, and stir gently just to combine – do not over-mix.
Pour muffin batter into muffin tin cups – about 3/4 full each. If using walnuts, sprinkle walnuts on top of each muffin.
Bake for 14-17 minutes until centers set or a toothpick inserted in the center of a muffin comes out clean.
Cool until safe to touch and enjoy!
---
Notes
Check the comments below for some great mixin and substitution ideas by readers! My favorite suggestion is to add blueberries. Yum!
Don't skip the lemon zest for the best flavor!
Recipe Card powered by
***

Enjoy!
Sneaky way to get the kids to eat their greens, no? Just look at all the comments from happy parents!
I actually think these muffins look really pretty because of the vibrant green color.
Plus, this Green Monster Muffins Recipe would be super festive for either Halloween or St. Patrick's Day!! 🙂
More Green Monster Recipes
Thanks for stopping by!
Share this with your friends using the sharing buttons…