Thanks to my health-freak dad, I spent many-an-afternoon meandering through the health food store. Unlike other places he liked to shop, like Home Depot or Lowes, the health food store was a place my curiosity could really come out to play. I loved looking at all the unusual foods and products and often wondered what they tasted like or how they were prepared.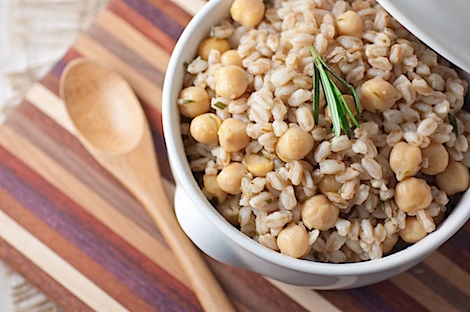 As it turns out, this fascination with unique foods has stayed with me to this day.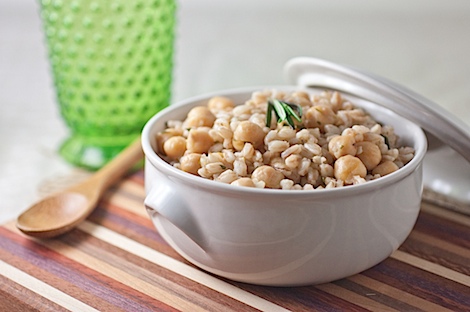 I love visiting grocery stores, especially health food ones like those my dad would frequent, and finding something I've never cooked with before to try out.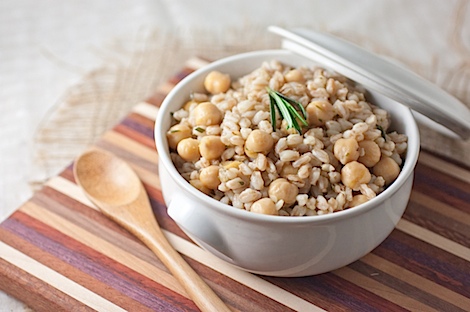 One thing I've been playing with lately is farro. Farro has been around for quite some time, but it isn't widely used in most kitchens (at least not the ones I've been in…I think I've read this grain is actually popular in Italy, though).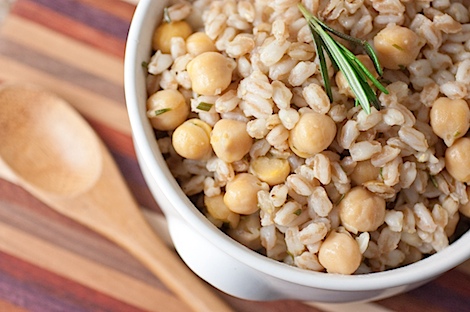 While I love this Warm Farro Salad with Tomatoes, Spinach, and Shiitake Mushrooms (which is really more like a farro risotto), I wanted to come up with something a little more hands-off that was also more pantry-friendly. In fact, this recipe would be great for someone who's new to farro and wondering, "How do you cook farro?" or "What's an easy recipe for farro?"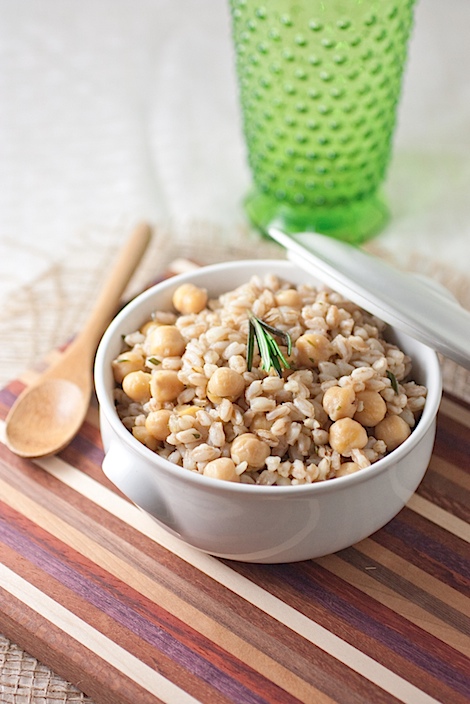 This farro dish uses canned chickpeas (straight from the pantry), fresh garlic (I always have this on hand, but you could use dry garlic powder in a bind), and rosemary (which I have growing outside, but again you could you dry).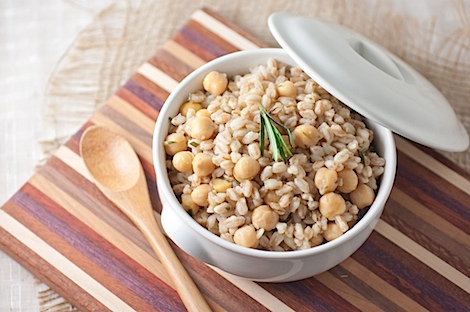 Rosemary Garlic Farro with Chickpeas
Whether you're new to farro or very familiar with cooking it, this easy recipe should please your palate. Though it's not the fastest side dish on the planet, this recipe is super easy and would be a great replacement for boxed rice pilaf. You could even turn it into a vegetarian entree (just add some veggies). Using ingredients found in most kitchens, you should be able to shop your pantry for this dish (in case you haven't been to the grocery store in awhile). If you don't have fresh garlic or rosemary, you can substitute dry.
Prep time: 5 minutes
Cook time: 40 minutes
Total time: 45 minutes
Serves: 4-6 as a side dish, 2-3 as an entree
*Vegan, Vegetarian*
Ingredients:
1.5 quarts water
handful salt, plus more to taste
1 cup dry farro, rinsed
1 tablespoon extra virgin olive oil
3 cloves garlic, minced (or sub 1/2-1 teaspoon dry – if using dry add garlic with rosemary in Step #3)
1 15-ounce can chickpeas, rinsed and drained
1 cup vegetable broth (or sub water)
1 tablespoon fresh rosemary, minced (or sub 1 teaspoon dry)
pepper, to taste
fresh parsley, chopped, optional
Directions:
Bring water to boil in a medium-large pot over medium heat. Add salt and farro and boil for about 30 minutes, or until farro is softened enough to easily chew. Pour into colander to drain.
Heat extra virgin olive oil in a large skillet. Add fresh garlic (if using dry, add in next step) and cook till fragrant, about 60 seconds.
Add chick peas, vegetable broth, fresh rosemary, broth, and cooked farro. Stir to combine.
Cook 8-10 minutes to let flavors combine, stirring occasionally. Season with salt and pepper, if/as needed.
Serve, top with fresh parsley if using, and enjoy!
You may also like: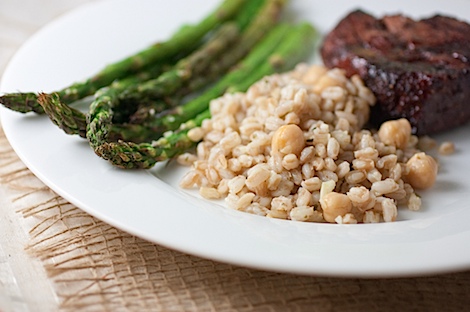 Have you cooked with farro before? What did you think? I know i asked this last time, but I'm guessing there may be some new visitors here or people who hadn't tried it at the time the first question was asked but have since then.