They say you shouldn't get your hair cut immediately following a break up, but I wonder if the same can be said of a stressful situation (regardless of the cause).
I knew things were getting pretty crazy (stress-wise) in my life, but when I started considering doing this (see spikey hair-ness above) to my hair, it was more obvious to me than ever that things were off-kilter. I should probably clarify that I do still think this hair cut is pretty bada$$, but I'm not sure it would work on me.
When I laughingly mentioned the idea of the short look to my hair stylist, Jason, (tell them I sent you for a first-timer discount!), he told me I needed a vacation…not a short hair cut.
I do need a vacation, and I'm actually planning one (yesssssss!). In the meantime, I did NOT cut my hair short.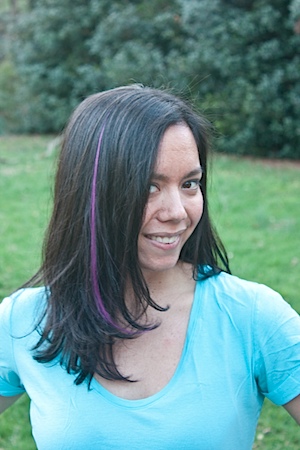 Instead, I did this – a pretty dramatic trim (my hair had gotten so long – I think he took off at least 7-8 inches) and a fun (and more importantly temporary) addition of a purple streak of hair. A good look for the office? Not so much. Age-appropriate? Doubtful. Fun for Zumba class? You're d*mn skippy. Better than a super-short hair cut that would take forever to grow out? You know it!
Anywho, all this rambling to say I'm hoping to return to regular blogging very soon. My crazy-busy work schedule is starting to let up a little. I haven't been able to blog because the project I've been working on for the last three years went live two weekends ago, and I was inundated with work in the weeks approaching the go-ilve. And the weekend of go-live? I worked a regular work week up to go-live and then a little bit around 10pm on Friday, 9am/1pm/4pm/8:30pm on Saturday, and noon/4:30pm on Sunday. Phew! Things actually went pretty smoothly on my end, and I'm just helping wrap-up some post install items now. I'm almost down to 1 month left on this project, and then I go somewhere new. Where? Who knows. Time will tell.
In other news…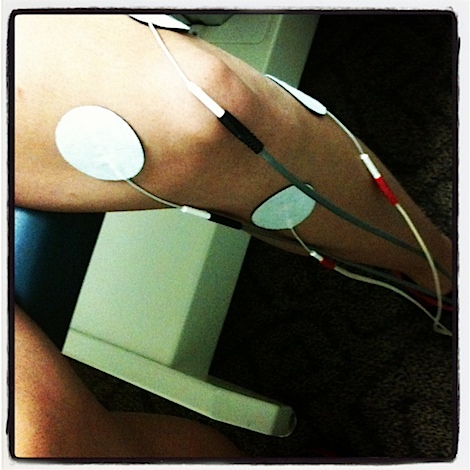 I managed to (slightly) injure myself (again! grr). This time, I didn't do anything stupid at least. I think my knee (body?) is succumbing to age, use from years of figure skating, and working out when I'm already tired…plus maybe some bad posture/alignment. Anywho, I've been seeing a sports doctor, who has been shooting me with electricity and laser beams. Ok, not really, but he's been treating me and…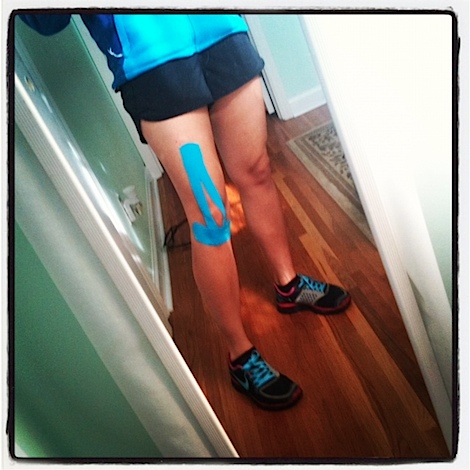 …taping me up with Kineseo tape. Luckily, my injury wasn't too bad, and I didn't have to miss any Zumba classes! I got cleared to do low intensity Zumba sans squats, which was sort of a shame because I was just starting to actually enjoy doing squats in class. Weird, I know. Anywho, I've also been doing physical therapy and re-training my body to do squats and lunges properly. As a result, I've now become extra careful about doing squat and lunge-like moves in class, which is probably something I should have been doing anyways.
I do have some recipes queued up for you guys, and some new ideas for future recipes jotted down on random pieces of paper. Hopefully, I can bring some to life to share with you all soon.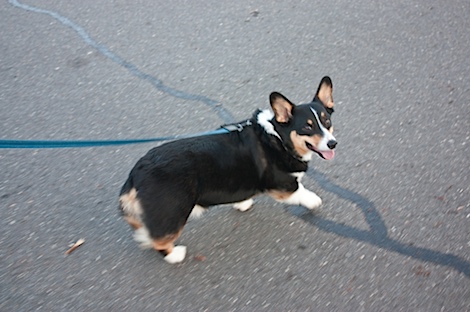 Bailey says Hi!
Reader question: Have you ever done something dramatic to your hair? What did you do, and did you like it?