No, this isn't an easy version of Chana Masala. As it turns out, the authentic version is easy all on its own!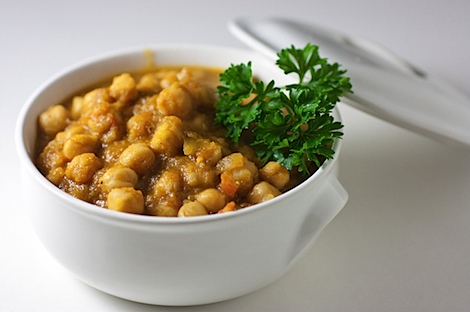 I took my first stab at making Indian food just a few days ago. I was late to the Indian-food-love overall, only having my first taste (that I can remember at least) at age 27. Why I waited so long, I'll never know. But I do know now that I indeed love Indian food.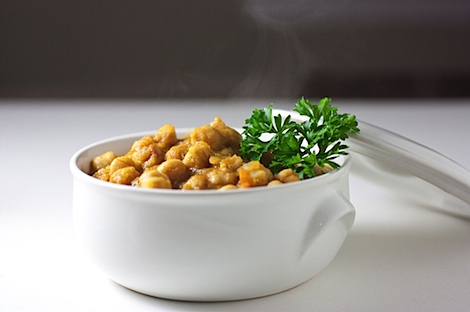 After my love-at-first-taste experience with Indian food, I enjoyed eating the stuff, but dared not try making it on my own. Indian food seemed to me to be this exotic and impossible-to-reproduce food masterpiece that was best ordered at an authentic restaurant. But at the coaxing of one of my Indian friends, I finally gave her recipe a try – one of my favorites – Chana Masala!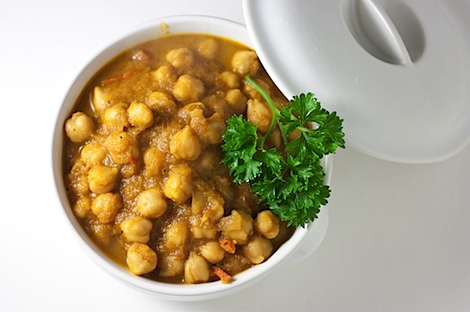 Indeed, it was delicious, wonderful, and the best part – incredibly simple to make. Or is the best part how insanely affordable this vegetarian dish (that my meat-loving husband enjoys) is? Either way…Hazzah!

Easy Chana Masala
Talk about a 30 minute meal you'll want to make ASAP. This easy recipe comes together in a cinch, uses few ingredients (but ok, lots of spices) and boasts an amazing and unique flavor. Chana Masala makes for a great (and easy-on-the-wallet) vegetarian main course or even side dish. Serve with rice and/or homemade naan (yes, homemade – it's easy and really completes the meal)
Adapted from my friend Yamini's recipe
*Vegetarian* *Vegan* (Possibly Gluten Free?)
Serves 4 – But even if you're only feeding less, make the whole batch – this makes for wonderful leftovers!
Ingredients:
2 tablespoons extra virgin olive oil (or canola oil)
1 medium onion, chopped
2 cloves garlic, minced
1 tablespoon ground coriander
2 teaspoon ground cumin
1/4 – 1/2 teaspoon cayenne pepper (depending on how spicy you like your eats)
1/2 teaspoon ground turmeric
2 medium tomatoes, seeded and chopped, about 1/2 cup
1 – 1 1/2 cup water
2 15-ounce cans chick peas, rinsed and drained
1 teaspoon garam masala (should be available in most grocery stores)
1 teaspoon salt
black pepper, if needed
Directions:
Pre-heat a medium sauce pan to medium heat. Add oil to pan. Add onion and cook until onion is translucent and just browning, about 5-6 minutes. Add garlic and cook for one minute, or until garlic is fragrant.
Stir in coriander, cumin, cayenne, turmeric, and salt.
Stir in water and tomatoes and cook until tomatoes are soft, stirring occasionally, about 5-6 minutes.
Using an immersion blender (or stand blender), blend tomato mixture until blended well. Add extra water, if needed.
Add chick peas to tomato mixture and stir to combine. Bring mixture to a boil and then reduce heat to simmer. Stir in garam masala and additional salt or pepper, to taste, if needed. Simmer chick peas and sauce for 10 minutes.
Serve chana masala with rice and/or naan (preferably homemade – trust me – it's amazing!).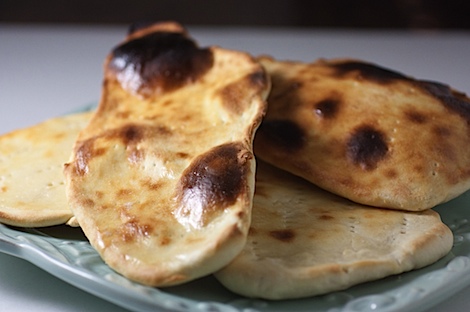 Remember to check out this post for a link to a simple homemade naan recipe and video! You can buy naan at the store, but I recommend either picking some up from your fave local Indian restaurant or taking a stab at trying the recipe out yourself. Don't be a scaredy cat like me. Don't fear the Indian cooking, embrace it! If I can do it, so can you!

How old were you when you tried your first Indian food?
{ 21 comments }