Looking for a super easy and super TASTY dinner idea? You'll love this Healthy Vegan Taco Salad Bowl Recipe that my parents came up with. You basically only have to cook the vegan "taco meat" (just a quick sauté!) and then the rest is all about assembly. So simple! So good!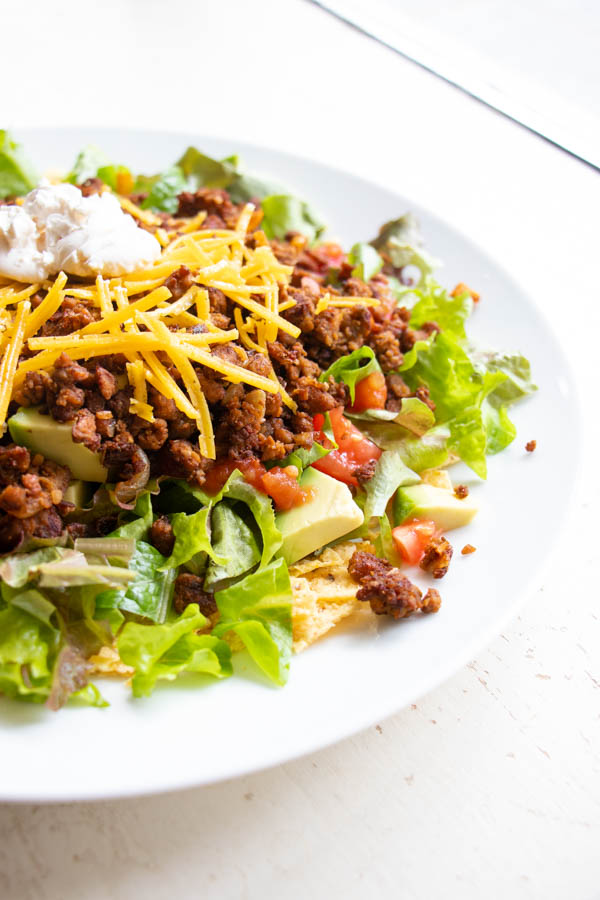 About This Healthy Vegan Taco Salad Bowl Recipe
My mom and dad came up with this Healthy Vegan Taco Salad Bowl Recipe. They've transitioned into vegan eating over the last several years and have been coming up with some gems. This is one of my personal favorites from their collection of recent vegan food ideas.
When I moved back home from San Francisco, this is one of the first meals they made for me. It was love at first bite.
Even though I'm not vegan (I'm more of a flexitarian), I do try to eat mostly whole foods, plant based foods. But I must admit, it can sometimes be a struggle to find good vegan meal options that are different from the rest. This is one of those unicorns.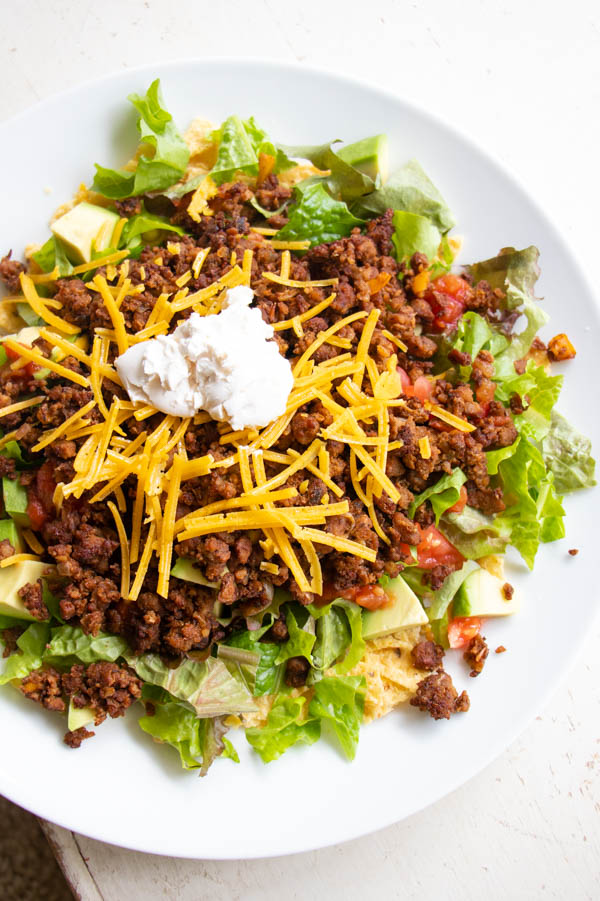 A Mostly Whole Foods, Nutrient Dense
While I do normally prioritize foods that are less processed, I love how the majority of this recipe is filled with nutrient-dense whole foods like:
Avocados
Tomatoes
Lettuce
Cucumbers
(and any other veggies you choose to add)
On the more processed side, we have (including some less-processed product recommendations):
Tortilla chips: Late July tortilla chips
Salsa: Sprouts salsa
Taco Seasoning
Trader Joe's "ground beef"*
*If you want to make the ground beef part more whole-foods based, you could look into using tempeh or lentils, though it will be less meat-like.
As you know if you've been with me for awhile, I'm what I call a "clean-ish" eater. So while I do generally aim to avoid processed foods when possible, I favor making choices that are realistic over being perfect. I believe it's NOT about making the perfect choice but about making the best choice for you. For your current lifestyle, values, and beyond.
While I do wish some of the ingredients were a little less processed, I'm not going to stress on eating 100% clean. This recipe encourages me to fill up primarily on TONS of veggies, and the nutrient levels are high because of it! Especially if you compare it to what I might eat if I ended up eating out.
It's about nutrition and wellness without obsession.
So use whatever products you prefer and make you happy.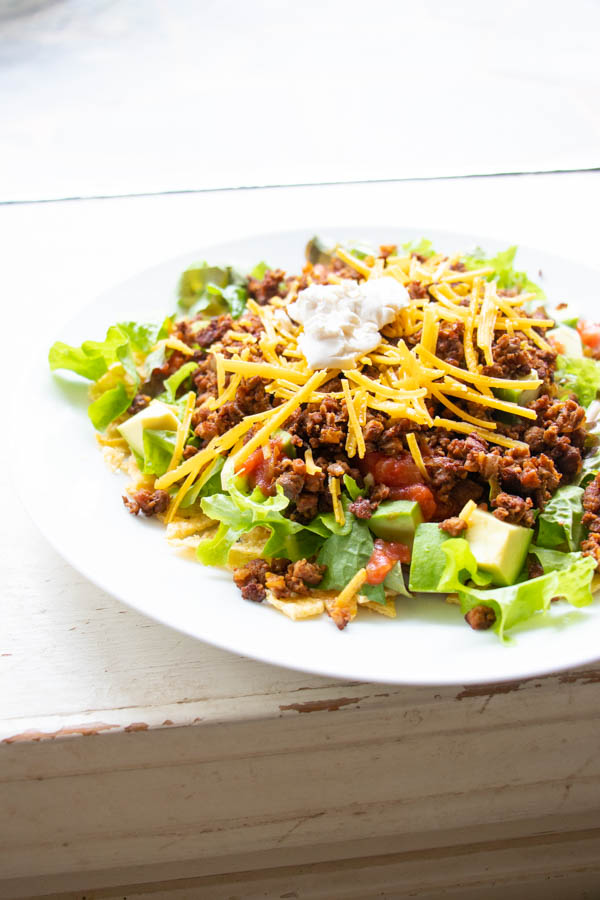 A Vegan Recipe for Meat Eaters AND Vegans
One of the most common challenges I hear about making vegan food is when your partner or other family members prefer to eat meat. Ah the struggle is real!
But I have good news.
Because of the "ground beef" in this recipe, it has a really meaty texture that I think meat eaters would enjoy. They may not even notice that it's not real ground beef!
The vegan cheese options are getting better every day, but your non-vegan eaters may prefer real cheese, which would be easy to accommodate since that's just a topping you sprinkle on. Though, the cheese doesn't necessarily need to be melted for this salad to be awesome, so you could go full vegan when serving this one if they like the flavor. Vegan cheese tends to be more of a challenge when melty cheese is a key feature like it is with grilled cheese or pizza.
Same tips apply for the vegan sour cream as with the cheese.
I'll leave the customizing to you and what works best for you and your fellow eaters.
DIY Taco Bowl Party Idea
You could easily turn this meal into a fun, DIY taco bowl party. Just put your prepared "meat" and other bowl ingredients into bowls and let your guests/friends/family make their own bowl.
You could offer your other favorite toppings not featured in this recipe, like:
Cilantro
Salsa variations (mild, medium, spicy, pico de gallo, and other flavors)
Tortilla chip variations (lime, salted, not salted, thick, thin, etc.)
Chopped Onions
Chopped Carrots
Nuts
Seeds
And more!
Sounds like a fun party food idea to me! And if you're really wanting to accommodate all guests with a mix of vegans and meat-eaters, you could have a bowl of real beef taco meat too. Plus real cheese, sour cream, etc. as well!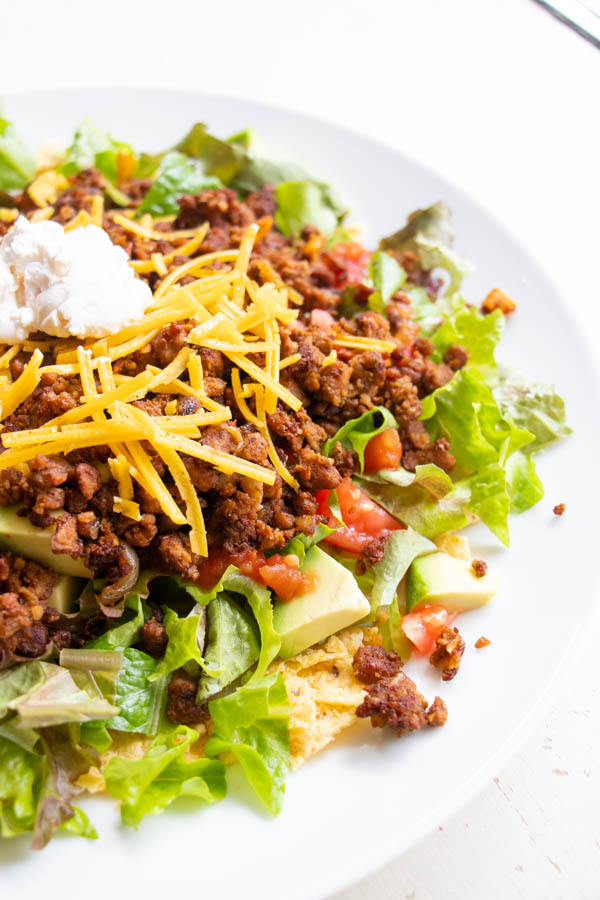 Leftovers Tips for this Healthy Vegan Taco Salad Bowl Recipe
I actually like this recipe so much, I even eat leftovers. And I'm not much of a leftovers fan. Lol! They usually never quite taste the same.
To keep things as fresh as possible, this is what I recommend:
Store just the "meat" and prep the rest fresh, as follows.
Store any leftover cooked "ground beef" in the fridge and re-heat in a pan over medium heat when you're ready to prep a new salad.
Cut the other veggies fresh for the most fresh-tasting flavor (or do food prep by cutting everything but the avocado to yield enough to go with the leftover "meat" – the avocado tends to turn brown when it's exposed to oxygen, so you'll likely want to cut at least that fresh when you're ready to eat).
Assemble the taco salad when you're ready to eat.
This does make for a great, fast lunch the next day. That's literally what I did today. We (my parents and I) had the original last night, and there was another portion for me today!
Print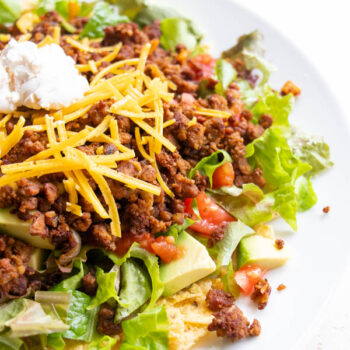 Healthy Vegan Taco Salad Bowl Recipe | An Easy Dinner Idea for All
Author:

Prep Time:

5

Cook Time:

10

Total Time:

15 minutes

Yield:

3

-4

1

x
---
Description
This easy healthy taco salad bowl recipe is a winner for vegans and meat-eaters. Whether you're transitioning into vegan eating or dining with a mixed group, this is a simple dinner idea to love. Just sauté the "meat" mixture and assemble the rest. You could even turn this into a DIY taco bowl party with different toppings! Feel free to add your own favorite toppings too!
---
1 teaspoon

extra virgin olive oil

1/2

medium onion, chopped

1/2

bell pepper, chopped

1

package Trader Joe's beef-less "ground beef"

1

package McCormick's organic taco seasoning

1/2 cup

water

2

–

3

cups tortilla chips, broken into small pieces

4

–

6

cups of lettuce of choice, chopped

2 cups

tomatoes, chopped

2

avocados, chopped

1/2

English cucumber, chopped

1/2 cup

salsa

1/2 cup

vegan shredded cheddar cheese

1/4 cup

vegan sour cream
---
Instructions
Heat a large sauté pan at medium temp. Add oil, onion, and bell pepper and sauté until the onions are translucent, about 4-6 minutes.
Add the "ground beef" and sauté until golden brown, about 3-4 minutes.
Add the taco seasoning and water and stir to combine. Cook, stirring frequently, until the water is gone, about 2-4 minutes.
Assemble the taco salad using as much or as little as you prefer (the above amounts are a guideline based on what we normally eat):

Grab a couple handfuls of tortilla chips and break them into smaller pieces on your plate.
Top with lettuce, tomatoes, avocado, and cucumber.
Top the veggies with some salsa, spreading it around the top of your plate (this is basically your "salad dressing".
Top the veggies with the prepared taco "meat".
Top the "meat" with a sprinkle of cheddar cheese (this goes on now so it can melt a little).
Add a dollop of sour cream on top.

Serve and enjoy!
---
Notes
This is a really customizable bowl. I've added portions of all ingredients, but the taco "meat" part is the only part that really needs to be measured. Otherwise, I usually just eyeball how much to add of all the other ingredients. I also tailor this to how hungry I am so I can eat intuitively.
Cut only the avocado you're ready to eat at one time because it will brown. If you have half an avocado to store, keep the pit in and put it in an airtight container – the pit will help it keep from browning as much.
This will yield 3-4 servings depending on what size you make the salads. 
Keywords: Vegan, Vegetarian
Recipe Card powered by
More Vegan Dinner Recipe Ideas
Spaghetti with Veggie Sausage and Marinara Recipe
Lazy and Healthy Low Carb Fried Rice Recipe
Teriyaki Tempeh Rice Bowls Recipe
Quick Vegetable Noodle Stir Fry Recipe
***
Thank you so much for stopping by and checking out this Healthy Vegan Taco Salad Bowl Recipe | An Easy Dinner Idea for All. Hope you enjoy this family favorite. Happy cooking!
Pin this recipe to your "Vegan Recipes" or "Healthy Recipes" Pinterest boards with this graphic: