Not sure if I've mentioned it before, but I'm getting married in May…yea, May of this year. I'm so behind on entirely too many things…I haven't ordered stationery, and I haven't even gone wedding dress shopping…not once! I know. I'm crazy. I'm just not a big "wedding person." I've only ever been to about five weddings in my life…EVER. I'm basically clueless when it comes to weddings. I'm also broke. When I started D Celestine about three years ago, I did something smart and kept my business and personal finances separate. The really stupid thing I did was run up my biz credit card when I was taking losses instead of using my personal money to keep myself from going into debt. Now that the bill has reached an intolerable amount, I'm realizing that I'm going to have…absolutely HAVE to use my personal money to pay the stupid thing off (stupid credit card!). How smart am I trying to pay off a credit card in the same year I'm getting married…oh, and did I mention that we're house hunting? Yea…not the smartest gameplan ever designed, but what are you going to do?
I'm trying to be more responsible about everything. I've been working on getting my personal and business finances in check. I've been tracking every dollar I spend in an Excel file. I've cut my expenses as much as possible. I try to only buy supplies when I need them, not so much when I want them. But, beyond that, I've been racking my brain trying to figure out how I can make more money to pay for everything. The only solution I can come up with is making stuff. Making more jewelry, working harder on marketing the jewelry, and even possibly making some other crafty goodness to sell on Etsy is on my list of things to do…along with "finish planning the wedding". I dunno…those of you out there who make and sell stuff know it's so very hard to do business online. There's so much competition. It's not a "if you make it they will buy it" world. Anywho, all these finance-related thoughts had me on a beading frenzy this weekend.
The side table next to my couch has been covered with random bags of beads for the last few months-ish. There are piles and piles of beads everywhere. I'd take a picture, but I'm embarrassed to show it. It's such a wreck. I had so many good ideas for designs, but not the time to make them, so my designs and my supplies just piled up and up. I didn't want to put them up because I knew I'd probably want to use them the day after putting them up. I tried to dig through everything this weekend and turn the designs in my head into real designs to sell, but I only got a few things made.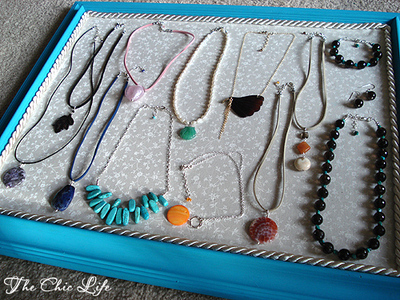 I made a cool beaded necklace with large, faceted smokey quartz rounds paired with tiny turquoise beads. I made a few necklaces on suede with giant gemstone pendants – a great buy b/c I can price them affordably but people still get the nifty gemstones. I made a turquoise and chain necklace with chunky turquoise beads – fun stuff. My favorite is the one with the gold chain and etched shell pendant that looks like a wing with a gold pendant and gold chain dangle – I love the asymmetrical designs the best. There's also a simple pearl necklace with a green shell gemstone pendant. I guess I made a lot of stuff overall, but now I have more work to do.
Unfortunately, I still have to photograph them, edit them in Photoshop, name them, price them, give them descriptions and upload them to my web site. Phew! This is going to be a busy week. I hope I have time for some Valentine's Day crafting!
Anywho, if anyone wants some handmade jewelry with proceeds going to a good cause, you can shop my jewelry designs here: http://www.dcelestine.com/ . If anyone needs some jewelry for a special occasion, I do custom work, too! Shoot me an email at thechiclife at gmail dot com. 🙂
Happy Monday!