Hubby and I were already planning to head to my MIL's for the weekend when we found out hubby needed to be in a town halfway between our city and hers by Thursday evening.  I asked my client-bosses about working remotely Thursday afternoon and Friday-day, and they were fine with it so long as I had something to do.  The problem was I had something I could work on remotely, but I was in the middle of a reconciliation project, which required the use of the company's network, applications, and email so I could check in with my co-worker who was also on the project.  Additionally, my one client-boss, who told me to finish the recon project before starting on the next, would be out of town the entire week, so I wouldn't be able to persuade them to let me go regardless.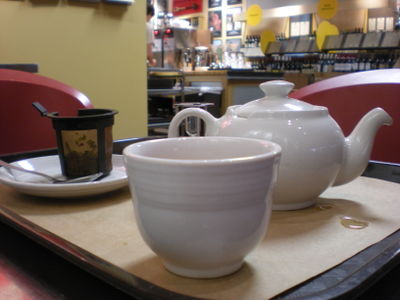 When my team discussed our recon project, we were all nearly certain the project would be completed well in time, but by Wednesday morning, things were looking pretty bleak.  I called my hubby to tell him that I didn't think I'd be able to go with him, but decided to keep trucking along.  I'm no quitter!  I worked extra hours this week and came in at a shocking (for me) 7:15am Thursday in an attempt to finish everything and would you know it…I did it!!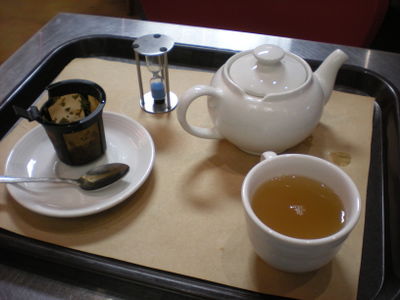 The timing worked out surprisingly well because the next project I had to do I could do without the help of anyone else and even without internet access…meaning, I could work completely and totally remotely (away from the office).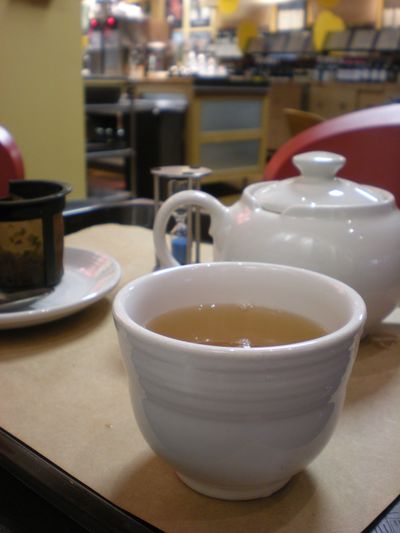 My MIL had a swimming class Thursday night and plans to have Chinese dinner with some friends afterwards.  She was nice enough to invite me and I lucked out and found a cute coffee/tea/wine cafe in the same shopping center where I could wrap up my Thursday work while she swam.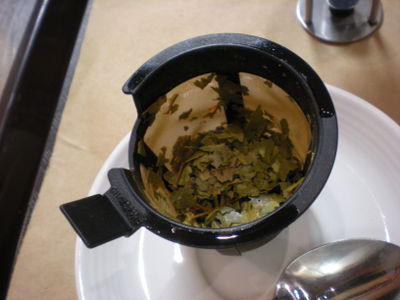 The shop, 3 Cups, served coffees, teas, and wines.  Since it was almost dinner time, I had a yummy caffeine-free, Lemon-Myrtle hot tea pot, which I thought would be good for my cold and soothing on my throat.  The tea was served like a tea service for one with this cute tea tray complete with tea pot, cup, spoon, plate, and timer (so you knew when your tea was done steeping).  I had my Lemon-Myrtle tea with honey and the combination was light, refreshing, and soothing all at the same time.  The hot tea was great and helped make my two hours of work so much more pleasant.  I'm so glad to have found this cute shop so I could work comfortably until it was time to meet for dinner.  I'll definitely be back at this gem.