…it was Veteran's Day and my months of brainwashing had finally worn off on my then-fiance who took me puppy shopping – one of the best decisions he's ever made, may I add.  Based on lots of research, I had narrowed breeds down to two types – Corgis and Shiba Inus and now-hubby went so far as to research pet shops to see what kinds of puppies they had.  He found one pet store just north of us that had both breeds we were considering.
I'll never forget…we walked into the store and I bee-lined for the corgi.  I think the Shiba Inu was sold or sick, but they weren't out.  A small black & white corgi puppy was in one of those round bins, not along the wall, but in the center of the store with an open lid.  I leaned over for a closer look and the puppy stood up to greet me and kissed my nose.  It was love at first site and from
that day
on, Bailey has been a proud member of our family.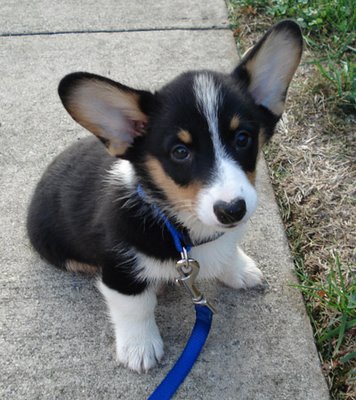 Wasn't Bailey an adorable puppy?