Call it practicing for the future (when & if we ever host Thanksgiving dinner at our place), but for some reason, I've become newly fascinated with roasting things…slow cooking things in the oven, mostly.  First, I cooked a "practice chicken" for my Halloween party.  I tried the recipe from Martha's Halloween special magazine that was out last year – the chicken recipe with all the spices on top that make the chicken look black.  Sound familiar?  Anywho, it was quite tasty, but we decided to go with the meal we made last year – beef brisket (note – another oven-slow-cooked meat).  
Last Friday, my husband and I stared aimlessly in the meat aisle of the grocery store trying to think of something to cook for dinner that night.  Our minds were blank.  We saw the big bins of turkey just next to where we were "thinking" and went with it.  I picked up a 3 lb. boneless turkey breast, and we also grabbed red potatoes and asparagus…only to find out, when we got home, that you're really supposed to let the turkey thaw in the fridge for 1.5-2 days.  Doh!  I put the turkey in the fridge and ordered Outback take-out as our Friday Night dinner became Sunday Night dinner.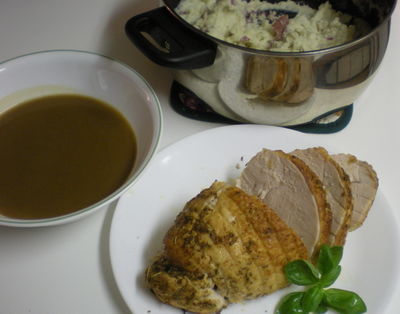 The thing that's really intrigued me about roasted meats is that the recipes tend to make large portions of food, thus, leaving lots of leftover, cooked meat behind.  I'm nearly certain the majority of Americans have enjoyed their Thanksgiving turkey leftovers for at least a day or two after the holiday, but the really interesting thing is 
how
they are enjoying said leftovers.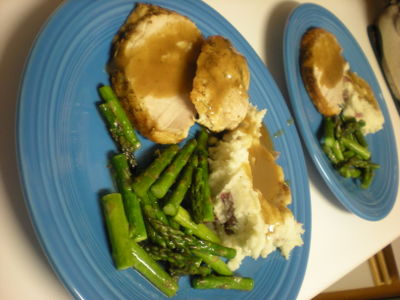 I've been flipping through my November magazines a lot lately and have seem some mouth-watering "leftover" recipes.  I especially want to try the Turkey Croquettes from Martha Stewart and the Creamy Mashed Potato and Leek Soup from Real Simple.  Yum!  In general, though, these recipes inspire me because I think that I've gotten into some bad habits with my foods.  I'm not so great at utilizing leftovers to their full potential, and if I use half of something for one night's dinner, I often have a hard time working the remnants into a different meal.  I've decided to work on fixing this bad habit of mine by trying my best to use all my food to the best of my ability.  I've been researching lots of soup and casserole recipes for ideas, but another great resource is Robin Miller.  She is the
queen
of "morphing" food from one meal to another, and she has some really great recipe ideas.  I have both her books:
Quick Fix Meals: 200 Simple, Delicious Recipes to Make Mealtime Easy
and Robin to the Rescue:
Quick & Simple Recipes for Delicious Home Cooking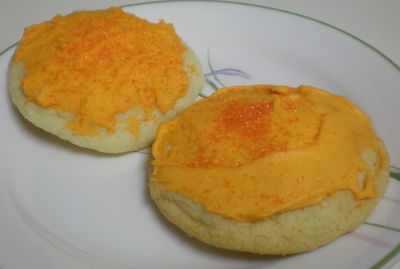 As far as desserts, I've recently grown quite fond of making things from scratch.  After the very challenging but successful
Devil's Food Cake dessert for Halloween
, which took alllllll day to make, I feel like I can bake anything!  My biggest lesson learned is how
easy
frosting is to make from scratch.  I read recently (somewhere random) that box mixes are ok to bake with, but frosting made from scratch is
key
.  The cookies pictured above are leftover from a dinner party my friends had.  I made the cookies from a bag mix, but the frosting is a yummy buttercream tinted with orange gel coloring (the coloring trick is another lesson learned from that Halloween cake).  I based the frosting off of a recipe I found on cooks.com (
click here for recipe
) – it's so good – you have to try it!  I'm anticipating lots of baking this holiday season, so all these tricks will be super useful.  These frosted sugar cookies were a big winner and soooo easy, I'll definitely be making these again…but who knows what other yummy recipes I'll stumble upon?  Hmm…