I don't know if you've ever made a ripple blanket…or if you even crochet for that matter, but word on the street is that I will be sick of ripples by the time I'm done with this afghan.  I think I'm in the honeymoon phase right now (on row 11 – 2 rows per ripple, that is) – so far, so good.  I'm enjoying playing with the colors – watching one boring gray row get matched up with some other fun colors – seeing how they all mesh together.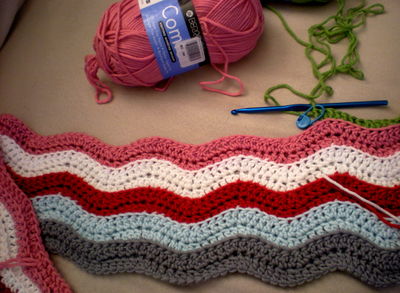 I'm making my ripple blanket with Berroco Comfort yarn – a super soft yarn that is really nice to work with.  The pattern I'm using actually calls for a DK weight (Comfort is worsted), but I figure maybe my afghan will just be slightly larger than it's supposed to be.  I'm not a fan of measuring…and really…does an afghan have to a precise size if you're just going to cuddle with the puppy (or the hubby) on the couch with it?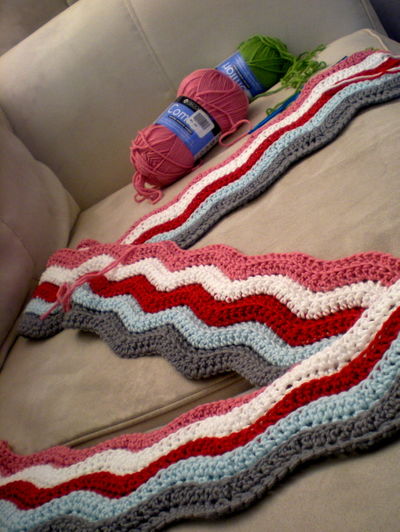 I've been buying the yarns for my blanket during random trips to the yarn store – trying to remember each time what I already have in my stash and to visualize how the new colors I want to get will go with the ones I already have.  I'm so glad I finally combined all my yarns into one bin so I can really
see
how everything is going together.  I've actually carted the
entire bin
into the yarn shop the past two weekends so I could see where colors needed to be swapped out or added.  If you're working on a blanket with lots of colors, I highly recommend bringing all your yarns into the store so you can see if that new pink color really does go with all the other colors you've worked into your creation.
Anywho, you guys know I've been working on organizing and getting things together.  I think I'm going to take a bigger step towards attaining some sort of harmony in my life…or perhaps, even several small steps towards bettering myself.  One simple thing I'd like to do is work on "me" time.  I've been trying to do a wee bit of crochet or reading every day…just to wind down from the day's craziness.  I've been trying to work on this task for the past couple weeks, but some days just seem to slip away from me with to-do's and what not.  In fact…it's getting late here, so I'm off to work a few ripply-stitches and hit the sack.  Nighty-night!