There is a little barbeque joint in my hometown, called Henry's Smokehouse, that cooks the best BBQ ever!  Seriously…it should be on Diners, Drive-Ins, and Dives or something (you reading, Guy?).  I don't know if I think Henry's has the best BBQ because people tend to latch on to wherever they tasted something for the first time (and I had my first-ever BBQ at Henry's) or because they really do just cook the best BBQ…I'm thinking it's a combination of both, though.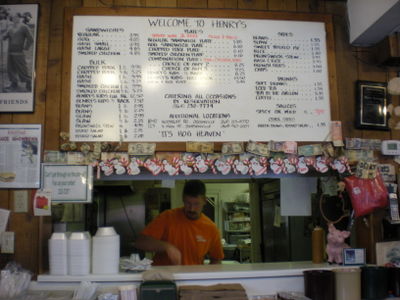 Every time I visit my parents, I cross my fingers and hope we have enough time to stop by this little barbeque joint so I can get my fix.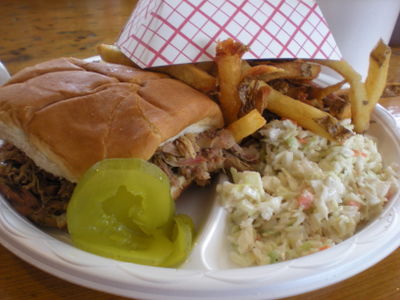 I always get the "Regular BBQ Sandwich Plate" with coleslaw and french fries.  Everything about this plate is good – the barbeque is always super tender, the sauces at the tables are my favorite flavors, the cole slaw is pretty basic slaw – not too sweet, and the fries are (I think) cut from real potatoes.  Yum!
Probably not the best thing to eat over an already-indulgent weekend, but I couldn't resist. 🙂