Whilst chatting with Mr. Chic yesterday, I found out that there was a box for me at the apartment.  I knew I hadn't ordered anything recently, so it must have been a prezzie. 🙂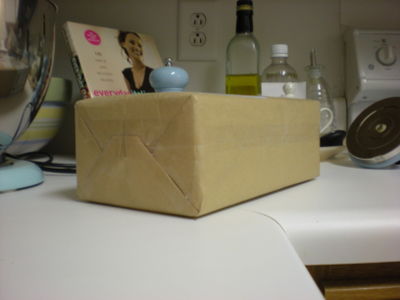 Sure enough, there she was – my
mystery
gift.  I opened her up to see…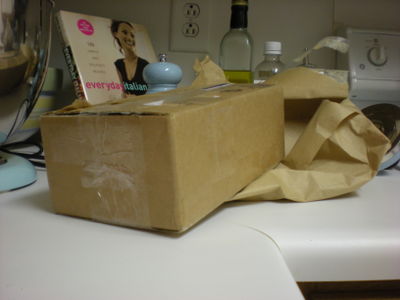 …another layer of wrapping.  It reminded me of when I was a kid and it was cool to wrap your friends presents in as many boxes as you could find so they had to keep opening box after box after box. I think I fit one friend's small present in about eight boxes…haha…good times…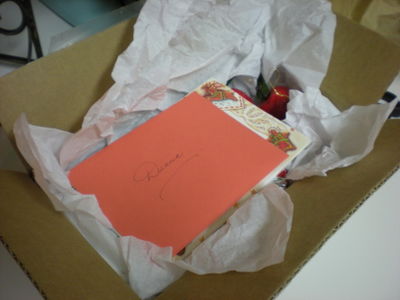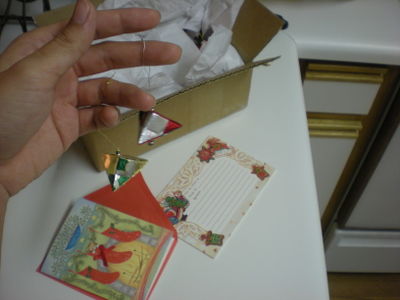 The box contained tons of goodies.  I don't know how V fit so much stuff in there!  First to come out was the card, some adorable holiday recipe cards and three tiny, handmade ornaments.  They looked origami-ish – very detailed and so small.  They look to have been hard to put together.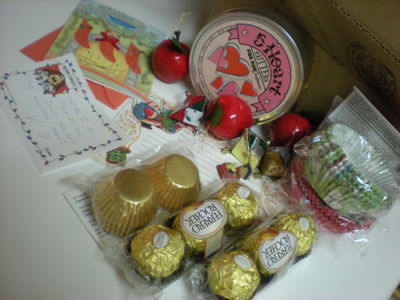 The box also contained some yummy candies, apple ornaments, some cupcake/muffin/candy liners (love these things!), and some heart-shaped cookie cutters that came in their own adorable tin.  Look at all my new goodies!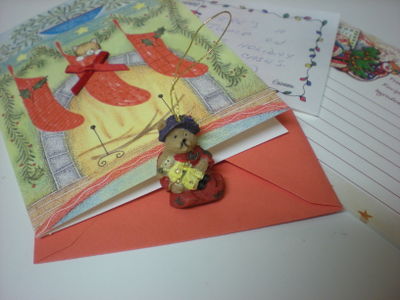 Oh, and check out this
cutsie
bear ornament.  A PIF from V, the bear-master, wouldn't be complete without a little something of her trademark. 🙂
Veronica, thank you so-so-so much for your sweet PIF!  I will be enjoying this for some time!  I'm sure you'll be seeing your gifts showing up randomly in my future blog posts.
Now, would you like to join in on the PIF?
* Now, for my turn to Pay-It-Forward…if you would like a PIF from me, please leave me a comment on this post
saying you would like to participate in the PIF
.
*All you have to do for the PIF is promise to Pay-It-Forward to
three
other people within
one year
of receiving your PIF package.  
Brownie points
if you blog about it. 🙂
*Anywho, I'll randomly select three names from the group of comments using one of those random number generators, so please comment before 9PM EST one week from today, which will be 12/9/08.  I'll announce the names once they are selected.