I'm still looking for advice on healthy books & magazines (see post here for details), but I figured I'd show you what I got so far (except one "surprise" book, which I'll share tomorrow).
I don't know why I didn't just post it with last night's post on Barnes & Nobles, but here's what I brought home with me last night: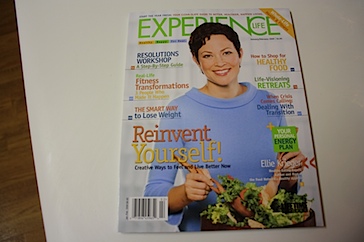 Yea…I bought the magazine with Ellie Krieger on the front. You knew I would! 🙂 This is Experience Life magazine. I want to check out a couple magazines for myself before committing to a subscription. I had planned to get only 1 magazine and 1 book, but there were so many options, I decided to get 2 magazines for now.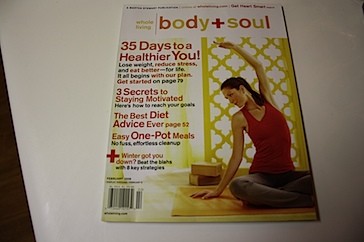 I also went with another trusty fave of mine – the Martha Stewart magazine – whole living – body + soul. I seem to love almost anything Martha does.
For my book, I got The 150 Healthiest Foods on Earth by Jonny Bowden, Ph.D., C.N.S. This book seems to have exactly what I'm currently interested in learning about – food nutrition info. I'd like to know more about what foods are good for what things, high in what vitamins & nutrients, and what not. For one of the first times in my life, I want to be healthier, but I don't want to go on a diet. I don't want to learn what I can't eat…I want to learn what I should eat. I'm also planning to use foods from this book for my Weekly Food Challenge!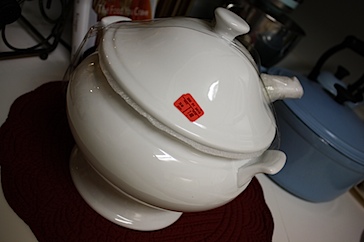 While I'm talking about shopping, lookie what I found on sale at Target – a soup tureen! I was actually looking for a journal at Target and stumbled upon this at the end of the office aisle.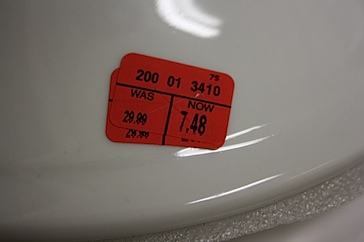 I don't really have anywhere to put a soup tureen, but at this price, I couldn't leave it there. Can you believe this deal?!