I've been meaning to participate in the impromptu color week challenge over at Burrow House all week, but keep forgetting.  Well, not today!  Today, I bring you Blue Day Thursday:
We took Bailey for a quick lunch-time walk.  Check out his blue leash.
The weather was lovely…a bit cold & windy, but the blue sky made up for it.
When we got back, I found some things to photograph around the kitchen to photograph, including this blue teacup and saucer.
Here's my blue Martha Stewart cast iron pot – we got this as a wedding gift from some family friends.
Here we have my blue peppermill – a treat I got for the kitchen last time I was at Anthropologie.
Here are a couple strands of blue beads from my blue bead stash.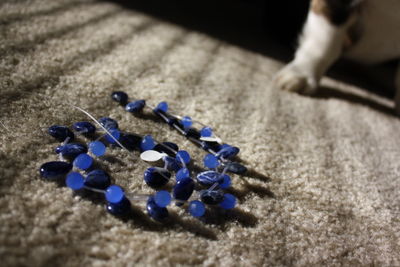 Another look at those blue briolette beads.  Bails stands guard in the background.
Anywho, I had a great time taking photos of colorfully blue things today.  I'm hoping to remember to get a post together for tomorrow, too!
Check out the blue things over at Burrow House by clicking here.