As mentioned and planned yesterday, tonight I made Ellie Krieger's Fettuccine Bolognese.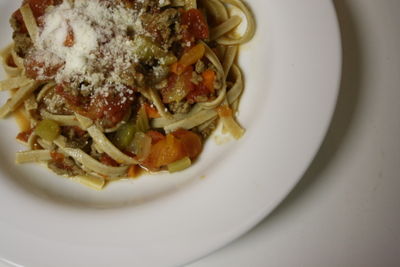 I used to think Bolognese sauce was the same as meat sauce, but it's actually a meat sauce with a touch of milk or cream, making it slightly pink.  I'm not sure I've ever actually ordered Bolognese sauce in a restaurant before, so I thought it would be a good dish to try.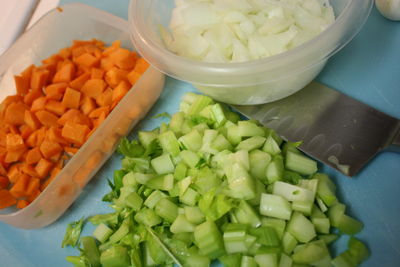 I thought I saved myself a lot of chopping time last night by chopping up extra onion and carrots, but I totally forgot that I needed celery, too.  Oh well, I still think I saved myself some time, and at least I worked on being efficient.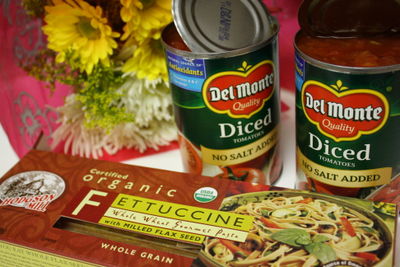 Some times, I have a hard time finding the healthier foods in the grocery store, like the no-salt-added canned goods and the whole wheat fettuccine.  Sure, they had tons of other whole wheat pastas but only 1 box of whole wheat fettuccine.  I also discovered that Del Monte had a no-salt-added can of diced tomatoes readily available.  Speaking of health foods, on TV today, they toured the Natural Gourmet Institute and can I say, NY peeps, I am sooo jealous!  I would love to take some of their public classes – they look so informative AND fun!
Oh, and do you see the flowers in the background?  Sweet hubby picked those up for me while he was out grocery shopping.  Aww… 🙂
Look at that mound of tomatoes!  I should have consulted the reviews on foodnetwork.com like I usually do.  Had I, I would have known to sub one can of diced toms for one can of tomato sauce or paste.  The sauce was a little thin and probably could have used the sauce and/or paste.  Also, I love whole wheat pasta, but the only downside is that it is not as tough as normal pasta and you can't really twirl it around your fork.  I still enjoyed using the whole wheat pasta for this dish, though.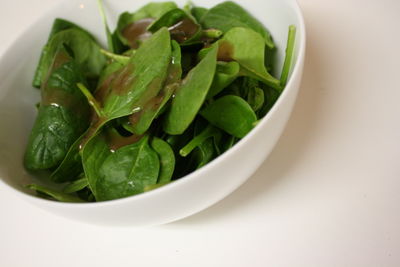 I served the pasta with a simple spinach salad – just baby spinach leftover from yesterday's soup with my favorite Drew's Rosemary Balsamic salad dressing.  No toppings because I didn't have anything to top the salad with!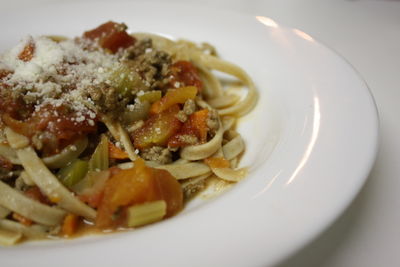 Ellie's Fettuccine Bolognese
Adapted from Ellie Krieger's recipe via foodnetwork.com
My Note: the original recipe here called for mushrooms and lots of them.  I'll put a couple mushrooms in recipes, but this seemed like too much for me, so I omitted them and added a little water to the pan to allow the veggies to cook as long as they were supposed to.  Also, after reading reviews on foodnetwork.com, I noted a lot of people either added tomato paste or subbed a can of tomato sauce for one can of diced toms.  I would suggest making this substitution, if you ask me.  The recipe was a little bland, but maybe it just needed some salt?  Still, this dish makes a nice, light alternative when you're craving pasta, but still want to be healthy.
12 ounces whole-wheat fettuccine
1 tbsp olive oil
1 small onion (or half large), finely chopped (about 1 cup)
1 medium carrot, finely chopped (about 1/2 cup)
2 stalks celery, finely chopped (about 1/2 cup)
1/2 cup water
3 cloves garlic, minced (about 1 tbsp)
1 lb lean or extra-lean (90% lean or higher) ground beef
2 tbsp chopped fresh thyme or 2 tsp dried
2 14.5-ounce cans no-salt-added diced tomatoes, with their juices
1/2 cup low-sodium chicken broth
1/4 cup fat-free evaporated milk or regular whole milk (my note: I used whole)
salt and freshly ground black pepper to taste
parmesan cheese, optional, to garnish
Set a large pot of water on the stove to boil, and cook the fettuccini according to the directions on the box.
In the meantime, heat the oil in a large skillet over a medium-high heat. Add the onion, carrots, and celery and cook for 5 minutes, stirring occasionally. Add the water and cook for 5 minutes more, stirring occasionally. Add the garlic, ground beef, and thyme and cook until the meat is browned, breaking it up into small pieces as it cooks, about 5 minutes.
Stir in the tomatoes and broth and cook for 5 minutes, or until sauce is thickened. Stir in the milk and cook for 1 minute more. Season with salt and pepper.
When the pasta is done, drain it, put it back in the pasta pot, add the sauce and stir the sauce and pasta together. Put into serving bowls and top with Parmesan cheese.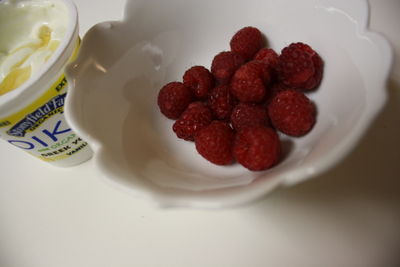 If you've ready my blog long enough, you probably know what a huge sweet tooth I have!  It is unquenchable…I want something sweet after every single meal.  I am working on eating healthier options during the week and only splurging on the weekends, though.  Tonight, I tried some vanilla Oikos greek yogurt drizzled with honey and with fresh raspberries.  The raspberries are in the bowl in this photo, but ended up in the yogurt later.  I also ended up adding more honey.  I don't know what to think about the yogurt…it was okay.  It tasted a lot better with the honey and raspberries for sure, though! 
Does anyone have any favorite yogurt brands/flavors I should try?