I went to work today, but I still felt bad.  Mostly, I just felt (and feel) exhausted.  Whilst browsing the web today, I stumbled upon a post by Erin (from erincooks.com) about her Luxury Plush Throw from Restoration Hardware.  Now, anyone who knits or crochets (including myself) knows how easily one can be persuaded by a soft ball of cashmerino or other yummy yarn at their local yarn shop (I'm not the only one oohing and ahing over the softest silks, wools, and cashmeres under my fingertips, am I?).  Now, think about an entire blanket of the softest yarn you've seen (touched) and you're getting close to this throw.  I'm a total sucker for uber-soft things, blankets, especially, and while the thought of this comfy blanket waiting for me on my couch piqued my interest, the new sale price tag of a mere $23.99 had me sold.  Within an hour or two of finding Erin's post, I had called my local Restoration Hardware to see if they had any throws left, and they did, much to my surprise.  I decided that it was time for a little mind over matter to try to get rid of this yuckiness I've been living the last couple days, and this blanket would kick things off.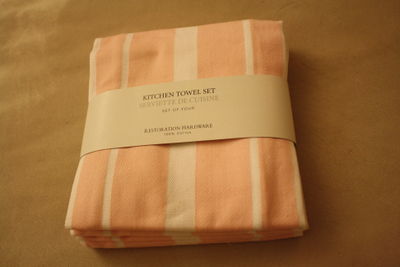 I headed straight to Restoration Hardware after work to make a quick stop for the throw, but first, since it has nothing to do with getting cozy, may I point out these gorgeous pink and white kitchen towels I got there, at 50% off?  I'm pretty happy with these and I get the feeling I'm going to need these more since the stainless pots & pans seem to demand a good drying to prevent water spots.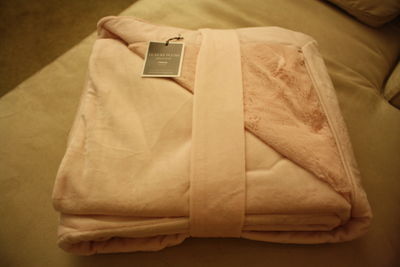 Ok, on to the coziness of it all…here's the very plush, very fabulous, Luxury Plus Throw from Restoration Hardware.  They only had 2 colors available at the $23.99 price tag – blush and eucalyptus.  I went straight for the lower price tagged colors since I'm trying to be mindful of my money these days, but they were both such pretty colors, I had a hard time picking between the two.  I wasn't sure if the eucalyptus would match (or even coordinate with) the turquoise-y things I already have in my living room, so I went straight for the pink (sorry hubby).  The majority of this throw is a super soft polyester, but it's that longer-stranded part (see upper right corner folded above) that is the really good stuff.  I have a couple blankets at the house that I consider quite cozy and pretty darn soft, but this beats them out hands down.  I figured a blanket as soft as this would be sure to help a girl to recover quicker.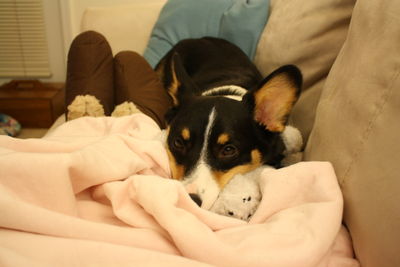 As soon as I got home, I opened my throw for some cuddle time with the Bails.  How could you not relax with this guy cuddling next to you?  Just look at that adorable puppy-face!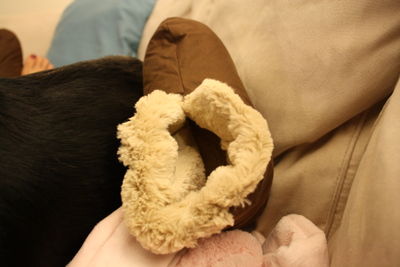 Oh, and did you see what was on my feet in the previous photo?  Here's a closer look at one.  It's a Luxury Plush Foot Duvet and it's like butter on your feet.  Ok, not really because that would be gross, but these babies are lined with the same material from the throw, making your feet feel all warm and comfy.  I got these for a mere $9.99.  All this plushness is already making me feel a wee bit better.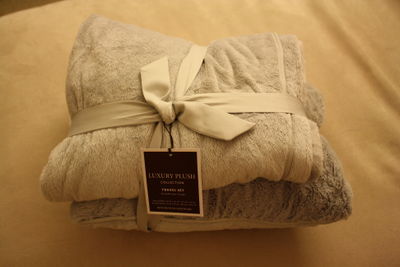 And for my last "plush" purchase, I got this travel set for $23.99.  The set includes a mini plush blanket and a mini plush pillow.  I'm hoping to take this with me on car trips, plane trips…all trips, basically.  I'm getting the feeling I'm about to be spending a lot of trips on planes, so this could come in handy.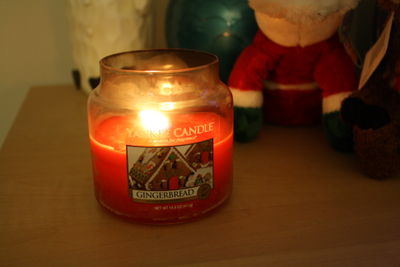 Anywho, I've got a yummy candle burning tonight, too.  Hubby and I got a set of 2 Christmas-scented candles (Gingerbread and Christmas Cookie) 50% off at the Hallmark store (I think $15 for the set).  I love candles and burn one almost every night.  Besides making our place smell good, I find them very soothing and relaxing.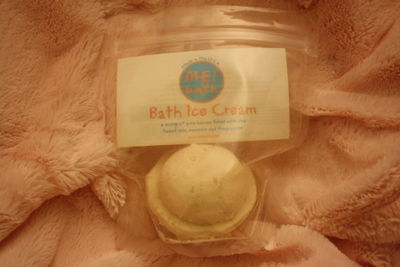 I've got one last trick up my sleeve to get me into a total state of relaxation – a bath bomb.  Have you ever tried one of these me! bath Bath Ice Creams?  Drop one of these into your next bath for an explosion of soothing oils, minerals, and other goodies.  They are a bit pricey at $8.50 a pop, but still cheaper than a day at the spa.
Ok, I'm off to get cozy and relax.  First, I'm headed for the bath with my Land of Milk n Honey bath bomb, and next, I'm headed to cuddle up in my new plush throw and slippers.  Let's see if all this comfy goodness helps me feel any better.  Oh, and thanks Erin for sharing your throw post with us!