I figured I'd take the first day of the year to go ahead and outline my New Year's Resolutions for 2009.  I decided to group them by those resolutions I consider concrete (those that have a measurable or specific goal) and general (those that are more related to a general idea).
Concrete
•    Work out once a week, even if it's only a walk with Bailey.
•    Plan meals ahead of time by creating menus for the week – at least 3 days worth.  Bonus points for planning meals around sales/coupons.
•    Pay off all credit card debt asap – definitely by end of year.
•    Set aside at least two times a month for date/family time – date nights, taking Bailey to the doggie park, etc.
•    Clean and organize craft room by end of year.
•    Create a cleaning schedule and stick to it.
General
•    Eat more veggies.
•    Eat more fruit.
•    Eat healthier in general.
•    Use food leftovers and ingredients more efficiently (added 1/2/09)
•    Use money more efficiently – spend less (added 1/2/09)
•    Volunteer more.
•    Spend more time with friends.
•    Save for a house.
•    De-clutter house.
•    Make more "me" time.
This morning, I woke up with a huge headache, which seemed weird to me considering I didn't have a drop of alcohol last night.  I couldn't figure out if I had a headache because I slept in and my caffeine addiction was kicking in or if I had been grinding my teeth again in my sleep.  The cause was probably due to a little bit of both.  Hubby made me some coffee, which I drank while checking email and my google reader.  It definitely helped out my headache, but I still felt in a bit of a daze the rest of the afternoon.
In an effort to kick off the new year the right way, we decided to try to tackle some errands and open items.  I gathered our Goodwill/Salvation Army donation bags (which I typically fill while I'm organizing/decluttering), the boxes from our new pots and pans that actually contain our old pots and pans (since Mom gave us new ones for our wedding prezzy), and three bags of plastic bags to recycle.  Hubby loaded the car while I got ready to go.  When I was ready, I packed a cream colored, short pea coat I got on sale recently at J Crew. 
I've been trying to talk myself into returning that purchase and got the coat and receipt ready to return.  We headed straight for the mall, but by the time I got there, I had talked myself out of returning that darn coat.  Ah well, I've really wanted one (this style and this color) for a long time and I got this one at a pretty good deal.  Besides that, it won't put me in debt, so I figured I can keep it.
While hubby went to Jos A Bank to exchange a belt for a different size, I hit up Borders in search of the Marie Claire Idees magazine and a chai latte.  I found the latte, along with a couple cool desk calendars, but no Marie Claire Idees…le sigh.
We hit up the other stores Mr. Chic wanted to visit at the mall, and I didn't even go into any stores I normally frequent except one – Sur La Table.  After seeing these amazing looking donuts, I was itching to try the recipe, so I figured I'd better go ahead and get a donut cutter for when I'm ready.  
After we left the mall, we hit up the grocery store for a meat to go with the collard greens and black eye peas I purchased earlier this week for our New Year's Day meal.  We got NY strip steaks, bacon, Jiffy cornbread mix, a baguette, and my favorite AM coffee – Fresh Market's Breakfast Blend.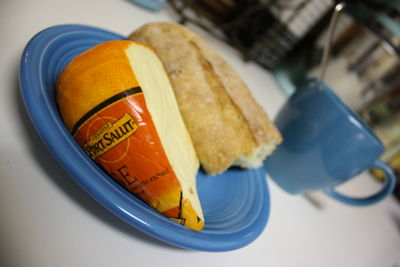 After we got back from errands, hubby went to a friend's place to watch the Rose Bowl and I worked on some more chores and had a snack of baguette, Port Salut cheese (the one I got a couple weeks ago), and Celestial Seasonings herbal peppermint tea.
Other Stuff I Got Done Today
•    Cleaned my bathroom – swiffered floor, washed bath rugs, scrubbed/cleaned shower, cleaned top of toilet, cleaned countertop, cleaned sink.  Tomorrow, I'll scrub the toilet and clean the mirror, but I get wary about using different cleaners at the same time since I heard it was dangerous if the fumes mix.
•    Signed up for the 2009 Declutter Calendar and weekly simplicity tips available at http://www.mysimplerlife.com/blog/.  I highly recommend signing up for this – it's free and awesome.  I just downloaded and printed my calendar and it has daily tasks for you to get your world organized.  I can't wait to get started!
•    Cooked a traditional New Year's Day dinner – but that's for another post. 🙂
Overall, I think today has been a pretty successful kick-off for the new year.  I am looking forward to working on my resolutions and tacking my 2009 Declutter Calendar tasks.  2009, here we come!