Hubby and I were invited to a party for New Year's Eve, but at $75 a ticket, we just couldn't afford it this time around.  $75 doesn't sound so scary, but $150 popping out of our joint account sounds a lot more painful.  I'm still working on that darned credit card debt, and even though I put all of my bonus towards it, I still have at least three or four months of serious saving and serious paydowns till I'm through.  I can't wait to have this darn debt out of my hair…seriously!  I will never charge up a credit card again!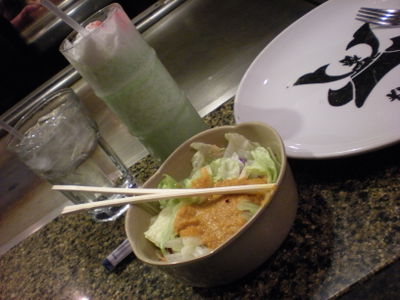 Hubby and I decided to stay low key for this year's New Year's Eve and stay in.  We tossed around the idea of cooking a romantic dinner, then the idea of hosting a pot luck with a few friends, but when hubby called me at work around 4PM and suggested we do a teppanyaki dinner, I was in.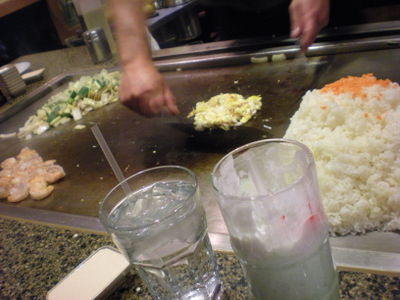 So, we hit up one of our fave spots for another indulgent, but tasty meal.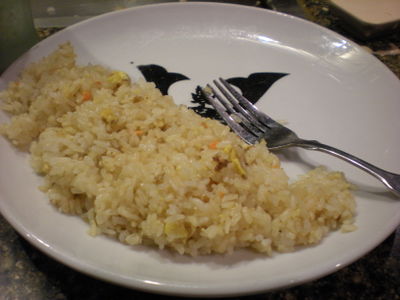 After the usual broth soup and salad with that yummy ginger dressing, we got our first serving – rice!  I'm not sure how they seasoned this batch since I wasn't paying as much attention to the cooking tonight as usual (I normally try to figure out their tricks so I can try to re-create the meal at home), but I love it when the chefs add lots of soy sauce, sesame seeds, and pepper!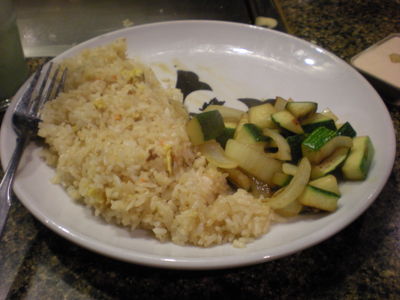 After munching on some rice, we got our next round – veggies (zucchini and onion).  I love these when they are just crisp-tender.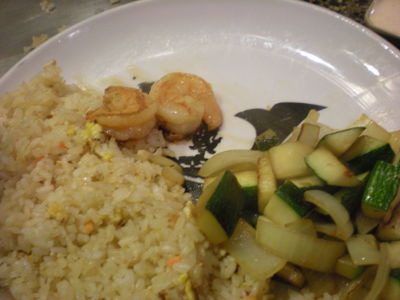 Next, we got our shrimp appetizer.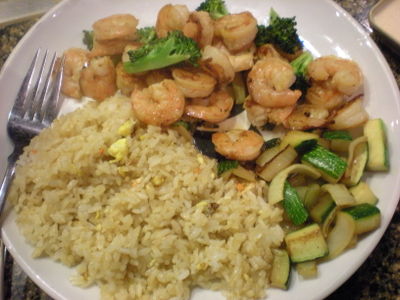 Finally, I got the rest of my shrimp with some of my fave veg – broccoli!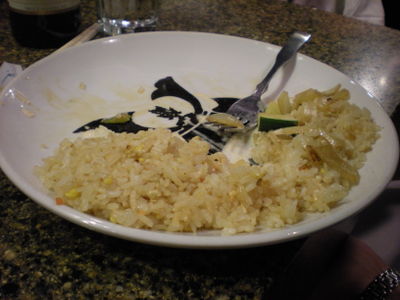 After snapping a picture of my full plate, I looked over to hubby's plate to see this.  The man can eat, no?  Of course, he was still waiting for his entree – terriyaki chicken, but still!  lol.  We enjoyed our meals and even had another meal to take home for hubby's lunch tomorrow. 
After dinner, we swung by Blockbuster and picked up The Mummy: Tomb of the Dragon Emperor.  We've always enjoyed The Mummy movies so we're hoping this one is still good, even though the main chick character is played by someone new.
Anywho, I just finished some spicy ginger tea to help me digest all that delicious, but heavy food, and I think it's time to watch our movie and relax into '09.
On a complete tangent, hubby is watching Animal Planet right now and just pulled me away from blogging to show me this clip on TV.  Apparently these people raised a lion cub, Christian, and released him into the wild when he got too big.  A year later, they found the lion and didn't know if the lion would remember them, but he did!  Awww!
I wish you all a Happy New Year's!  See you in '09!