As I was flying to SF, I planned out the next 24 hours. I would wander around for a couple hours, get dim sum for lunch, have an early dinner and get to bed early, since the time zone change would help me with that effort. Then, I'd wake up early, have a quick workout, get ready for the day, enjoy a slow breakfast, and head over to the office nice and early. Of course, things didn't quite work out that way. I ate a late dinner Wednesday night, though I did manage to get to bed at a reasonable hour and sleep a nice, full 8 hours – a treat I always try to achieve but one that always seems to elude me.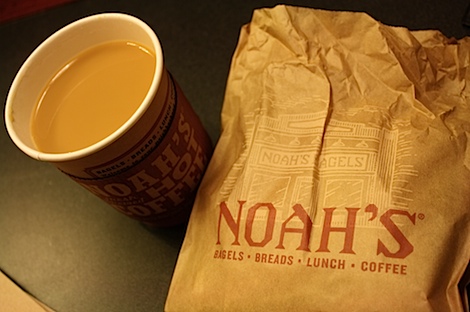 I decided that since my legs were sore from all the walking Wednesday I could skip the workout and got straight to getting ready. Next thing I know, I'm running late! Yikes! I remembered passing a bagel shop, Noah's, near the hotel during my meandering the previous day and jetted down there to pick up something quick for breakfast. I got the $3.99 breakfast special for a bagel with schmear (whipped cream cheese) and bottomless cup of coffee. I heard a man checking out in front of me talking about Noah's popular ? (couldn't hear) bagel and my curiosity got the best of me. I asked the lady behind the counter what bagel he was talking about and she kindly told me the "chocolate" bagel, with a smile (they're so friendly here!). I made a mental note to try that next time.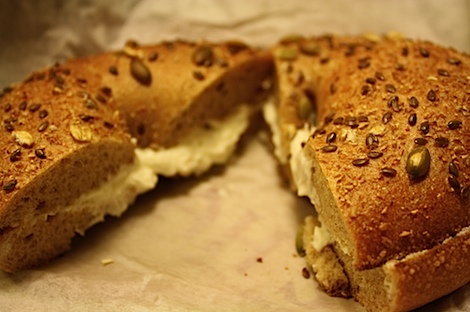 I felt a bit like I'd let you guys down by getting a simple bagel for breakfast when there are so many unique restaurants in SF, but would you look at this! I got the Good Grains bagel and it was dee-licious! Look at those seeds! A bagel and coffee breakfast may not be all that interesting, but it sure hit the spot!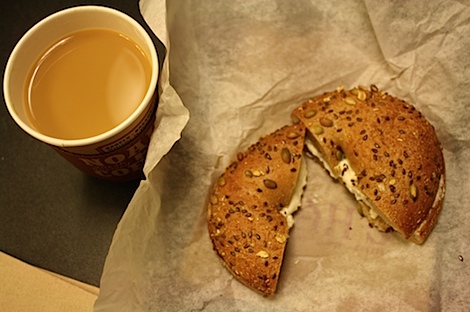 Sure, I didn't have the morning I planned, but enjoying this bagel while getting ready wasn't too shabby either. I'd happily get more of these bagels next time. I downed this bagel and coffee and was ready quick. I even got to the office just a minute or 2 early!
It was a good thing I fueled up because I had a looooong day ahead of me. We had back-to-back meetings during the lunch hours (11am-2pm) but luckily, they took care of me and ordered in lunch from Specialty's. I got the Turkey Pesto, which was A-mazing! Seriously, I was dying to take a photo of it but didn't want to embarrass myself in front of the client. Listen to the description from the Specialty's web site: "Toasted Country Ciabatta Roll, Mayonnaise, Pesto, Roasted Turkey Breast, Plain Cream Cheese, Red Onion, Dill Pickle, Organic Spinach, Mixed Bell Peppers, Muenster." I thought it sounded like the sandwich had too many ingredients, but it was perfect just the way it was! Yum! I will have to try to re-create this sammy back home some time soon.
I also had an Odwalla Superfood drink in a mini 11 oz bottle and split an Oatmeal-Wheatgerm-Chocolate-Chip-Cookie with one of my new co-workers. The whole meal was just perfect, and I'm really loving how all these SF restaurants put such emphasis on using fresh ingredients (they bake their own bread and use organic when possible) and wheatgerm cookies?! Don't think I'll be finding that back home any time soon…a shame…healthy can be so tasty!
Eating in SF was becoming food-heaven for a healthy+fresh-food-loving foodie like myself!