10:00 am – Coffee + WW English Muffin + TJ's PB – First Signs of Feeling Full (6)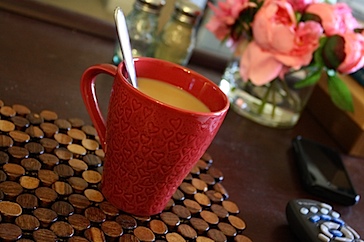 I had to run to TJ's this AM to pick up stuff for our picnic, so breakfast was thrown together rather quickly. I had some coffee – 1/2 Breakfast Blend + 1/2 Caramel Macchiato with sugar and milk.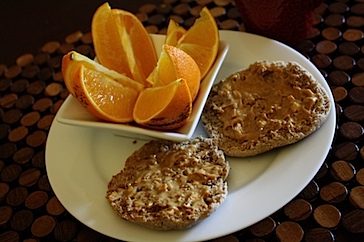 For eats, I had a Thomas WW english muffin toasted with TJ's Valencia Flaxseed PB with an organic valencia orange (hubby had 2 pieces). Great start to the day!
1:45 pm – Picnic Lunch – First Signs of Feeling Full (6)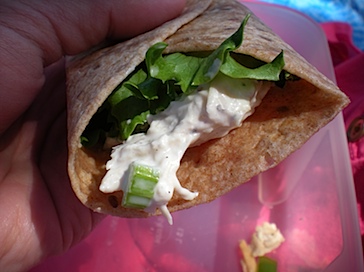 I had a picnic lunch with hubby in a local park – see here for details (click). I had a chicken salad wrap with havarti and green leaf lettuce.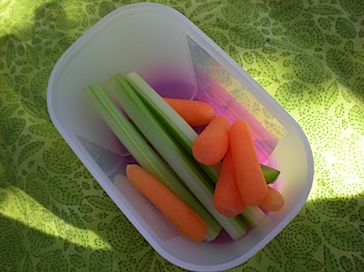 I snacked on some veggies.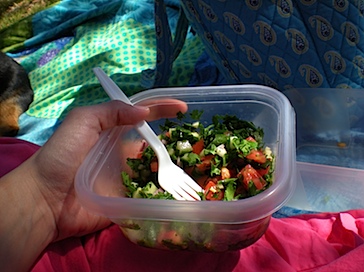 I also had some of my homemade taboulleh – my first attempt at making the dish and it came out great!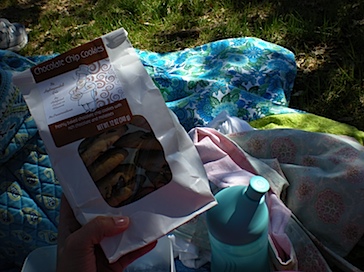 We had TJ's chocolate chip cookies for dessert – I had 2. It was hard to resist eating more, though! They were delish!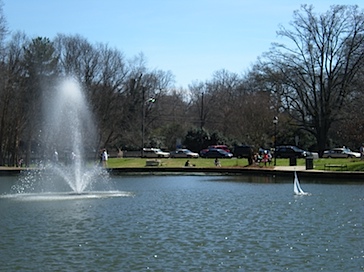 The park was lovely and the weather, even nicer!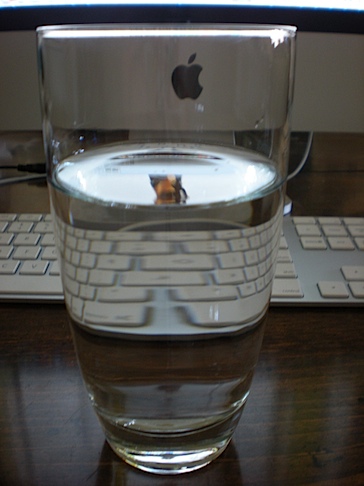 Hubby and I also took a nice long walk and I had a BIG glass of water when I got home…make that 1 1/2 of these.
5:35 pm – Walk #2 with Minimal Jogging – Tired!
I decided to take another walk and try out some jogging since the jogging went so well last night and I felt so energized. It was not the same today. I felt heavy and tired…maybe it was the weather? Maybe I didn't feed my body the right fuel today? I dunno, but I still got a good workout in with about 45 minutes of fresh air and a wee bit of jogging. Bails got a 2nd walk today, too!
I didn't do any strength training afterwards, but I did remember to stretch.
8:15 pm – Simple Dinner – First Signs of Feeling Full (6)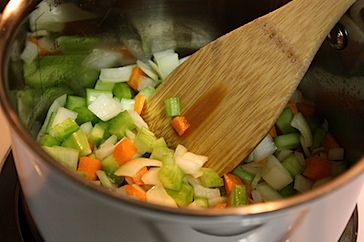 Since I spent about $20 at the store earlier, I didn't want to get anything else for dinner, so I just used stuff we already had on hand. That's what I get for not shopping with a list! Shoulda planned for dinner this AM, too! lol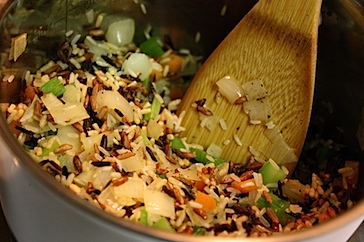 I made a rice pilaf like this one I made before except with just water (since we are totally out of stock! grr…) and sans turmeric.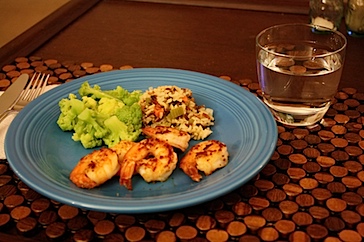 I cooked up some frozen TJ's shrimp – just sauteed in olive oil and seasoned with Steak Seasoning. I really wanted to add a splash of lemon juice, but we didn't have any lemons either! The shrimp were delish! I still can't believe they were frozen – they tasted really good!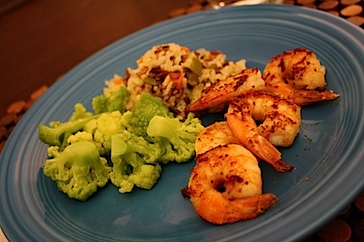 Oh, and see the fluorescent green veggie? That's broccoflower! I saw it today at TJ's and couldn't resist trying. I know, I know, I probably shoulda gotten that lemon, but again…I didn't have a list and I am so easily distracted by delicious food – especially the unique stuff! 🙂
9:00 pm – TJ's Chocolate Chip Cookies + Milk – First Signs of Feeling Full (6)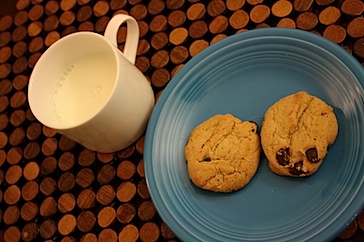 I was so enamored with those darn TJ's chocolate chip cookies that I had to have more today! I'm usually pretty good about resisting sweets, but when I get in a sweet-tooth mood, watch out! lol
I had my cookies with 1/2 cup of 2% milk.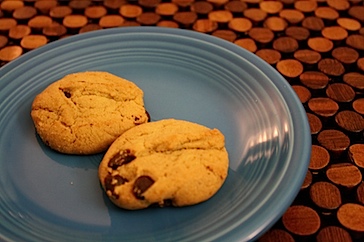 Oh, and I'll be honest…that second walk was partially so I could eat more cookies today…hehe. I am also still testing out my new kicks, entertaining Bailey, and was sooo happy to take advantage of the beautiful weather, but the cookies were the heart of my 2nd outing.
Summary
Calories Eaten: 1557
Calories Burned: 246
Net Calories: 1311
Guess I could have had another cookie and stayed under my goal of 1437. Oh well, I'll probably enjoy at least 1 more tomorrow. Heehee.
Oh, and you'll never guess…I have yet another announcement in the works. You guys must think I'm crazy, but I've got a lot going on right now and things seem to keep popping up left and right! I don't want to jinx anything yet, so I may have to wait a day or so to let the cat out of the bag. I should be able to start releasing info tomorrow, so check back! I'm going to have to start talking soon before I get too many things queued up!
Ta-ta!