Healthy Southern Supper
We saw some vibrant, fresh-looking collards at the farmer's market this past weekend, so I quickly grabbed them up with the intent of making one of my fave staple meals – Ellie Krieger's "Fried" Chicken and Short Cut Collard Greens. Both of these dishes are two of my all-time faves and make for a great way to enjoy guilt-free Southern style food.
You can find links to the recipe by clicking here.
Here are some photos from tonight's dinner: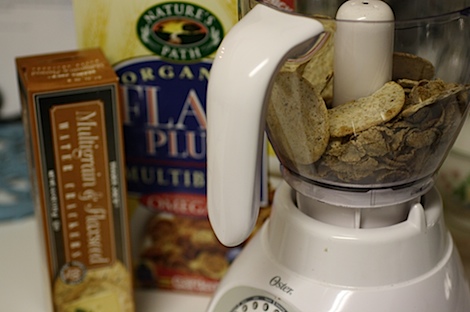 I amped up the health factor of this dinner by using some Nature's Path Organic Flax plus Multibran cereal along with some Multigrain & Flaxseed crackers from Trader Joe's.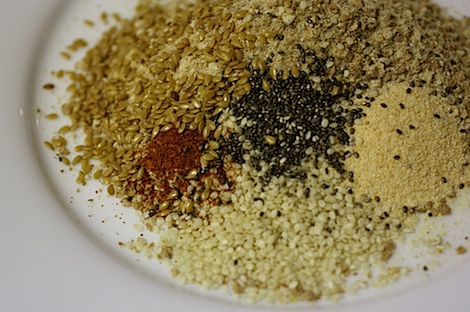 I also snuck in some new breading ingredients: chia seeds and flaxseeds.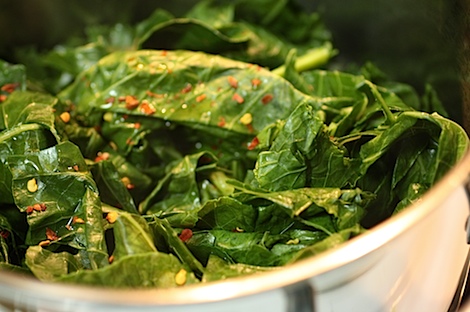 Pretty green collards with red hot red pepper flakes.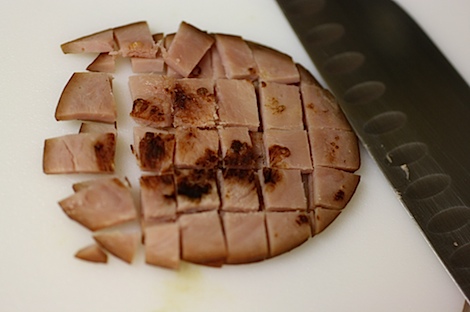 Healthier collard ingredient than the traditional ham hock – Canadian bacon.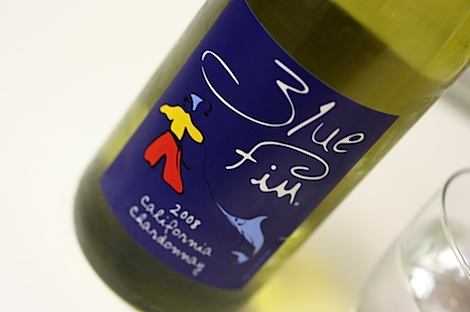 Some white wine hubby picked up from Trader Joe's today: Blue Fin 2008 California Chardonnay.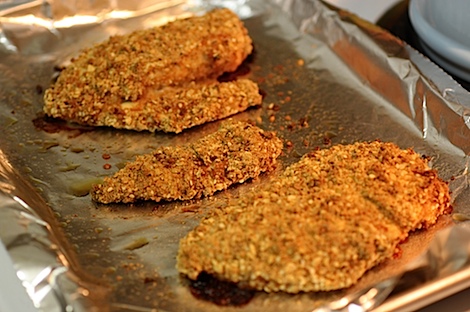 Fresh-fried…er…baked chicken. Crispy-crunchy!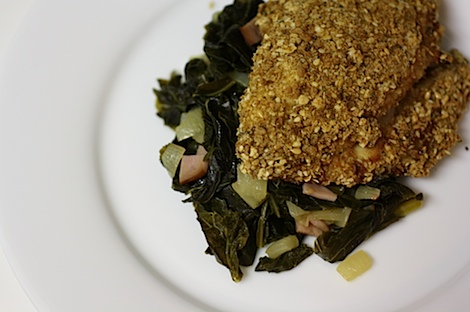 The finished product.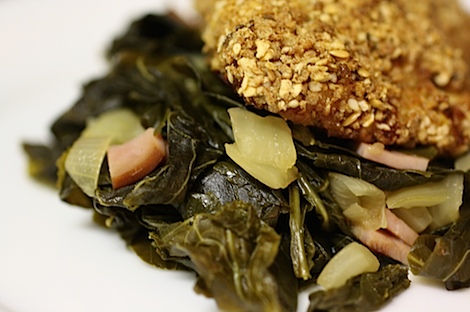 Up close and personal!
This meal is divine – definitely try it out if you like chicken. And the collards – these are the best I think I've ever had! Slightly spicy and sweet and tender greens…mmm. I'm getting hungry again just blogging about this. Guess I can find something for dessert!
A Year Ago…
About this time a year ago, I was completely unmotivated to work out. I made it a priority towards the beginning of this year to regain my athletic ambition and have been enjoying zumba workouts and casual walks all year. I've forced working out before and I've done fun things like tennis, but I'm not sure I've ever had as much fun working out as I have had with zumba. Unfortunately, my leg has been bothering me (think I pulled my groin or something), so although the motivation is there and stronger than ever, I have to try to learn to just…relax.
I really do think that things happen for a reason, and I've been thinking that maybe my leg bothering me is just my body's way of saying, ok, I've had enough…cut me some slack you crazy zumba lady! I'm the type of person who is constantly pushing herself to do better…do more, so it's really hard for me to sit back and take it easy. Sometimes, you get signs here and there that you're pushing yourself too hard…sometimes the signs have to be much more obvious when you're as stubborn as me. 🙂
So, until I am up for zumbaing again, I'm going to work on relaxing, giving my body a break, and taking time for me. I'm not so good at "me time" but I'm going to work on it.
Reader question: Do you take "me time"? What do you do for "me time"?