Pumpkin Pie Muffins
I've been wanting to do something with the extra canned pumpkin I had on hand from my glorious bowls of pumpkin oats and decided almost immediately to make Ellie Krieger's Pumpkin Spice Muffins (which I made last year) because I remembered they were so good and pretty easy to put together.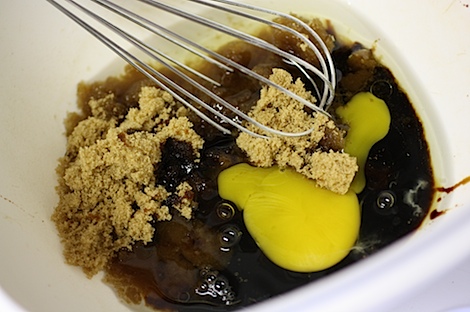 Saturday morning was the first time I've had all week, because I've spent the week studying for AFAA, so I got started first thing.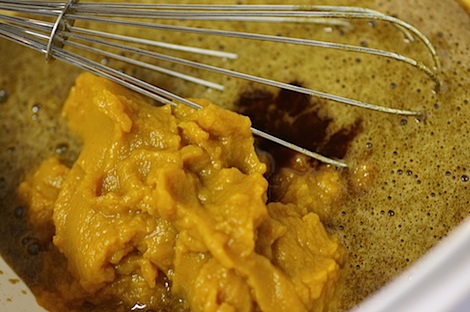 The recipe uses lots of great ingredients that remind me of cooler weather: brown sugar, molasses, and of course, canned pumpkin. This is organic canned pumpkin.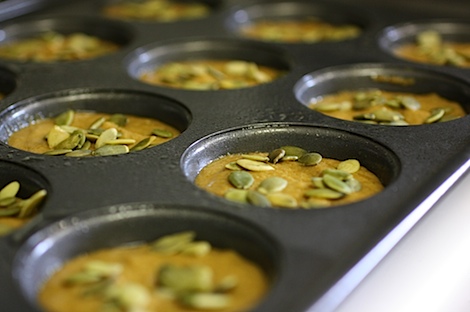 Besides the pretty colors, I love topping these muffins with the green pumpkin seeds – they look great against the orange pumpkin.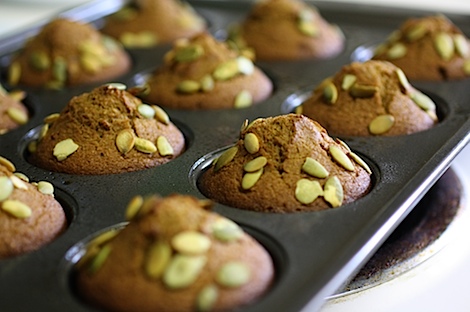 20 minutes later and your muffins have popped up all nice and pretty.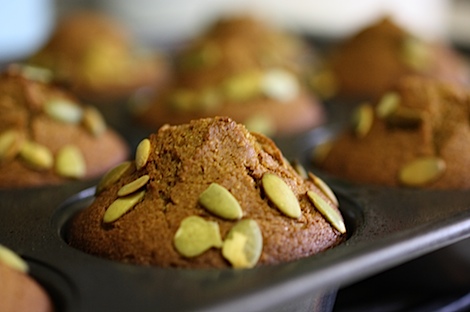 Hello sunshine!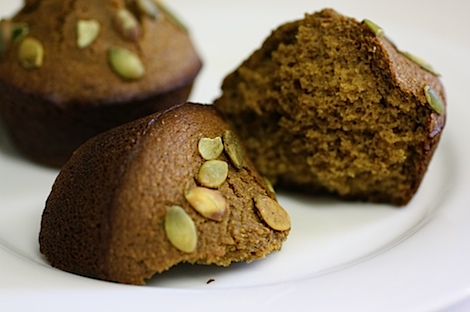 Yum-O!
Friendly Farmers Market
After breakfast, hubby and I turned in our forms to our apartment complex to let them know we're moving to our house next month (yay!). Then, we were off to the Farmer's Market.
I have to say, I've been hesitant to take too many pictures of the market because in the arts & crafts show-world, a lot of people get upset if you ask to take pictures of their booth. Some art/craft vendors just don't like anyone taking any pictures of their booths. I mean, I've seriously asked someone for a picture of their booth to promote on my blog and they looked at me like I'd just them I thought their booth was the most hideous thing I'd ever seen.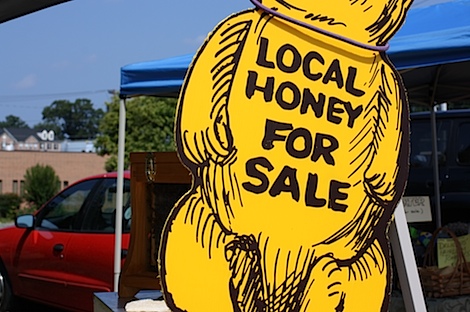 After frequenting our local farmers market for a couple months now, I worked up the courage to finally ask one of the vendors – the local honey vendors – about taking photos of their booth and local goodies.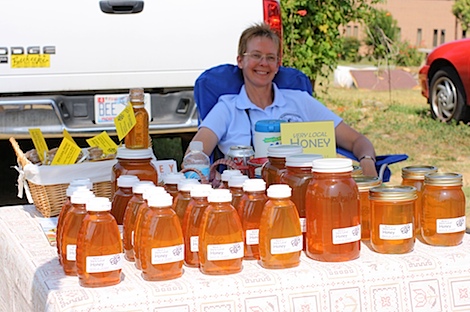 The honey people were soooooo friendly and welcomed me to take as many pictures as I wanted. So I did. 🙂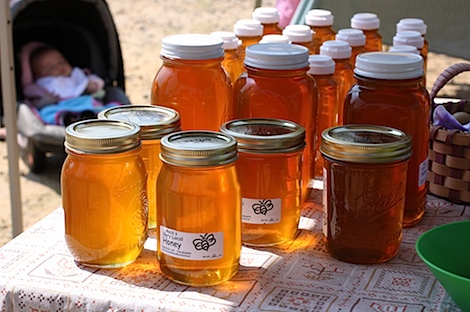 Their honey was very photogenic afterall.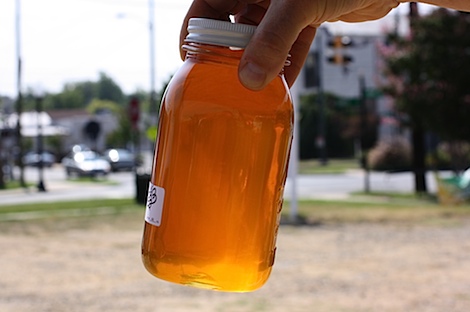 Here the honey vendor is holding the honey up to the natural sunlight to show how pretty and golden it looks with the sun streaming through. It really is gorge!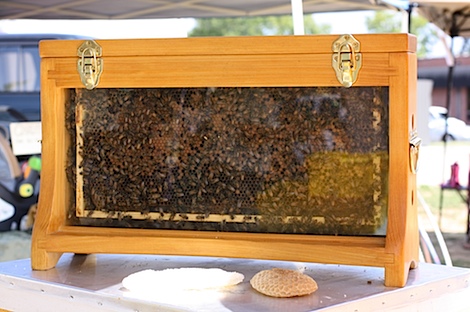 And let's not forget "The GIrls". The honey vendors are beekeepers, so they keep their bees and make honey with help from "The Girls." They were happy to give us tips for storage and to tell us more about how they make their honey and differences between the way they produce their honey versus the mass-manufactured stuff. I have to remember to talk to my vendors more because the way a local vendor grows and creates their product is often the key reason it's better to buy local.
The honey was delicious so I picked up a 1lb container of their summer blend. I can't wait to taste the next one!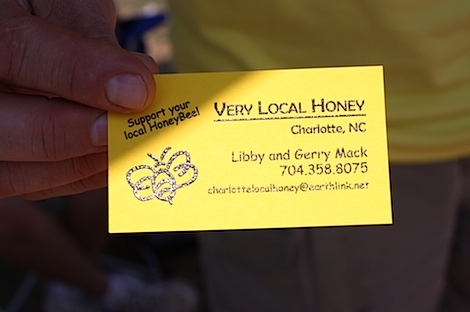 Thanks Libby and Gerry for being so kind! For my readers, feel free to call or email Very Local Honey at 704.358.8075 or charlottelocalhoney@earthlink.net for inquiries.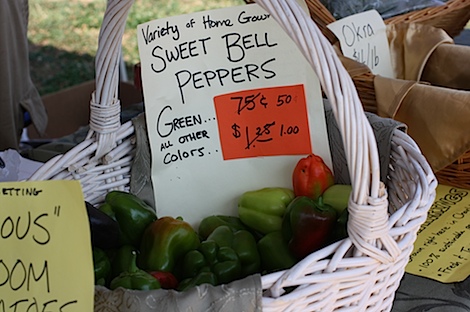 I was so encouraged by my new friends at the honey booth that I snapped a couple more shots at the market. Here is the basket of bell peppers where I selected 3 to take home. I will have to come to this market earlier because the vendor said that the basket was brimming with peppers earlier in the day. We also got some jalapenos and the vendor's grandmother's recipe for Mexican Corn Bread (a recipe that inspired this vendor to start growing jalapenos).
At another booth, we were torn between the asparagus-green-beans and the vine-grown leafy veggie that apparently tastes like spinach. Hubby chose the latter, which I'm pretty happy about because I've been wanting to try that leafy veggie (can't remember the name) since I first spotted it at the market several weeks ago.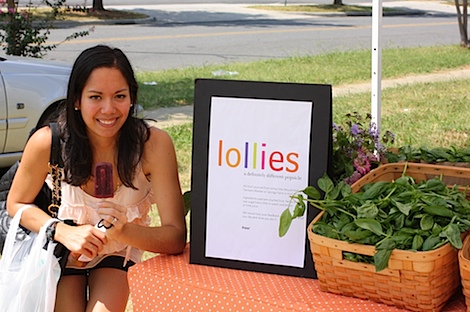 Hubby spotted something interesting on the way out – lollies. lollies are frozen popsicles that this vendor made with local fruit. I was so hot and parched from walking around in the hot-hot sun that this popsicle was a lifesaver! It really hit the spot and I loved how the popsicle was made with local fruit…so neat. I chose blueberry, which turned out to have a wee bit of mint in it. It was FABULOUS! I should have taken a photo of this vendor's whole table because it was so well set up and pretty with big baskets of fresh basil, pretty fresh flowers, and some veggies. I took home some of her tomatoes because they looked so delish.
Everyone at the market was just so-so friendly…it makes me extra happy to be able to shop there and support them. Plus, it's nice meeting the people who are growing and nurturing and creating your food.
We hit up just one more farmer's market and got some fresh, local shrimp and a couple other bits of produce.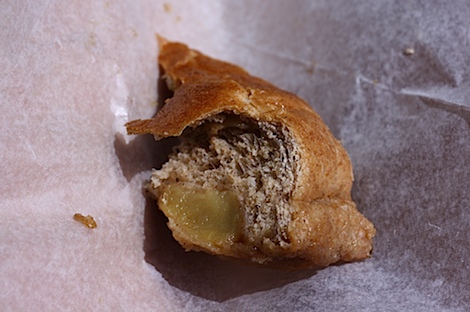 After the market, we hit up Great Harvest Bread Company to stock up on bread. We got the last Oat Bran bread for free because we took home what was left on the sample board (they were sold out!). I also got to sample the pesto bread and the Dutch Apple swirl. Both quite tasty, but the apple one…yum! The photo is my last bit of sample…I forgot to take a photo until there was almost nothing left to photograph! haha
Hubby requested a loaf of Cinnamon Swirl and who was I to say no to that. So we brought home 2 yummy loaves of fresh bread.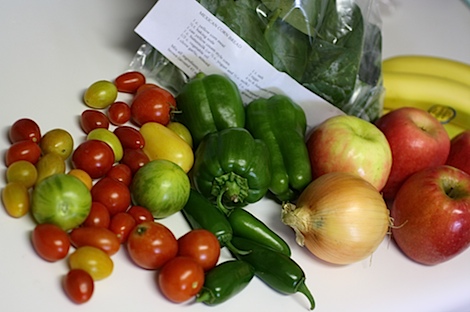 Here are the goods – tomatoes, green peppers, jalapenos, onion, local apples, that vine-grown leafy green, bananas. (I forgot to take a photo of the honey, but we did get some of that local honey, too)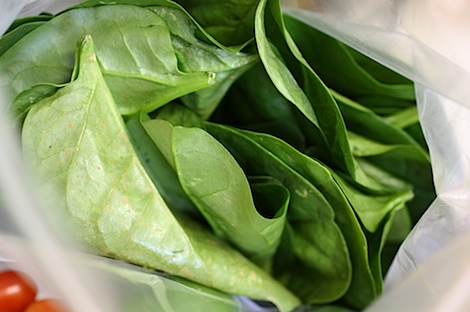 Here's an up-close shot of that leafy green…wish I had written down the name!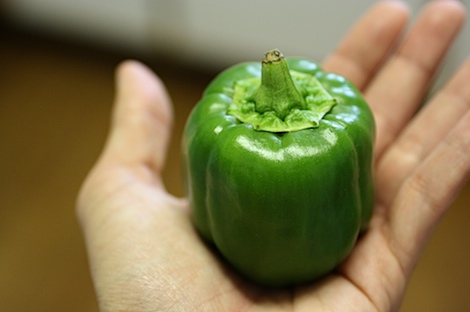 Here's one of those little bell peppers in my hand to show you how cute and tiny it is.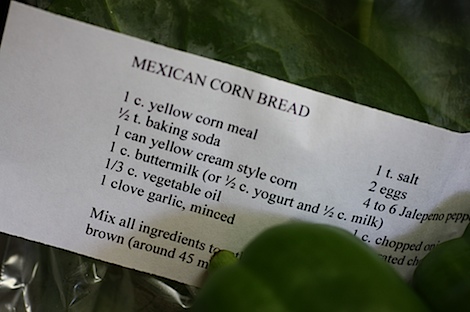 Mexican Corn Bread – I love family recipes!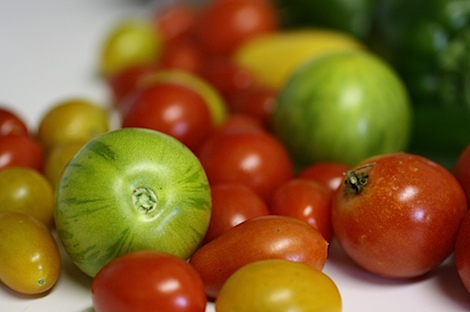 Aren't these tomatoes gorge? I love the mixture of colors and those zebra-striped green tomatoes are too-cool.
Wonderful, excellent Saturday morning! I need more Saturdays that start like this!