On Saturday, Hubby and I decided to make a quick stop at Blues, Brews, and BBQs .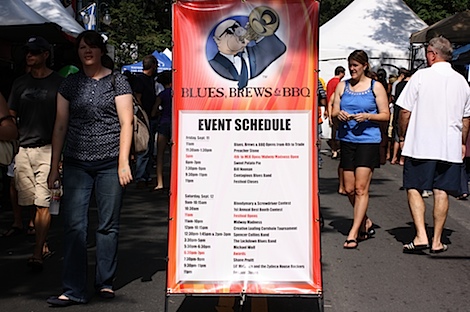 As much as we wanted to stay and enjoy the food and music, I was pretty exhausted from Friday's AFAA certification, so we were hoping to make a quick trip.
We found a decent parking space and headed over to the event.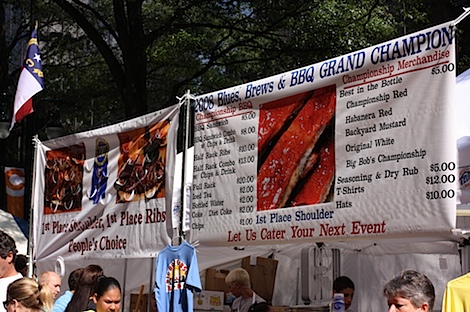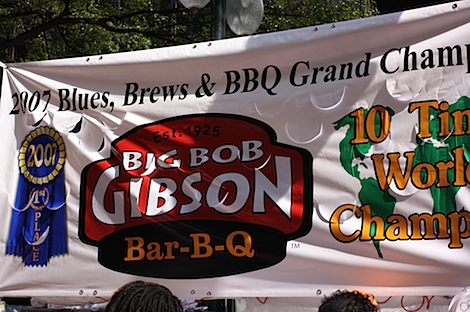 After briefly scouting the food vendors, we decided to give Big Bob Gibson Bar-B-Q a try since they apparently have won a couple of the festivals contests.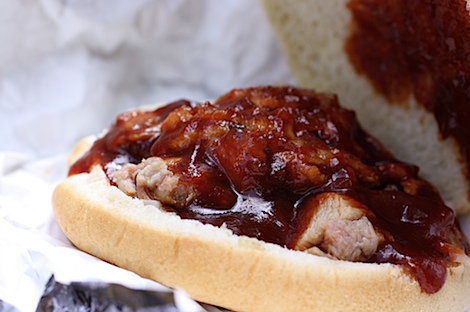 We split a pulled pork sandwich with some of Bob's famous red sauce. The meat was really tender and the sauce was just the way I like it…nice and sweet.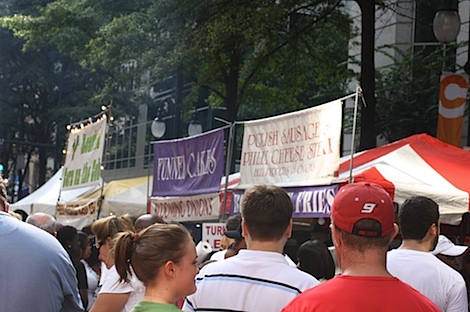 Next, we searched for a good side. I wanted to try a roasted ear of corn, but hubby wanted the blooming onion, which I like, too, so we went for that.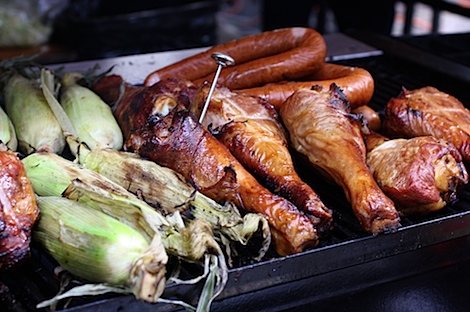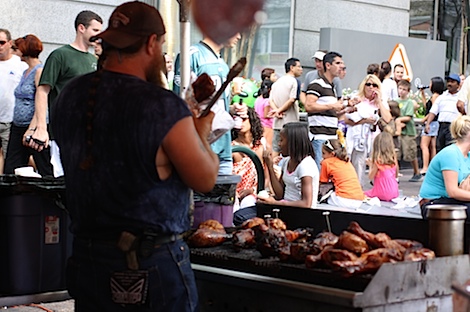 The vendor who sold the blooming onions was grilling up all kinds of good-looking things.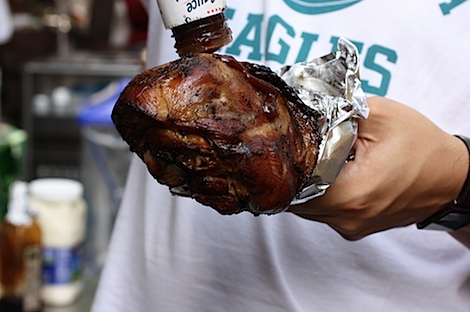 I snapped a photo of this guy's giant turkey leg.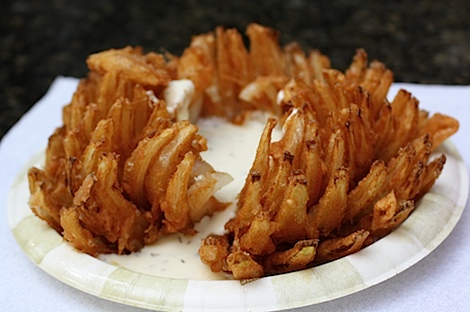 But we stuck with our selection of the blooming onion with ranch dressing. We also got a lemonade from the same vendor – fresh-squeezed!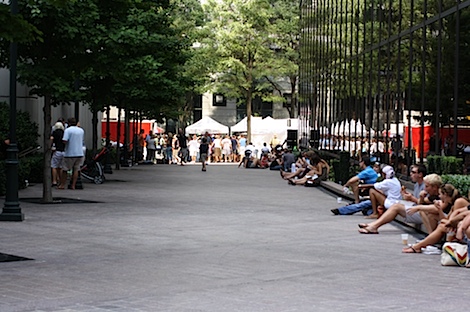 There were people sitting on walls everywhere because the festival was so packed.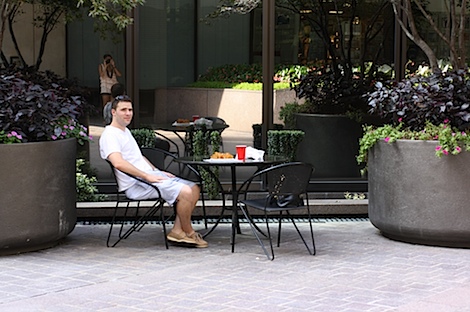 Luckily, I'm familiar with the area and found a nice, quiet spot for us to enjoy our food.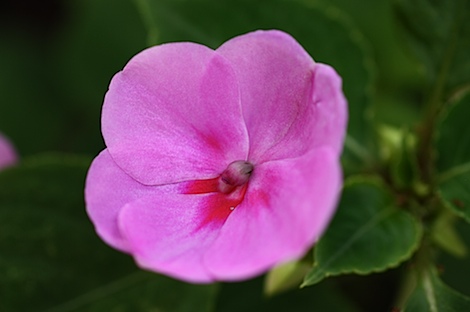 Pretty flowers behind us. Gotta love my macro lens!
I do want some new camera goodies, though:
Wide angle lens
Special DSLR Flash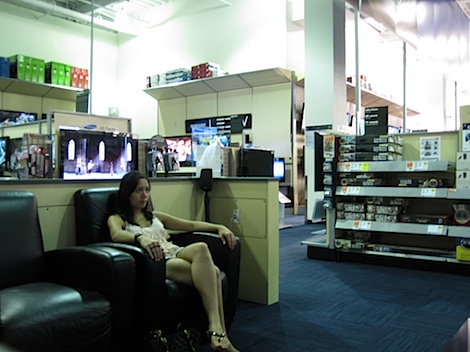 After the festival, hubby and I headed to Best Buy where he almost got his baby – a new flat screen TV. I got cozy in the "sample TV room". We had a hard time getting attention from anyone since it was so busy, so we just left. We took it a sign that he'll find a better deal soon.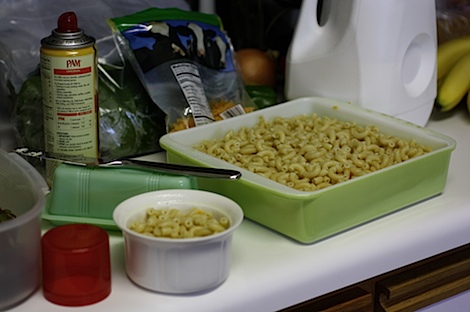 After Best Buy, I went home to prep a side for a cook out with friends later. We had the option to bring sides or drinks, so I picked sides. Hubby chose Mac and Cheese.
(Note mini mac and cheese in white dish – dad suggested this little trick so we'd have more for later. It's sitting in my fridge right now and will probably be baked for dinner tonight!)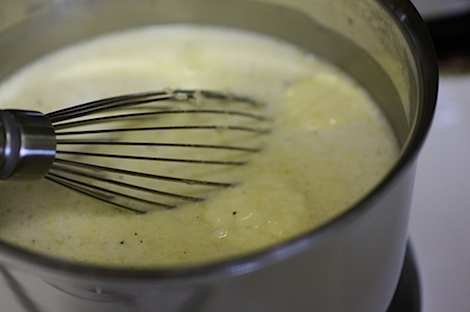 My sister was kind enough to send me a copy of Dad's famous Mac and Cheese recipe, so I went ahead and did something I don't like to do – tried a recipe for the first time for something I planned to serve to a large group of people. I normally like to test my recipes out before serving them to friends, but this seemed foolproof.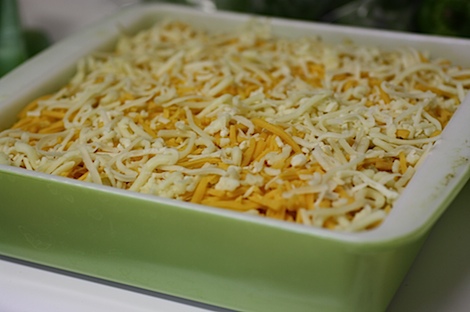 I prepped everything at home and baked it off at my friend's place, so it would be nice and hot and ooey and gooey when it was served. I'm not sure it's PC to finish things at people's houses, but I really think the quality of food, especially for something that is supposed to be served hot weighs out in my book. 🙂
I stressed all night that it wouldn't turn out ok, this being my first attempt at making it.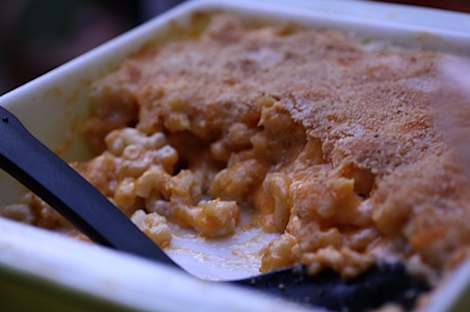 I was so relieved when people at the party I didn't know made sure to let me know how much they liked it. Phew! Big phew! Actually, the mac and cheese was a HUGE hit! I was so happy.
Here are some photos of the other food goodness at the party: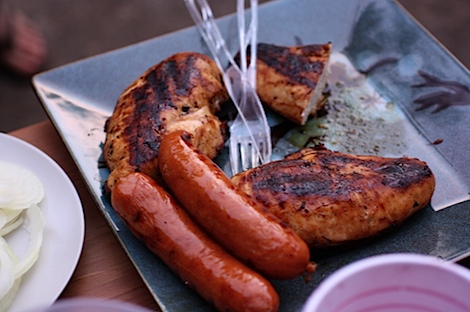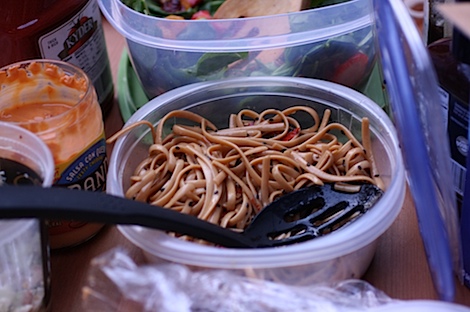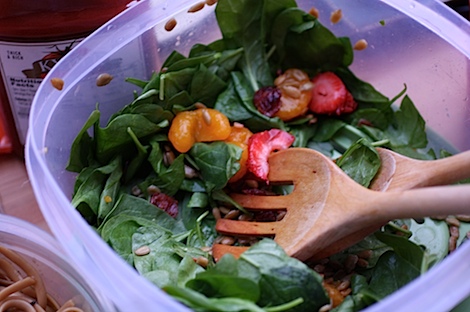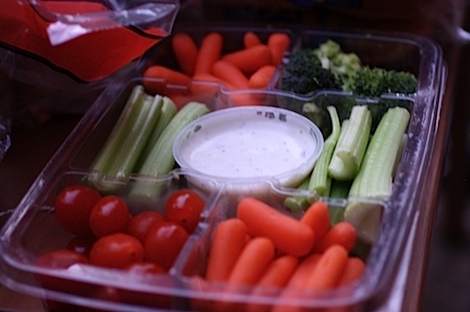 I found this veggie tray hidden under a bag of hamburger buns and promptly opened it. Guess I'm the only dork who wanted fresh veggies…haha.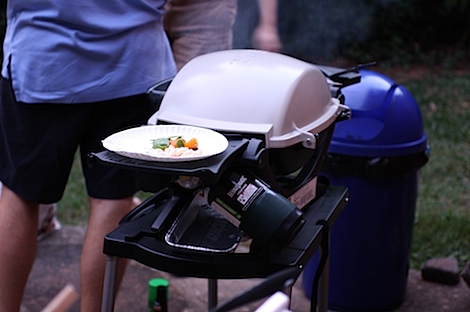 Charlie's new grill.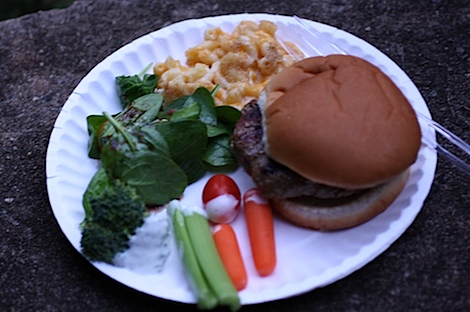 My plate – split the burger with hubby. Not pictured – seconds on mac and cheese (I have to make this stuff again!) and a frosted sugar cookie with sprinkles for dessert. It was too dark to take pictures after round #1 of eats.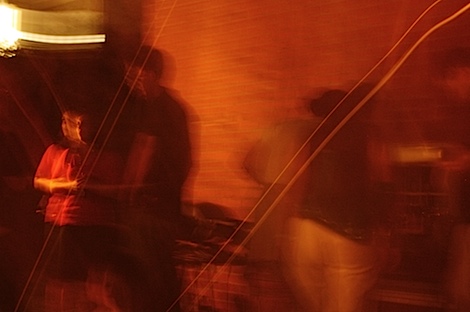 I tried taking a photo and this is what happened…the shutter stayed open for forever! And, I didn't want to use my flash…not till I get my new flash at least!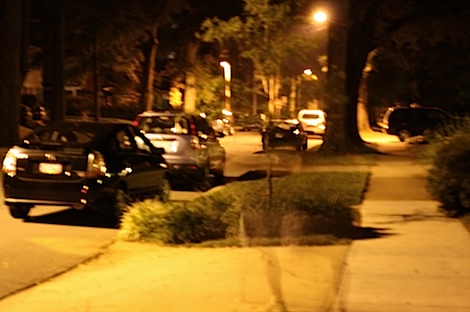 Here's another weird picture…I took a photo of hubby walking and shutter stayed open so long, all you see is a slight blur where hubby is walking…bizarro!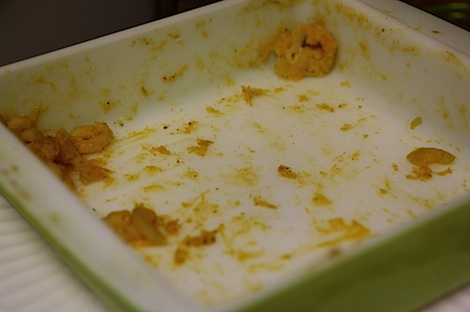 Oh, and here's our casserole after the party…that mac and cheese is DONE-ZO! I love it! Seriously…so relieved the mac and cheese was such a hit. Remind me to test things out next time first!