I hit up Trader Joe's the other day in search of dinner ingredients and their Pumpkin Butter. I wandered all up and down the aisle with the canned goods, but I couldn't seem to find it for some reason. Finally, I spotted a single jar left next to a slew of apple butter jars. There was a lady with a cart standing right in front of it. Would she see the pumpkin butter? Did she even want it? What if she took the last one?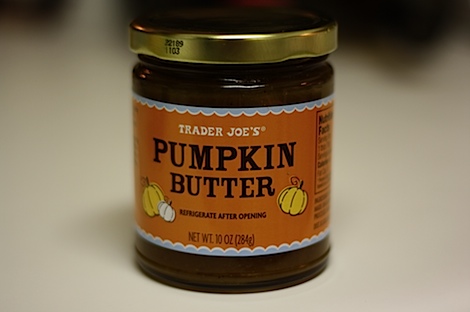 She seemed to be looking for something, but it must not have been the pumpkin butter, because she eventually just pushed her cart forward. As soon as she moved far enough out of the way, I hurried over to grab that last jar of pumpkin butter.
I guess I didn't really get the last jar of pumpkin butter, because I eventually saw a dozen more jars in the frozen section. I was just happy to have a jar either way.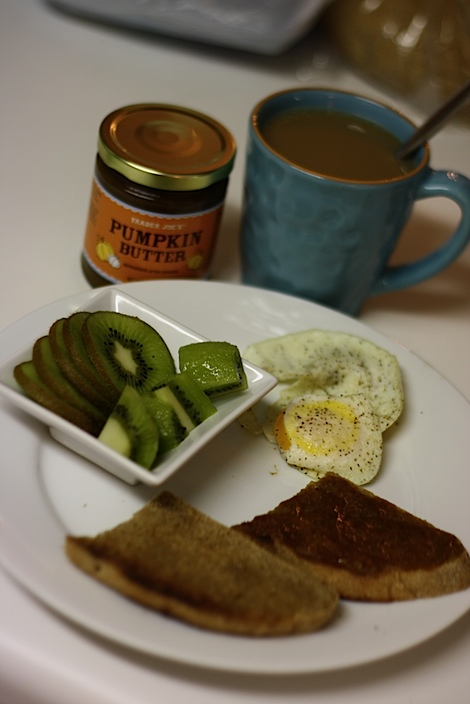 For breakfast Saturday, I decided to try out my new toast-topper.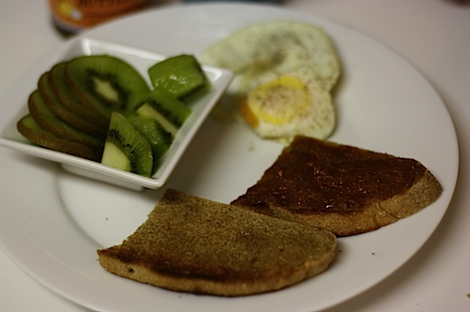 I had: 1 fried cage-free egg, 1 piece of Great Harvest Honey Whole Wheat toast (1/2 with real butter and 1/2 with pumpkin butter), and some organic kiwi.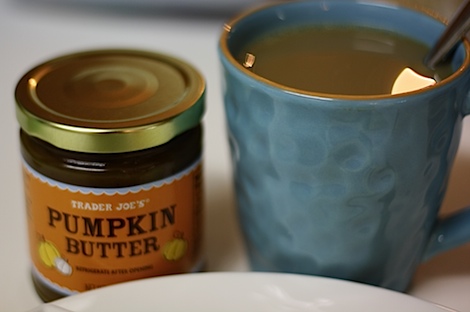 I also had a nice hot mug of coffee brewed with fresh-ground coffee beans with some raw chocolate nibs (my free Cacoa Power sample from Navitas Naturals) blended in. I love how the nibs add a little extra flavor to the coffee.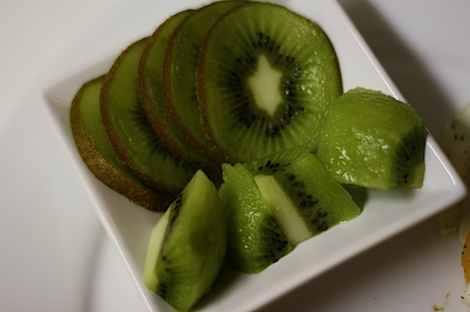 For my kiwi, I had 1/2 with skin on and 1/2 w/o skin. A friend suggested a long time ago that I just slice the kiwi in thin slices and eat the skin. I tried it once (several months ago), but wasn't crazy about it. Today, I decided to try that method again, but only with half the kiwi in case I didn't like it. It wasn't as bad as I remember, so maybe I'll start eating kiwi skin more often?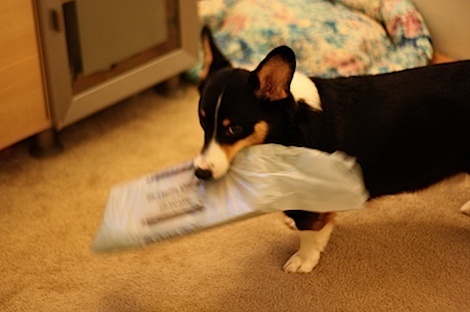 I had Bailey bring me the newspaper so I could research garage sales. Hubby and I are hoping to find some good deals on furniture and other household stuff we'll need once we're in the house.
We spent a couple hours checking out some garage sales, but only ended up coming back with 6 candles that we got for $5.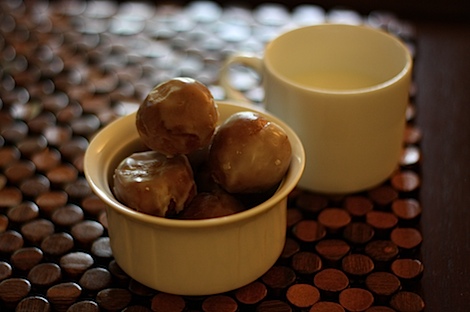 We swung by our fave local bakery to get some donut holes – some for us and some for our contractor and his team. They were painting the house – just starting on a couple rooms – and it's really starting to come together!
Hubby and I met up with a friend of his at a local bar to grab some lunch and watch some football games. With the yucky, rainy day outside, I opted for their special – grilled cheese sandwich with homemade chicken noodle soup. It was perfect for that nasty weather.
After lunch, hubby went to a different bar with his friends where he stayed for the rest of the day! It amazes me how long that man can stay at 1 bar for an entire day, yet he can't shop with me for more than 1 hour.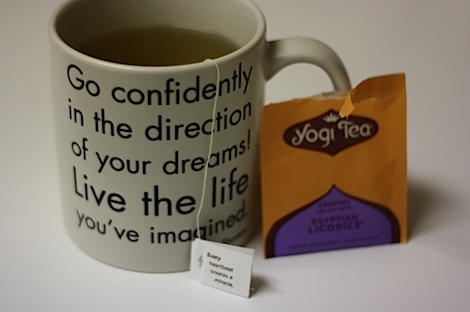 I had some Yogi Tea Egyptian Licorice tea with some local honey in the afternoon. My friend gave me this teabag to try awhile back but to be honest, I've been afraid to try it. I'm not really a big fan of licorice candy in general, but when I was in France, I had some crazy licorice-flavored drink that totally made me sick and I've been scarred ever since.
I thought the tea was actually really good and not overwhelmingly licorice-y.
Yogi tea quote – "Every heartbeat creates a miracle."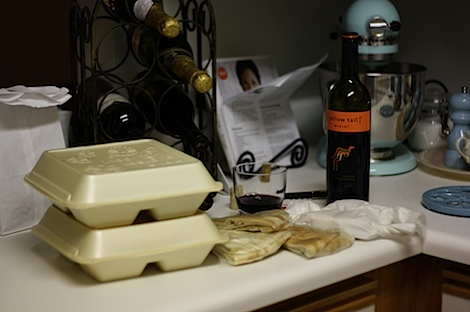 My friend Megan came over to do dinner and a movie. We got take-out from one of my fave local restaurants, Kabob Grill, and grabbed a bottle of wine to go with everything – Yellow Tail Merlot.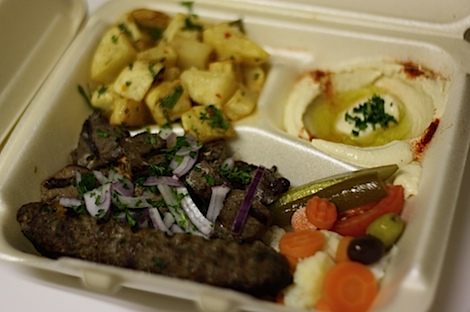 Upon my recommendation, Megan got what used to be my favorite – The Mixed Grill with potatoes harra and hummus.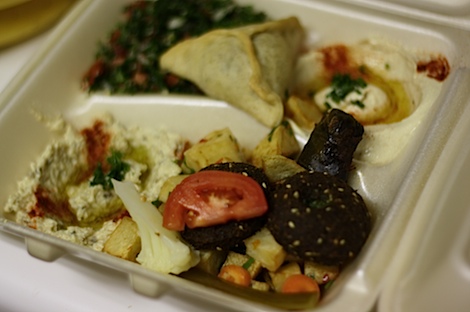 I got my current favorite – The Vegetarian Combo. I call this entree a "party on a plate" because of all the different yummy tastings all served as one dish. Love it!
We also had some delish baklava for dessert, though I forgot to photograph them…oopsie!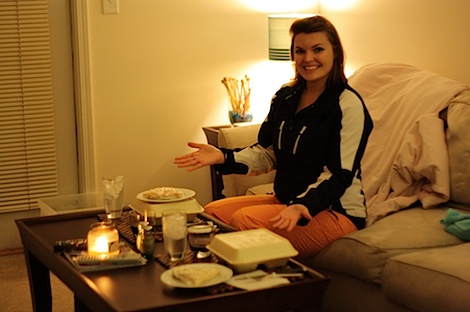 Megan is my Vanna. 🙂
We semi-watched Year One but mostly had girl-talk with our yummy food and wine. We had an awesome girls-night-in!