Breakfast yesterday was so good, I decided to make it again today.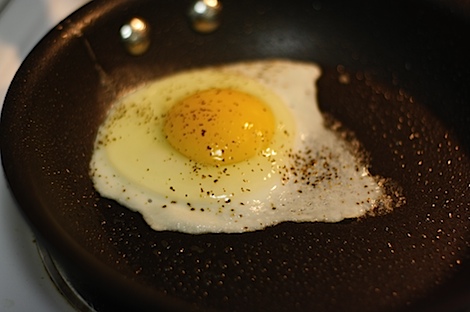 I'm getting much better at fried eggs…yay!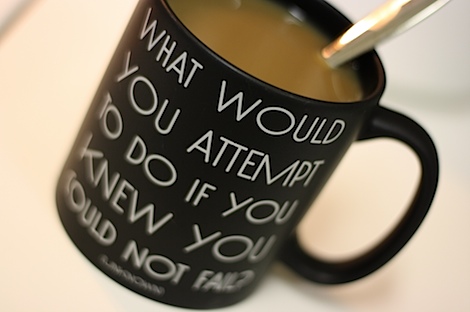 Coffee (with fresh-ground coffee beans) in my inspirational mug (featuring one of my all-time fave quotes: "What would you attempt to do if you knew you could not fail?")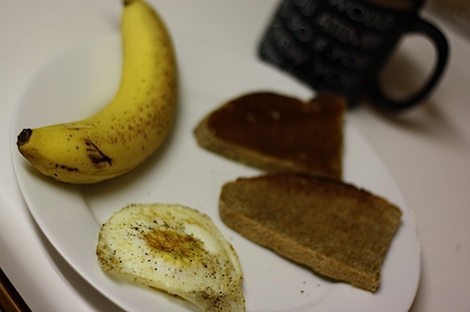 Instead of kiwi, I opted for an organic banana today. The rest was the same as yesterday: 1 fried cage-free egg, and Great Harvest Honey Whole Wheat toast, 1/2 with real butter and 1/2 with TJ's pumpkin butter.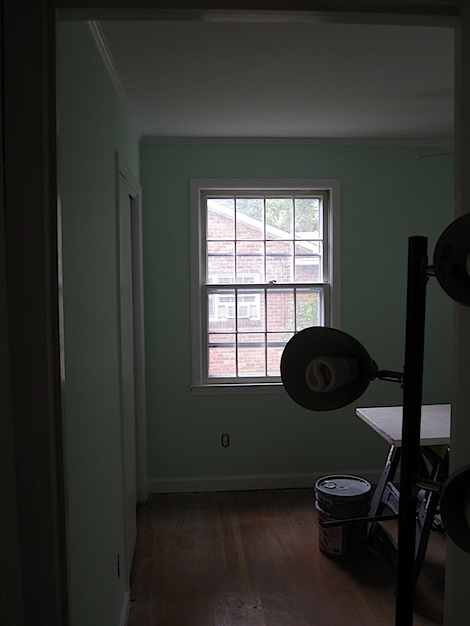 I swung by our house a couple hours after breakfast. We opted for a greenish color for the master bedroom.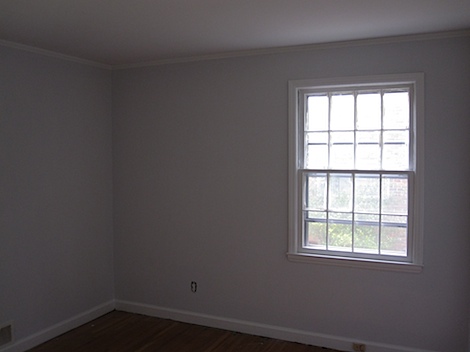 Light gray graces our 2nd bedroom aka my closet/changing room.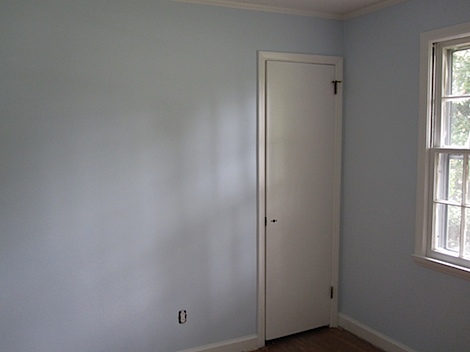 For our 3rd bedroom aka guest room, we chose a light blue.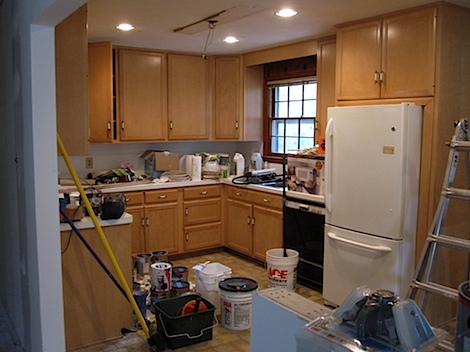 Our kitchen is a bit of a disaster zone. Thank goodness we decided to do all this work BEFORE we moved in!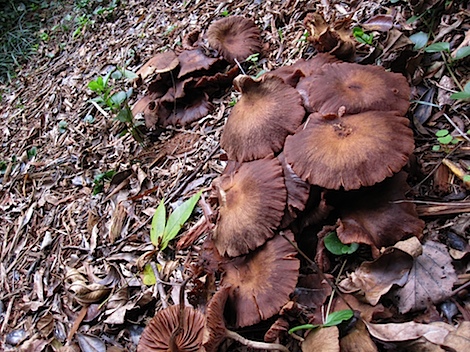 I found some yucky mushrooms growing outside…ick!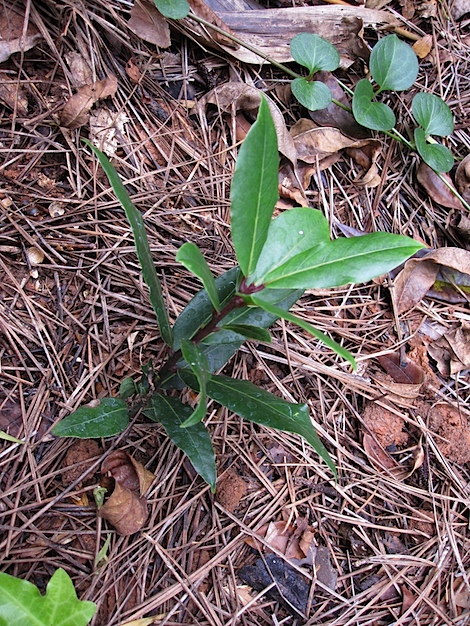 My Bay Laurel plant seems to be doing ok. Please grow strong little one!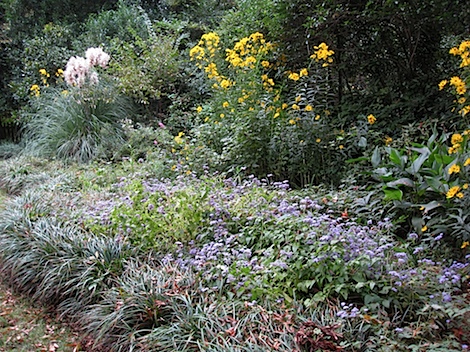 I can't tell if these yellow and purple flowers are good flowers or just weeds with flowers. Anyone know?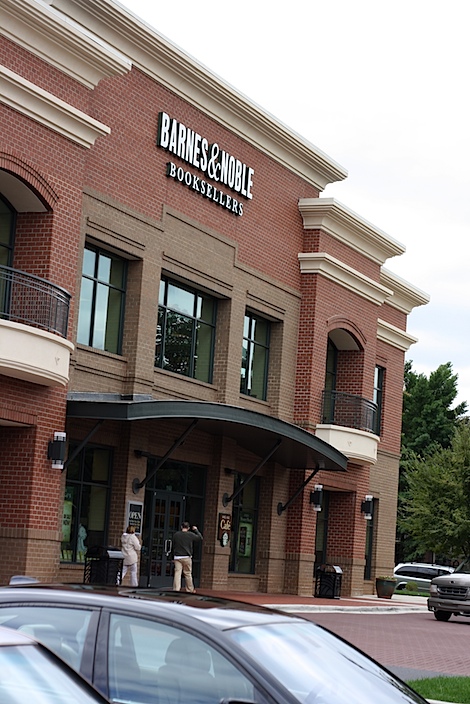 I was feeling a bit blah today, so I decided some retail therapy was in order. I went to Barnes & Noble. Magazine shopping always makes me happy. I heart magazines…perhaps too much? I managed to only buy two: Natural Health and Body + Soul. I've been waiting to close on the house to start subscriptions on these two, so hopefully, I can sign up soon. I LOVE these mags!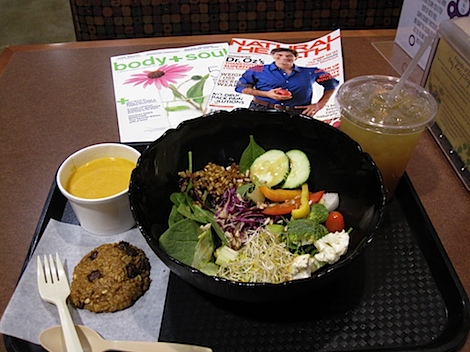 I brought my magazines to Earthfare to have a quiet little lunch solo.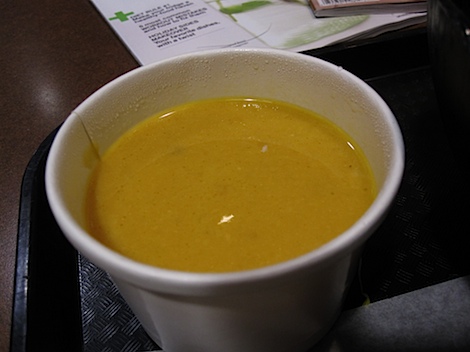 Since the weather outside was so cold, I decided a cup of soup sounded wonderful. I tried the Butternut Squash + Apple, which was nice and sweet.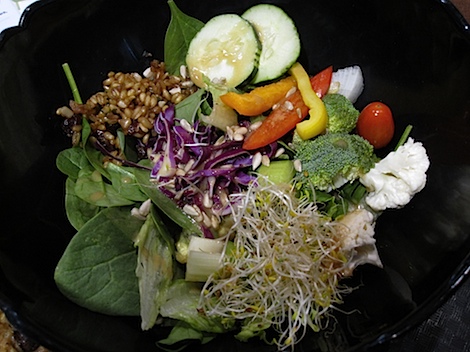 My main dish: a salad with romaine, baby spinach, broccoli, cauliflower, tomato, cucumber, bell pepper, purple cabbage, celery, sprouts, wheatberry salad with sesame goddess dressing.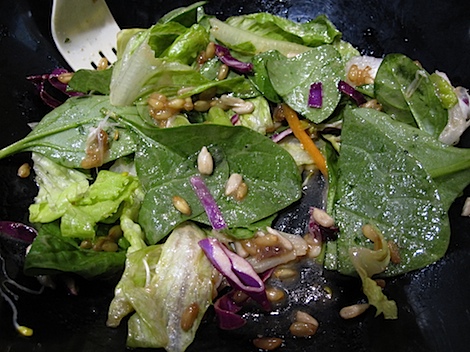 I tried to eat the wheatberry salad separately, but ended up stirring everything together. They gave the salad nice texture.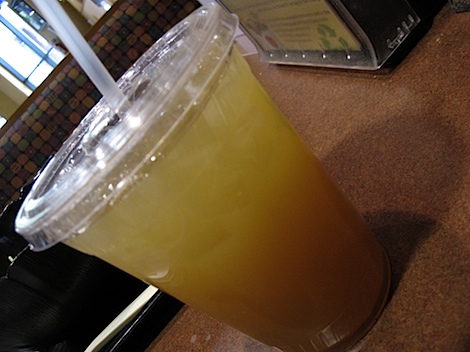 I got more of that yummy iced Mate tea – the lemon version this time. Oh-so-good!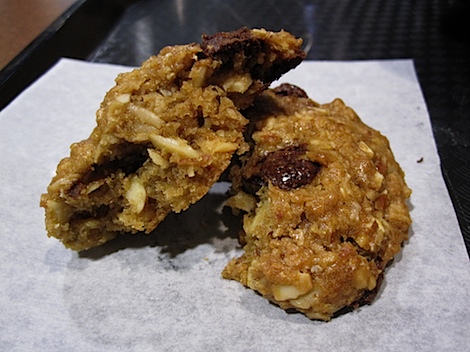 I had a whole wheat chocolate chip cookie for dessert. It was the PERFECT ending to this yummy lunch. The texture was awesome – slightly crunchy on the edges and tender on the inside. I loved the pieces of oats. This cookie reminded me a lot of the Clean Food version I made awhile back.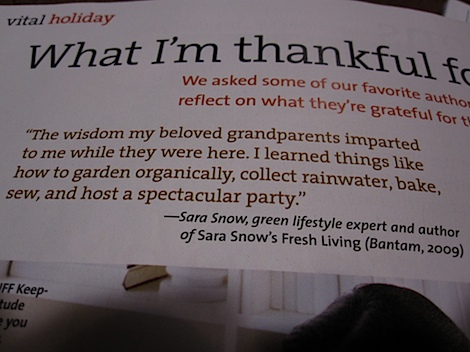 I noticed a quote from Sara Snow, one of my fave TV personalities, in my Natural Health magazine. Just another reason I love that mag!
I read an article in the NM magazine about a woman who beat breast cancer the natural way. The woman in the article was healthy and active but still got breast cancer. When she found out, she threw out all her products and foods with hormones, antibiotics, and toxins. She started using only organic and all natural products. She totally revamped her lifestyle and beat cancer! The article was very inspiring, but also was one of those things you read that makes you afraid of conventional products. It's stories like this one that remind me to try to eat and use as much organic and all-natural as possible. If you can, check out the magazine – the article was really good.
Anywho, I've been eating a lot more organic and all-natural food products, but I've been wanting to switch over with other products I use: lotions, soaps, etc.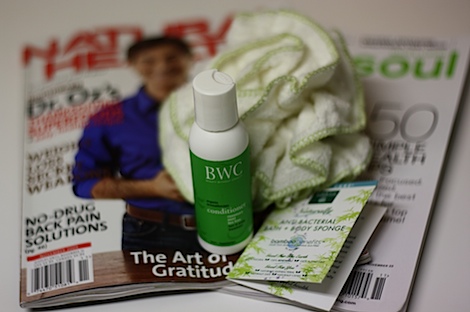 After I wrapped up lunch, since I was already at Earthfare, I decided to go ahead and do some grocery shopping. I picked up some organic veggies for the week, but I also headed over to their beauty section. I checked out some of the organic and all-natural lines of shampoos and conditions, but there were a TON!
I was going to try to google reviews etc. once I got home, but when I spotted the travel sized products, I couldn't resist picking one out to try.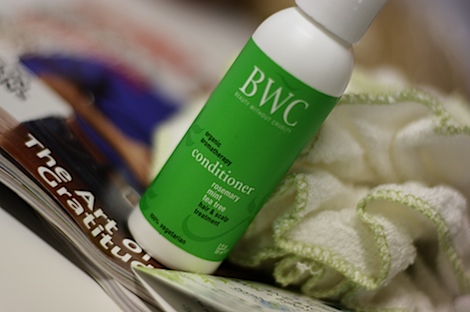 I decided to try the BWC (Beauty Without Cruelty) conditioner in Rosemary Mint Tea Tree.
On the bottle:
paraben free
100% vegetarian
organic ingredients
100% pure organic essential oils
pH balanced
I also picked up a an Earth Therapeutics all-natural bamboo cleansing sponge. It's uber-soft!
With all this tofu eating and organic/all-natural product preferring, I'm starting to wonder if I'm becoming a modern hippie?! Did I mention I used to be in the Earth Love Club in high school? Oh yea! lol
Does any one have any suggestions for organic and/or all-natural beauty products (shampoo, lotion, makeup, etc)?