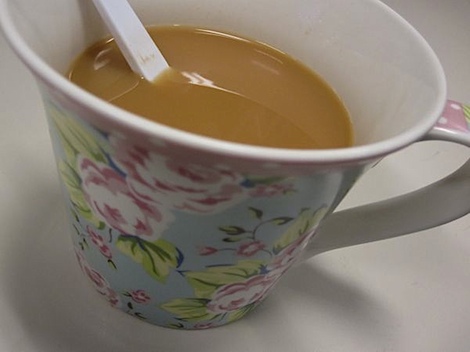 Hot black tea with cream and sugar is quickly becoming my fave drink of the day! It's so good!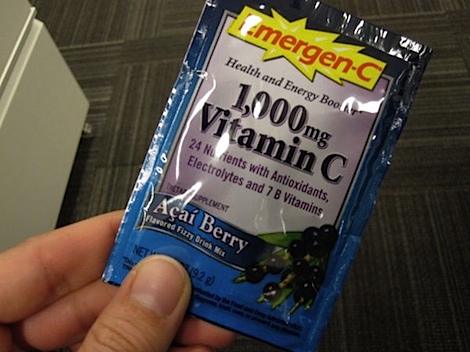 With the weather being so cold lately, I feel like I'm finally starting to succumb. I don't feel sick, but I have that tired, run-down, if you don't take care of yourself you're gonna get sick kinds of feelings going on. So, I grabbed an Emergen-C in a new flavor – Acai Berry. It's berrylicious! Seriously, I think this is my new Emergen-C flavor.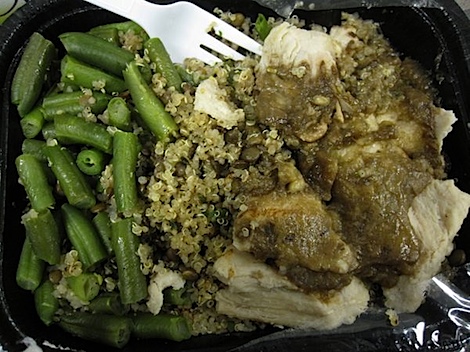 I had a fabulous frozen meal for lunch. I know I said I was reserving these frozen meals for emergencies, but we don't normally get lunch meat for sandwiches till Monday at the earlier and Great Harvest doesn't open till Tuesday, so I sometimes have a hard time making sandwiches early on in the week and those are my go-to work lunch staple!
I actually wasn't really too interested in planning food for lunch today because I really wanted to dig into one of these frozen meals!
Click here to read my review of my Savory Turkey frozen meal. I really enjoyed it!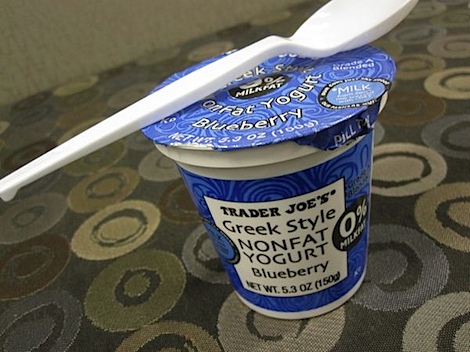 I tried eating this TJ's Greek Style yogurt, but it tasted kind of funny. If you've ever had a bad case of food poisoning (which I have), you tend to not risk it with foods that taste "off."
I left work a bit early for a dentist appointment. I have a cavity! Ugh! I have to go back for drilling (waaaa!) in a couple weeks. But, you know what that means? Ice cream! My mom always got me milkshakes and ice cream after cavity fill-ins when I was growing up. I sort of associate the two now.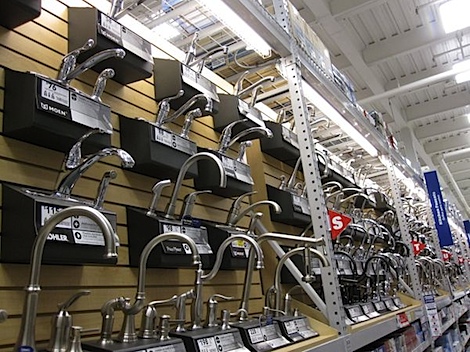 Post work, I normally head to workout with my zumba friends, but since my leg was bugging me all week, I decided that though it was feeling almost back to normal today it was best to not risk it pushing myself too hard too fast too soon.
Instead, hubby and I went faucet shopping! Did I mention we've ordered our granite countertops and tile for our floors? Well, we have! We're getting a new faucet, too…once we pick out one. We found a nice high-arc faucet tonight we think we're gonna get with one water lever, a spray nozzle (on a separate attachment) and a soap dispenser. It's pretty awesome.
Though I didn't get to go to zumba class tonight, my most-awesome zumba friends still came over for dinner so I still got my QT in with them!
One of my zumba friends is pescatarian, and I've been telling my other zumba friends how much I enjoy eating tofu, so I decided to whip up one of my personal faves – 3, 2, 1 Vegetarian Noodles (click for recipe)! It's so tasty and so simple takes only about 5-6 minutes of cooking time and is packed full of great foods. It was the perfect Meatless Monday meal!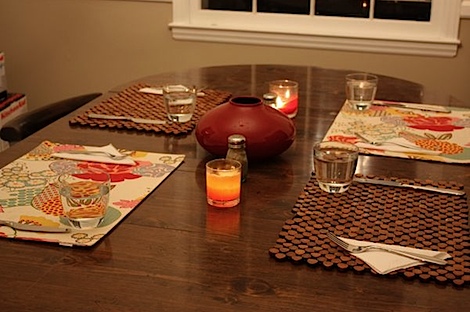 Though our house is a bit of a wreck thanks to our kitchen reno, I attempted to make the dining room semi presentable.
My friend Kat played photographer while I cooked, so many of these photos are by her! Thanks girlie!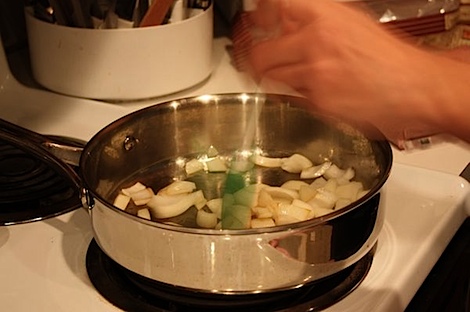 Nice motion blur!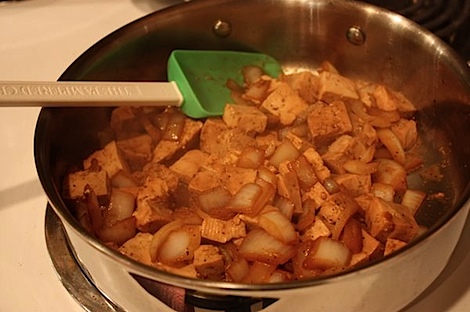 Cooking away….tofu and onions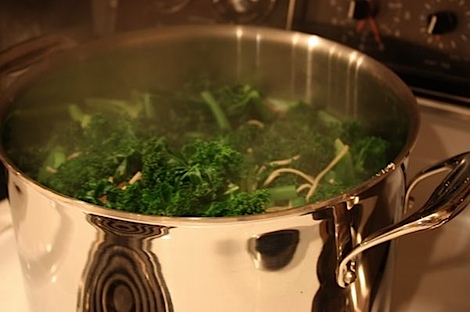 Big pot of soba noodles and veggies – kale, broccoli and green beans.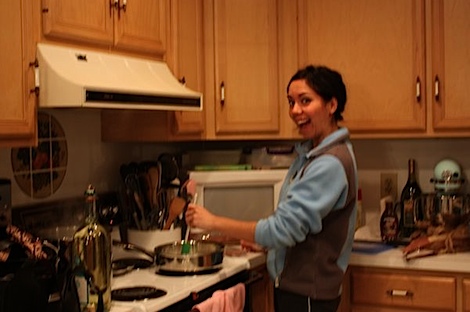 Cooking in my PJ's…oh yea!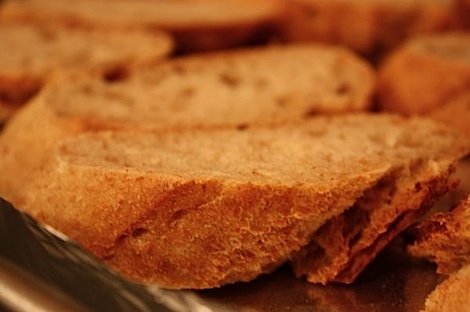 Stacy and Kat brought some whole wheat baguettes and dessert!
I sliced one baguette, drizzled it with EVOO and broiled it till just toasty in the oven.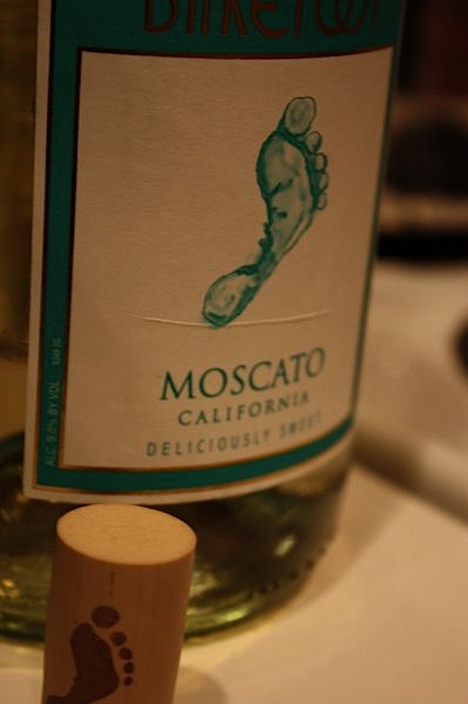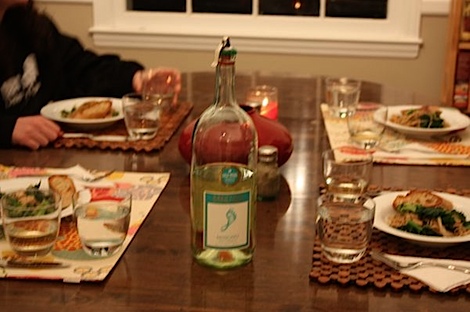 Megan brought some Moscato for us to enjoy with dinner (and Magic Shell to go with dessert).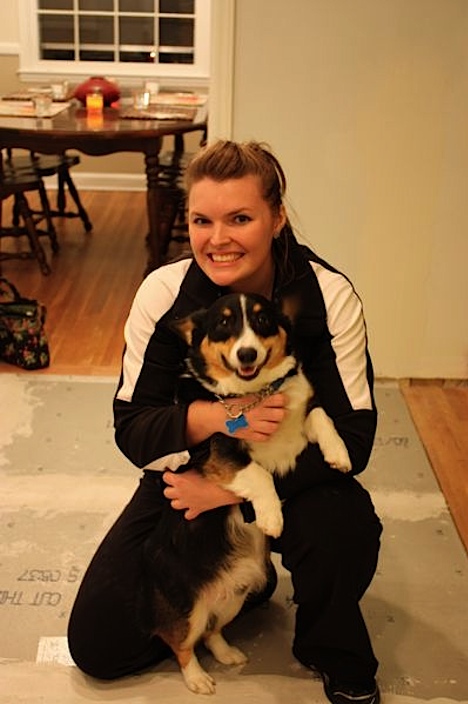 Aww…aren't Bailey and Megan cute?! Bailey loves his zumba friends!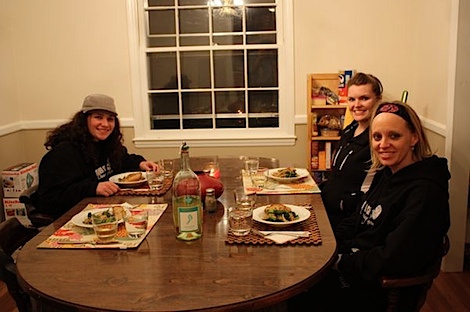 The girls 🙂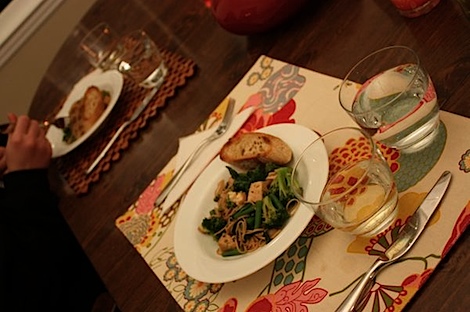 Eating ensued.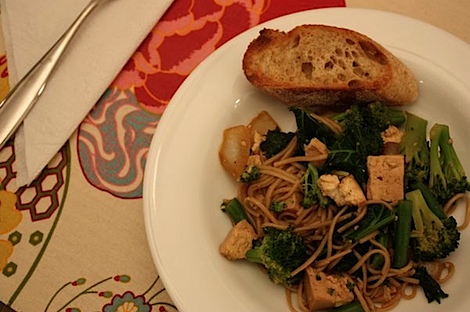 The girls loved the tofu…thank goodness because this meal was much harder to make in a larger batch! lol.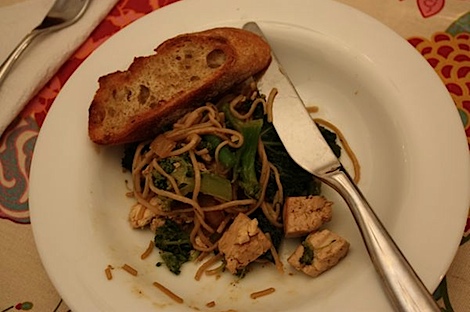 Seconds for me.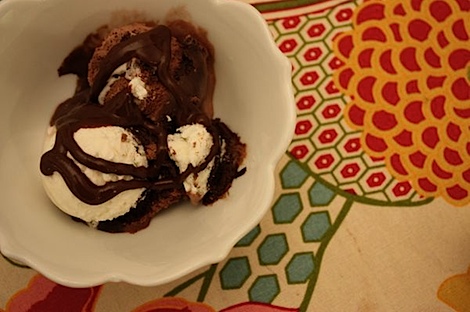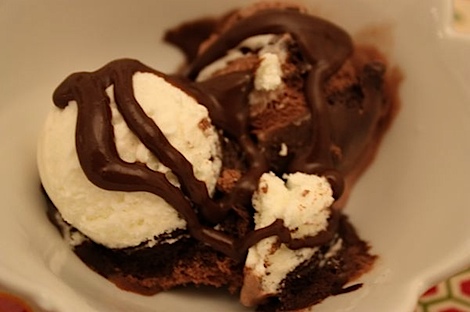 And let's not forget dessert! Breyer's All Natural Triple Chocolate Ice Cream with Smuckers Magic Shell.
Thanks to my zumba friends, Mondays are one of my favorite days of the week! I used to somewhat dread Mondays (the start of the work week!) but now I look forward to them! Thanks girls!
Check back tomorrow for a special GUEST POST by budget expert Fabulously Broke in the City!