So, after my Cupcake Smorgashborg and after my trip to AZ , I was ready for something on the lighter side. I basically had a bit of a Tofu Smorgashborg, starting with Friday's dinner. I was so inspired by my dinner at True Food in AZ that I decided to try to re-create one of the dishes I had there: Green Tea Soba Noodles with Bok Choy and Peas (sans the Green Tea).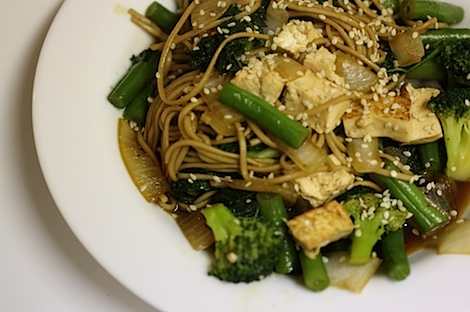 I decided to mix up my main ingredients but keep the general concept the same – lotsa noodles and lotsa veggies. I'd been enjoying adding vegetarian meals to my eating habits that I decided to keep this dish vegetarian.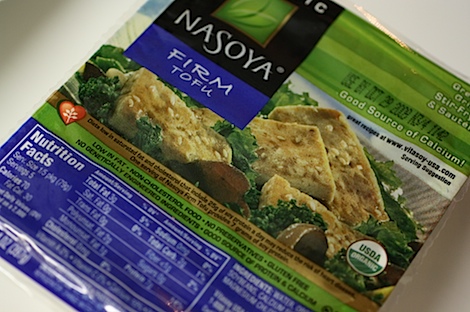 I started with some Nasoya Firm Tofu.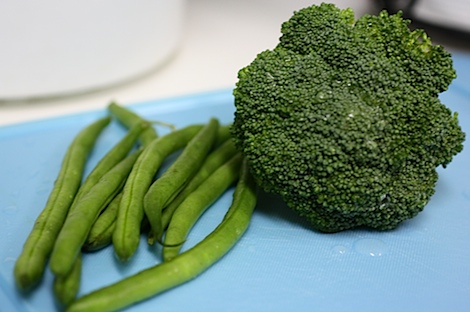 I picked up some Farmer's Market Green Snap Peas and Broccoli.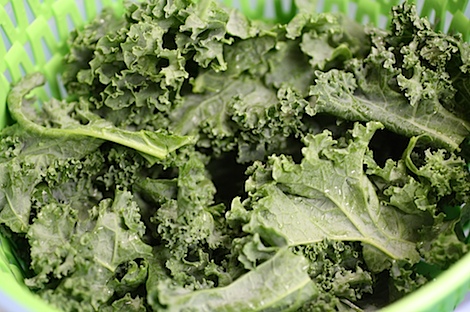 I also picked out some lovely kale.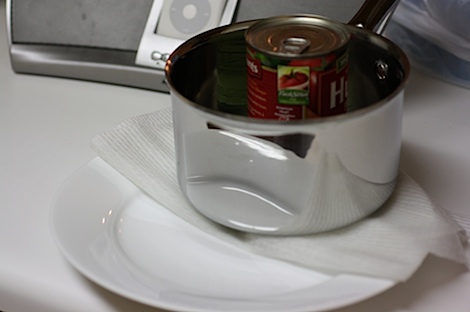 First things first, got some water boiling.
Next, I started pulling the moisture from my tofu. I cut the tofu into a couple 1/2 inch slices, placed it over a paper-towel-lined plate, covered with paper towel, topped with a flat-bottomed-pot, and added a can of veggies to help add some weight.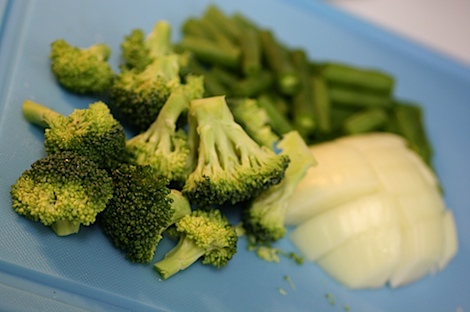 Then, I prepped my veggies and triple-washed my kale.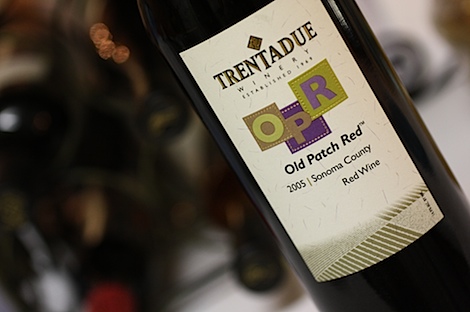 I decided to crack open my first of 2 bottles of wine I picked up during my trip to Sonoma Wine Country in Cali earlier this year. This bottle is Old Patch Red from the Trentadue Winery. Ahh…I wish I could go back!
Anywho, I tend to hoard things that are expensive, or nice, or hard to replace, but I'm working on trying to enjoy things more in the present. Afterall…it's just a bottle of wine! Nothing better than sipping on a lil wine while cooking some yummy food!
So, now you must be wondering why I call this "3, 2, 1". It's because, when I researched the cooking times, I found that the noodles and beans cooked in 3 minutes, the broccoli in 2, and the kale in 1. Neat, huh?
I set the timer for 3 minutes and dropped in the soba noodles and cut peas.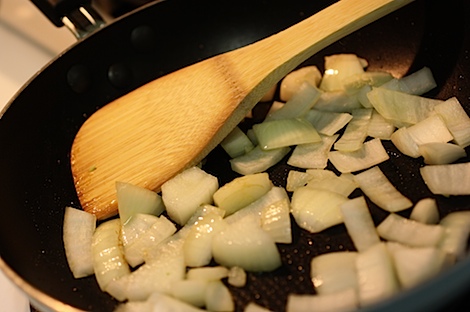 Meanwhile, I sauteed some chopped onion.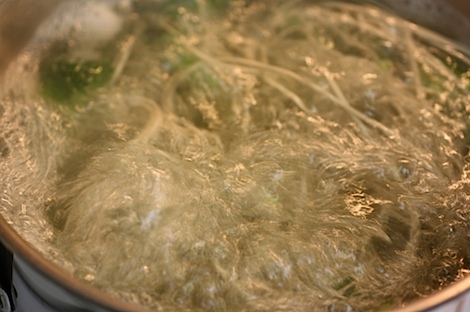 At 2 minutes, I added the broccoli.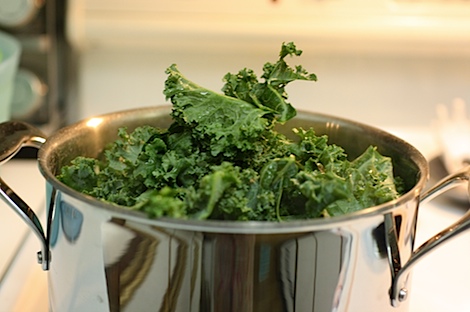 At 1 minute, I added the kale.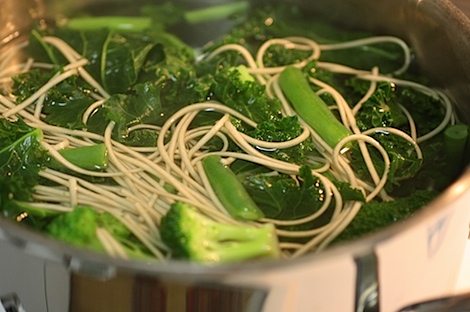 While the veggies and noodles cooked…
…I added the tofu to the onions and continued sauteing.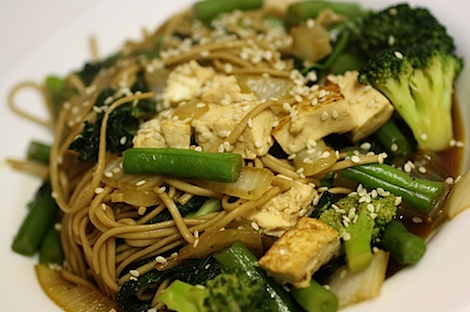 Once the timer went off, I drained the noodles and veggies and added them to the pan with the tofu and onion. I seasoned lightly with some soy sauce and a drop of sesame oil, cooked the flavors together for a minute or so and dinner was ready!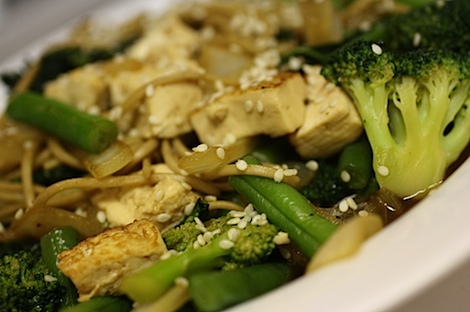 I was really pleased with the final result. It tasted great and was super nutritious! The bowl was so stuffed, I didn't quite finish it, but it made for awesome leftovers for lunch the next day!
3, 2, 1 Vegetarian Noodles!
by me
Serves 1-2
Ingredients:
Firm tofu – 2-3 1/2 slices
3 ounces soba noodles, dry (cook time for noodles should be 3-4 minutes)
1 small crown broccoli, rinsed, chopped
1 small handful green beas or green snap peas, rinsed, chopped
5-6 leaves of kale, triple washed
1/2 onion, chopped
1 tbsp olive oil
1/8-1/4 cup soy sauce
drop of sesame oil
sesame seeds, for garnish
Directions:
Start a medium to large pot of water boiling (large enough to cook green veggies and noodles)
Meanwhile, place tofu on a paper-towel-lined plate, top with another paper towel, place flat-bottomed pot or pan on top of tofu and weigh with a canned good, if necessary.
When water is nearly boiling, heat a pan over medium heat with the olive oil. Once ready, saute onions in the pan (pan should be large enough to fit all veggies and noodles)
Meanwhile, set timer for 3 minutes and drop noodles and beans into water and stir. Also chop tofu into cubes and add to the pan of sauteing onions.
At 2 minutes drop broccoli into water and stir.
At 1 minute drop kale into water and stir.
Once veggies and noodles done cooking, drain and add to the pan with tofu and onion. Add soy sauce to taste and sesame oil. Toss to coat for about 1 minute and serve.
Top with sesame seeds. Enjoy! Makes great leftovers!