Oh my, so much to blog today!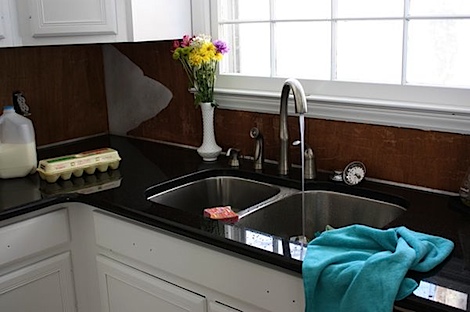 Welcome to my new sink. I'm actually really enjoying it. Hubby and I picked out the faucet set at Lowes. I'm happy to have a sprayer back – I love using them to clean.
Do you like my "backsplash"? I call it "Demi Complet", which is French for half-complete. I thought we could leave our backsplashes plain white till we picked out a good tile. Turns out there was a backsplash on our walls – it wasn't just paint. It was a thin layer of plastic or formica or something, which our people recommended taking out as soon as possible. Out it went exposing some lovely wood-ish stuff. Ugh…more to do!
This means our kitchen will not be presentable till we:
Select and install a backsplash
Select and install hardware
Paint the walls
Paint the trim
Finish "peninsula" (it needs a backing and borders along the bottom
Select and install pendant lights
Install recessed lighting covers
Phew! But I digress…
On to breakfast!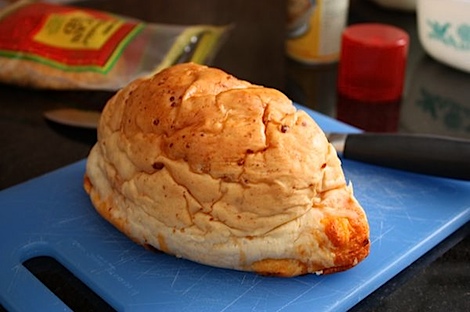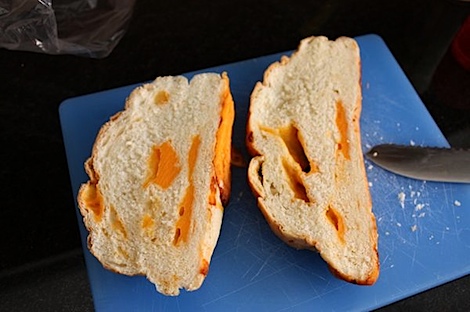 I knew I wanted to do something with our leftover garlic cheese bread we picked up earlier this week from Great Harvest. What's a good use of leftover bread? Breakfast casseroles! I thought about making a savory French toast, but the strata idea won out. I love breakfast casseroles – both savory and sweet.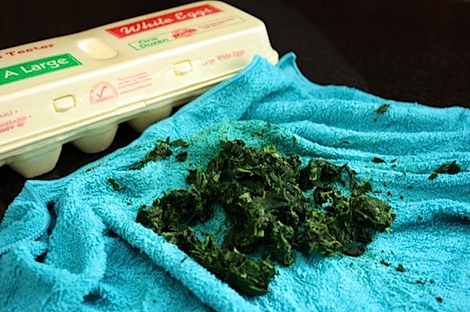 At first I thought we didn't have anything to mix into ours, but then I remembered we had some frozen spinach. Hoorah! So, I defrosted, rinsed, and squeezed the living daylights out of our spinach to prep it for the casserole.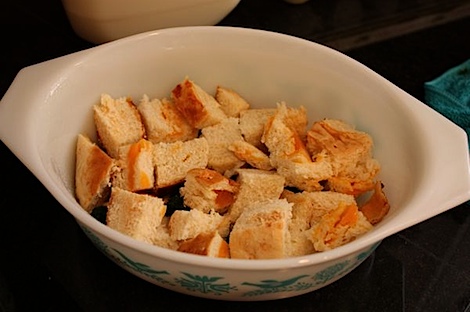 In a baking dish (sprayed with cooking spray), I layered a bit of the spinach and half the bread.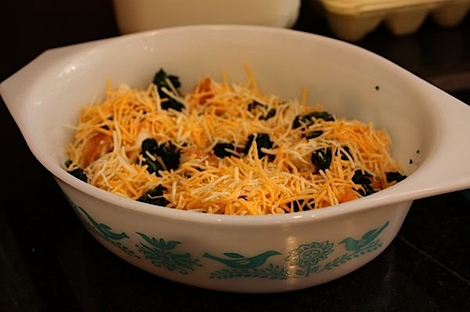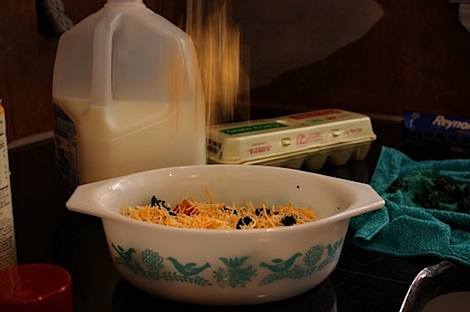 Then, I added more spinach and some shredded cheese.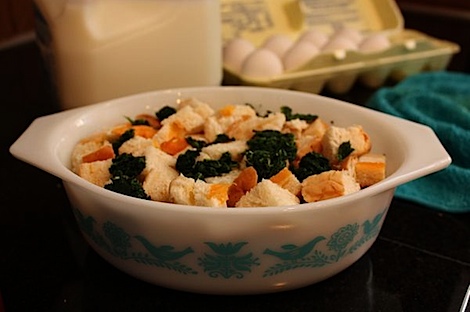 Next, I added the rest of the bread and spinach. I didn't add any more cheese because the bread was already so cheesey.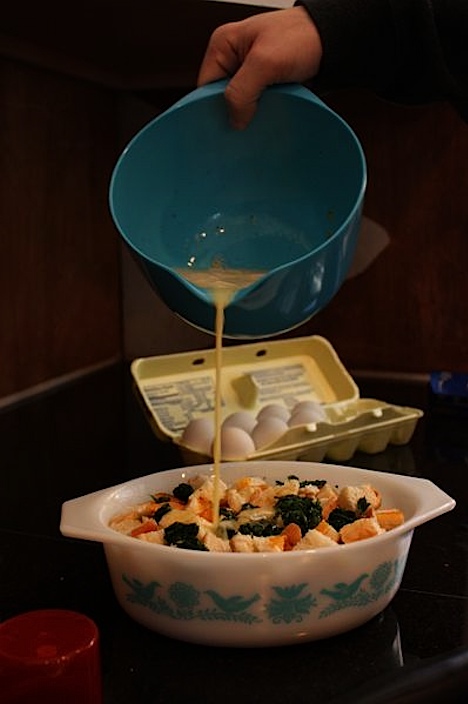 Then, we topped the casserole with a custard mixture.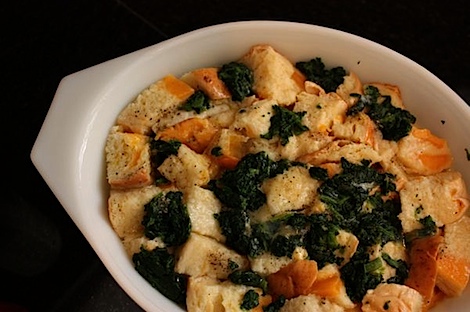 Before.
AFTER!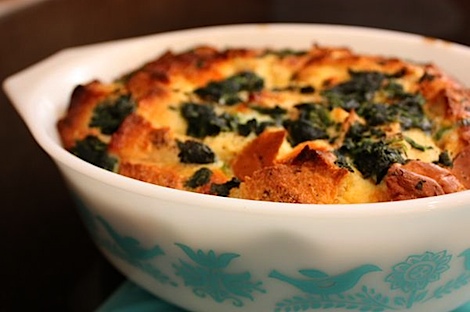 Ooh, nice and golden brown.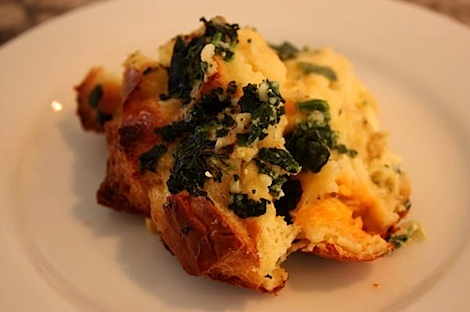 I served myself a nice portion. Though I cooked the casserole for forever, it was sliiiiiightly runny in the middle. I think runny eggs are one of the grossest things ever, so I zapped my portion in the microwave to help it thicken up.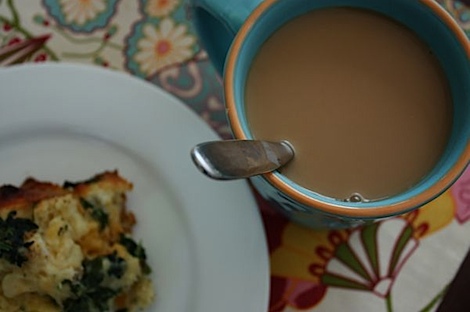 Perfect with Fresh Market Cinnamon Hazelnut coffee with TJ's soy creamer...mmm.
Spinach + Cheese Strata
I was in a bit of a rush making this strata because we were so hungry, so I carved out some time on the wait and bake. I thought it still tasted fabulous. Switch out veggies and cheeses for a whole new flavor profile!
Inspired by Giada DeLaurentiis' Spinach and Pancetta Strata
Prep time: 10 minutes
Bake time: 50-60 minutes
Rest time: 5-10 minutes
Total time: 65-80 minutes
Serves: 2-4
Ingredients:
5-6 cups of leftover bread (a plain or savory type), cubed into 1/2″-1″ pieces (I like to use a mix of sizes so make them fit together best)
1 cup frozen spinach, defrosted, rinsed, and excess liquid squeezed out
shredded cheddar or blend cheese (1/2 cup to 1 1/2 cups depending on how cheesy your bread is or how cheesy you want your casserole)
4 eggs
1 1/2 cups milk (I used skim)
1/4 tsp salt (I went light since the bread was cheesy/salty already)
1/4 tsp pepper
1/2 tsp dried ground mustard
1/4 tsp garlic powder
cooking spray
Directions:
Pre-heat oven to 350 degrees F. Spray a medium casserole dish (about 7″x11″ or 1 1/2 – 2 quart) with cooking spray.
Place about 1/3 of the spinach in the bottom of the dish. Top with 1/2 the bread. Top with 1/3 more spinach, cheese (put all cheese if your'e only using a little), then the rest of the bread. Top with rest of spinach.
Whisk eggs, then add milk and whisk to combine. Whisk in salt, pepper, mustard, and garlic powder.
Pour custard into casserole dish till it comes just to the top of the bread. (If you need more liquid, you can add a little more milk straight to the casserole dish, but you could try pressing bread into the existing liquid first). Press bread into the custard.
If you're in a rush, go ahead and continue (like me…heehee), but if you have time, let dish sit at room temperature for 15-20 minutes.
Bake 50-60 minutes, until top is golden brown, puffed up and center is set. (If you take it out too early and the center is a wee bit too liquidly for your liking, just zap it in the microwave for 20-30 seconds). NOTE: If you prefer extra cheese, add some in the last 5-10 minutes of cooking so it melts on top but doesn't burn.
Remove from oven, let sit 5-10 minutes, serve and enjoy!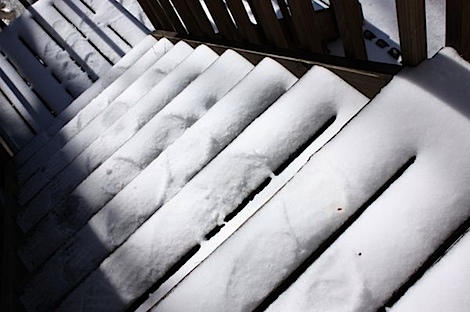 As for the weather, the snow and ice are still sticking around.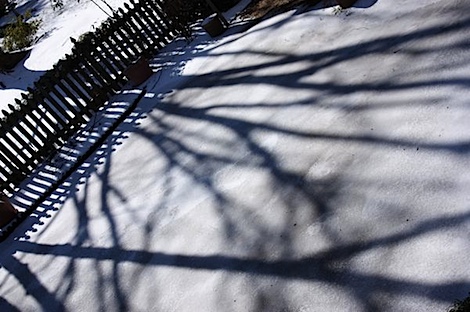 I love these long shadows of the trees.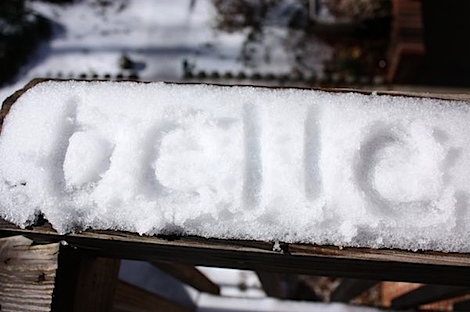 belle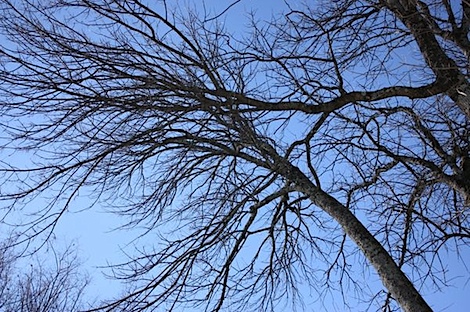 Beautiful blue sky! I hope the sun melts the snow and ice soon!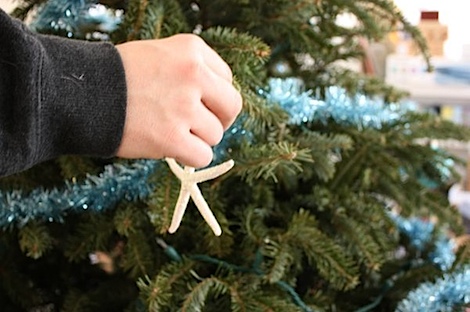 By the way, hubby and I are just now getting around to taking down our tree. I realize we are super late to be doing this, but with all the kitchen renos and having to go out of town and the big blog move and the bake sale…well, we just haven't gotten around to it till today.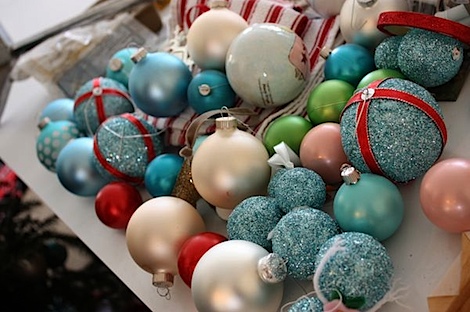 Hubby pointed out that it's only about 10 months till we put all this stuff back up…crazy to think about it that way!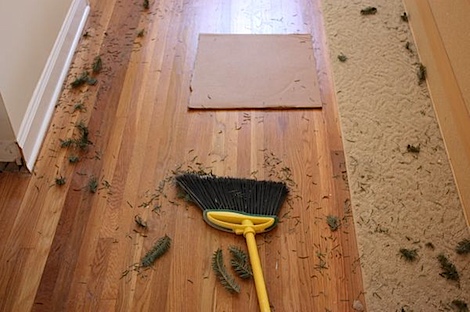 Traces of Christmas tree.
Though we enjoyed our tree, I'm glad we finally got it taken down. It looks better in our living room already!
We have a lot to do today:
Brave a trip out of the house for groceries and to visit Pottery Barn (we have a gift certificate that's set to expire today!)
Eat in Month recap post
February Fitness Challenge post
Continue refunding bidders and processing Red Cross receipts (read about that ordeal here)
Make-up posts for some fun photography homework posts
Laundry
Clean
Lunch
Dinner
What's your favorite thing to do on Sunday?